The ferry from Pozzallo, Italy carried me to Malta. Our boat entered the richly blue waters of the main harbor. The harbor, with many inlets branching off of it, reminded me of a smaller version of Darling Harbour.
But, unlike Sydney's famous harbor which was bordered by silver city and green nature, Malta's harbor was completely surrounded by city. Old and stunningly beautiful architecture covered the hills rising up from the water. Churches and arches and great stone walls. Not white nor gray - made of large, buttermilk bricks.
This small island was one of the world's most densely populated countries. It could've been hard for me to find a free place to camp here; but luckily, I knew Dima.
Dima was a wild and crazy, long-haired Russian guy who was sailing all over the Mediterranean, mostly illegally, in a boat that didn't belong to him. He was joined in his adventures by another wild and crazy, long-haired Russian guy named Alex. I had met them briefly on a January night in Palermo. They brought me back to their Swedish sailboat, painted yellow-and-blue and named after Astrid Lindgren. We discussed traveling and the search for freedom. They told me they'd gone out drinking the previous night, met a prostitute, and considered paying for sex for the first time; but when she took them back to a dirty room, they ran away.
Afterwards, while I was spending three months in Tunisia, they sailed to Mallorca, Spain. Without money, they began living in a "squat" there, learned how to find free food in garbage cans, made friends, found girlfriends, and had the best time of their lives.
A friend of theirs suggested they take out a sailboat that had been abandoned in Mallorca's marina a long time. Dima and Alex did so. Somebody reported them to Spain's naval police. Dima and Alex were arrested, then released, but the Spanish government kept their passports as the two awaited their court trial.
Dima wrote to me, philosophically:
"Life is wonderful ... no matter what."
He also wrote me with the names of friends of his whom I could stay with. Our brief encounter would save me from lots of homelessness. I stayed with Laura in Palermo. And a Russian sailor/doctor named Sergei Bychkov, in Malta.
Young Sergei wore a blond ponytail and a big smile. He humbly shared his salad, cooked salmon, and green tea with me.
Otherwise, I was too concerned with making and saving money to eat well. I ignored all warnings and drank Malta's tap-water, which wasn't bad enough to make me sick immediately but was probably killing me slowly. And Sergei's apartment faced the industrial harbor; harbor workers made constant noise, cleaning a marine oil platform, and I slept poorly.
During the daytime, I sold copies of my travel stories for a Euro apiece. And I was happy to find that people in Malta were helpful and friendly.
There were four types of people in Malta:
THE "POSH" MALTESE -
The women wore lots of make-up, and were primarily interested in obtaining material goods for themselves to consume. The men wore short fancy hair-cuts, some of them lifted weights, they loved expensive automobiles and revved their engines, and they hated reading.
THE SIMPLE MALTESE -
These men and women usually looked exhausted. They struggled to: drive from their home villages to their workplaces, manage their businesses, drive home for the siesta, run errands, drive back to work at four p.m., and close shop at seven. When I said the part of my sales-pitch, "My stories will help you relax from stress ...", they laughed, because that was exactly what they needed. Unless they were "too busy to read", they bought stories.
THE FOREIGNERS -
Foreigners flocked to Malta. The island's population swelled, with North European tourists, elderly Brits seeking a cheap and sunny retirement, African immigrants trying to reach Europe. Young people came from Serbia, Hungary, Serbia, Bulgaria, Serbia, Czechoslovakia, Serbia, Italy, and the Spanish crisis, to work here and make this their home. Most of these young people were free and independent, beautiful women. They bought lots of stories.
THE UNEDUCATED MALTESE -
The island's most interesting inhabitants, in my opinion. The least affected by globalization. They inhabited the quiet "Three Cities" neighborhood, where tightly crowded buildings looked at each other from colorful wooden-box balconies, where pedestrian alleyways were home to giant potted plants. Sergei and I lived beside them. If I would've had more time, I would've learned Maltese and befriended them.
Though their country had recently spent 175 years as a British colony, they couldn't read in English. Many couldn't even read in Maltese.
Their women were the most beautiful Maltese, because they didn't wear make-up. They pulled their hair up over their heads, had sleepy eyes and bored noses and big mean-looking lips, and spoke with accents that might've been well-meaning but were too lazy. Riding buses, they romanced with their boyfriends: heavily tattooed guys, whose skin had reddened because they drank too often in dark bars.
...
Sure. The Maltese happily gave you directions and loved talking about their country.
But, were they hospitable? Were they - as one man, who'd never been to Tunisia, boasted - more hospitable than Tunisians?
More hospitable than Tunisians - who fought with each other to have me over for dinner, and who gave free rides and places to sleep to needy strangers? That was hard to believe.
In Malta, I encountered many people who didn't want to give me tap-water when I was thirsty. "We sell bottled water," they told me, in their businesses. I became angry and yelled at them. It didn't matter if they were shop employees who said they didn't have the "authority" to give me tap-water, or if they were the muscular owner of Tuffieha Beach's only restaurant, if they didn't want to share their water and reduce plastic waste, I considered them to be scum-bags.
I had come to Tuffieha Beach to look for a free place to camp, while Sergei Bychkov's mom was visiting from Russia. This sandy beach curled up on the island's unpopulated, Western side. Two rocky headlands jutted into the sea, framing the beach for photographers. One of the headlands was squashed by a great table-like rock, crooked like a college graduate's hat. I snorkeled among large rocks drowned by the sea, and smiled at colorful fish in the clear water.
Tuffieha Beach was nice. If you'll ever go there, don't buy anything at its restaurant. Just ask the owner for some tap-water.
Tuffieha Beach's nature was inspiring. I was also inspired by the "Peace Grove", an olive orchard planted by an environmental organization called the Gaia Foundation. It grew atop one of Tuffieha Beach's headlands. And it was decorated with plaques, informational plaques commemorating the world's greatest humanists. People to be inspired by.
I recognized Nelson Mandela on his plaque. The Dalai Lama on his. Mikhail Gorbachev, who'd hoped to rid the world of nuclear weapons by the year 2000. Bob Marley. Aung San Suu Kyi, a female political leader from Myanmar.
But, some of the people were new to me. Vandana Shiva, an Indian woman who fought for the environment, seeking to preserve traditional agricultural knowledge and save Asian farmers from becoming dependent on expensive chemicals.
Those were the lucky humanists. The above-mentioned people had died natural deaths, or were still alive.
As I read from the other plaques, my eyes wanted to cry. All of the other heroes had been killed, prematurely to put a stop to the good deeds they could've done. Some were tortured. The world was cruel to humanists.
There was Mahatma Gandhi, Malcolm X, Dian Fossey the biologist, and Yitzhak Rabin. Benazir Bhutto from Pakistan, the first woman elected to lead a Muslim country. Chico Mendes, a humble Brazilian rubber tapper killed by ranchers because he wanted to save the rainforest. There was a plaque dedicated to "outspoken journalists": eight men and women, including Anna Politkovskaya from Russia, all of whom ended up dead.
Nine Italian law-makers and judges, led by Giovanni Falcone and Paolo Borsellini, were killed by car bombs or gunned down (with their wives, and with five-man escorts) between 1979 and 1992, while trying to combat the mafia.
Steve Biko, a black South African activist who opposed apartheid, died after a twenty-two-hour police interrogation that included torture and beatings and which left him in a coma.
Ken Saro-Wiwa, a Nigerian writer, tried to save his Ogoni people's homeland from the destructive resource exploitation of Shell Oil; he and eight others were hung by the Nigerian government, for a crime they hadn't committed. The priest Oscar Romero, of El Salvadore, was shot and killed a day after requesting that Salvadoran soldiers, working for a corrupt government, stop their violations of human rights.
And Pope John Paul I ... who was nicknamed the "smiling Pope", looked goofy and loveable in his photo, was called a "moral miracle" by one cardinal and "the greatest gift of God, a sunray of God's love shining in the darkness of the world" by Mother Theresa ... was mysteriously found dead after only a month as Pope, before he could make the Church reforms he'd been planning.
Yes, the world was cruel to humanists. And no one was better than killing them, it seemed, than the American FBI and CIA. The "Peace Grove" suggested that those two agencies were involved in the murders of the following:
Patrice Lumumba, a young and charismatic leader of the Congo. In 1960, three months after Congolese independence and his election, he was overthrown by Col. Mobutu and beaten, tortured, and executed. Before this, CIA director Allan Dulles had called Lumumba's assassination "an urgent and prime objective". In 2002, Belgium's government admitted partial responsibility for Lumumba's death.
Martin Luther King Jr.; thirty years after his death, one man admitted he'd received $100,000 to arrange the murder, and a jury found that U.S. government agencies had been involved in it. And Dag Hammarskjold of Sweden, the U.N. Attorney General; in 1961, his plane crashed as he was trying to make a peace agreement in the Congo ... in 1998, letters were found indicating that the British M15, the CIA, and South African intelligence services had planned his death.
John F. Kennedy. As U.S. president, he disagreed with the CIA, FBI, the mafia, oil industry, banking industry, and the military, which wanted to make war in Vietnam. He signed an international treaty that ended atomic testing on land, in the atmosphere, and underwater. In his final speech, he warned the world of powerful, evil people who used "guerrillas by night instead of armies by day" and manipulated our democracies. Kennedy's murder was blamed on a man who, in the brief moment he had access to the media, said he'd been set up. The next president, Johnson, sent soldiers to Vietnam.
Robert F. Kennedy; he was shot by his own bodyguards, the day it was decided he'd run for the U.S. presidency. John F. Kennedy Jr.; his private plane crashed mysteriously, because of an internal explosion or because it had been hit by a missile.
And John Lennon. His song, "Give Peace a Chance", was sung by 250,000 people in Washington D.C. to protest the Vietnam War. President Nixon and other Republicans wanted to deport him from the U.S., and he was investigated by the CIA. He was shot by a man who was said to be a crazed fan, though he didn't own any of Lennon's music.
...
Finishing my tour of the Peace Grove, I dried my eyes. I was happy that all of these people had fought to make the world a better place.
Not far away from the Peace Grove was the headquarters of the Gaia Foundation. In this nursery, plants and seeds and olive oil were on sale. Volunteers worked, to help preserve our environment. Their headquarters sat atop a green cliff overlooking the sea.
Below this cliff to the north, Golden Bay and its sandy beach provided tourists with another place where they could relax near a turquoise sea. Golden Bay was also the location of the large and synthetic Radisson Hotel, which looked out of place in this nature. It glowed at night so that no one could see the stars.
Tuffieha. Peace Grove. Gaia Foundation. Golden Bay. Radisson. Sea and wind and bare, rocky land surrounded them. I camped among them, in the ruins of an abandoned resort village.
A whole village to myself! The buildings, made from chalky white bricks, were now being conquered by nature. There was an old hotel, a restaurant, swimming pool, mini golf course, kids' discotech and outdoor theater, and a residencial village. But, it was difficult to see the brick archways hanging overhead, because the village was a jungle of plants.
Explosions of flowers clogged the alleys with their colors - pink, red, white, magenta, yellow - and their smells: sweet powdery fragrances, rich cherry aromas, addictive buttery pollens. Pine trees dropped their needles everywhere, providing me with my soft bed. All kinds of cacti grew arrogantly, and I worried they'd slowly swallow me with their fat tentacles.
Chameleons, newts, snakes, mice, and a single orange cat lived here.
This great camping spot of mine was proof that, although big money allowed you to buy better things than little money, no money got you the best things of all!
I wasn't sure if Gandhi or J.F.K. would've supported this philosophy of mine. But, I was pretty sure Dima the Russian would.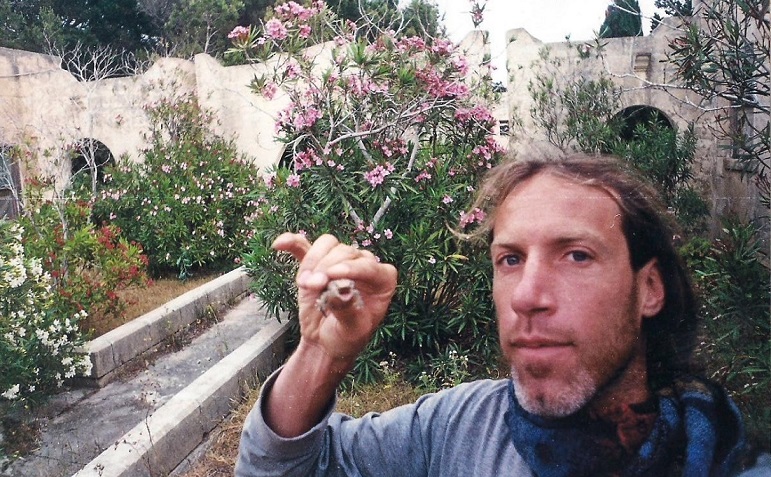 peace and humanism,
Modern Oddyseus
"If everyone demanded peace instead of another television set, then there'd be peace." - John Lennon