Back in Europe, following a three-month stay in Tunisia, I entered a magnificent church in the Sicilian capital of Palermo.
On its interior walls, dark paintings of Biblical characters stretched from the height of my chest all the way up to the tall ceilings. Above me, dark navy basilica domes - five on each side of the church/cathedral - glowed as they rose heaven-ward. It seemed like they could "Beam Christians Up" to St. Peter.
Above the church's altar, a dark gray heaven rose into the ceiling way overhead. Statues of angels danced and hovered. Something about this sky didn't seem humble. It seemed mighty and exclusive. Christianity, or at least Catholicism, seemed to lack the humility of Islam.
"You have the right to be a selfish arrogant self-obsessed asshole, and as long as you believe in The Cross you'll go to heaven. God, for some reason, loves you - even though you're completely unloveable."
Not all Catholics were assholes. But, many were.
Catholicism and its followers seemed to lack spiritual depth; they had stopped searching for wisdom, for harmony in their lives. I myself had been raised Catholic. As a result, it always fascinated me to: see bearded Jews studying the Torah and Talmud, or observing the "Sabbath" to rest and have family meals; hear Hindus talk about their ancient books and karma; read books on Buddhist or Taoist or Confucian philosophy; and visit Islamic nations where the people followed Allah's rule of generous hospitality.
Sure, Catholic priests gave original speeches that offered moral lessons, every week at church. Those had been my favorite parts of church. But, they were overshadowed by boring rituals, Biblical readings repeated every year, songs and prayers of obedience, and some words which the priests recited in Latin for some reason.
"In my opinion, Roman Catholicism isn't even a belief, but a definite continuation of the Western Roman Empire ..." - Prince Myshkin (a Dostoyevsky character)
There were Catholics in my childhood church in Grand Rapids, Michigan; my mom led me to believe that if I didn't wear uncomfortable, fashionable clothes to church, the other churchgoers would look down on us.
There were Catholics in two Catholic high schools in my hometown; they dressed better than those of us attending public schools, and they seemed snobbish.
There were Catholics in South America, where the girls wore lots of make-up and plastic surgery was common. Catholics in Spain. In France. Catholics in Pozzallo, Italy - a small town where the men wore sweater-vests and expensive watches, and the girls wore short black skirts, and all the women looked like they'd taken three hours to make themselves up. There were Catholics in Malta, my next destination after Italy, where many women buried themselves in make-up and every village competed to build the largest, most extravagant churches.
Based on what I knew of Catholicism and what I'd seen of Catholics, I tried to think of one character trait indicative of the general Catholic psychology. It wasn't easy to do. But, I tried. And I came to my conclusion that Catholics tended to be superficial people, people overly concerned with appearances.
If so ...
maybe this was due to Catholicism's high regard for the Virgin Mary, a "spotless" and perfect character? Maybe it was due to the immaculate cleanliness and care with which priests performed church services and rituals?
Or, maybe I was completely wrong?
But, maybe I was right. And anyways, I was trying to answer a more important question: Why was it that Catholics - namely, those in my hometown and in Italy - seemed so cold, so unwelcoming, so rigid and heartless? I asked my brother Brandon about it. He, who had stopped believing in Catholicism as an adult, said this about his childhood:
"Here I was, going to Sunday school, learning about Catholicism and how we should all be good people, yet, many of my Sunday school chums were among the rottenest kids I knew. It didn't make sense."
Good point, Brandon.
And I continued my psychological analysis of the religion ...
Being obsessed with your appearance was equitable to narcissism. And narcissism was, of its own nature, equivalent to feelings of antagonism towards people who weren't you.
And a desire to look perfect was equivalent to feelings of disapproval for those parts of yourself that were imperfect. It was equivalent to disliking, and not accepting, your own self. And if you couldn't accept your own faults, how could you accept others'? Or did you expect us all to be pregnant virgins?
"What is there to be ashamed of? We are all the way God made us." - Rose Beechman (an I.B. Singer character)
"each of us should put his hand on his chest, and not try to judge the white to be black, nor the black to be white; for each of us is the way God made him, and many times even worse." - Sancho Panza
If I were to rank the followers of the various religions I'd observed, for the humanism with which they treated people like and unlike themselves, and for the impact their ambitions had on the world, I would list those religions in the following order:
LEAST HUMANISTIC / MOST HARMFUL
9. Catholics
8. Religious Jews
7. Secular Jews
SOMETIMES GOOD, SOMETIMES BAD
6. Atheists
5. Muslims
MOST HUMANISTIC AND HARMONIOUS
4. Alternative, Outlying Forms of Christianity
3. Agnostics
2. Buddhists
1. Bijago Religion (a native African religion)
In Palermo, a girl named Laura Giaconia would say to me: "It seems like Christians have the most selfish religion."
She was not a philosopher. Laura was a soccer player and a kick-boxer, who liked to host travelers coming through her town. She had stopped believing in Catholicism long ago. She said pretty much everyone else in Palermo, including her friends, were Catholic. They tried convincing her that hosting travelers was dangerous, and she shouldn't do it.
Luckily for me, she didn't listen to them. She hosted me for six days. With her friendly smile and non-stop energy, she eased my transition from Tunisia to Italy.
And the topic of my pleasant stay with Laura helped to ease my transition, as a writer, from a psychological critique of Catholicism to an Italian version of MODERN ODDYSEUS' TOP 5!!! It was time to say something good about Italy! ... and a few more bad things.
Firstly, because I liked to consider myself a positive person: The Top 5 Best Things about Italy!
1. ARCHITECTURE AND ART
2. PEOPLE GIVING YOU FOOD -
One evening, Laura brought me tomato-sauce-and-onion pizza (a Sicilian specialty!). Her boyfriend Etsio treated me to an "arancina" (a deep-fried ball full of rice, cheese, and ham).
And during my brief trip to Italy that had preceded my Tunisian thrump, I was thrice given more food than I could carry: once by an old man whom I asked for directions; once by Angello and Rosa, elderly artists who gave me a ride; and once by Enzo, who had me over for a dinner party.
3. SPEAKING ITALIANO
4. PEOPLE CONNECTED TO THEIR LOCAL REGIONS
5. PALERMO -
A fifth-story rooftop looked down on the Piazza di San Domenico, and from here you could see past the white-stallion wedding cake church of the open piazza, to a sea of crumbly brown rooftops that rolled like waves to inland mountains.
Palermo.
Laura and I biked around town, navigating through crowds of people and avoiding traffic on highways. We visited the Piazza della Vergogna, where naked statues socialized and surrounded a fountain. We saw a Norman Church from the 1100s, a small cube that wore three red domes for its hats and which must've been influenced by Arabic mosques. We came to "Quattro Canti" corner, an intersection where the colorless facades of four buildings were decorated with intricate statues of flying saints and angels.
Palermo.
We attended a professional soccer game. The local team wore pink and black. Rowdy guys snuck into the game without tickets. (I enjoyed watching Italy's authority figures lose the battle to keep them out.) The "rowdy" fan section threw credit card rolls of paper, lit off fire-crackers and made pink smoke, sang songs, and waved flags of red-haired Beetlejuices.
The HONORABLE MENTION portion of Italy's "Top 5 Best" included: PEOPLE OUT AT NIGHT IN THEIR COMMUNITIES; the AMALFI PENINSULA; FIRENZE a.k.a. Florence; PIZZA; and GELATO.
Hmmm ... Italy was starting to sound like a great place. But, hold on a second. We still hadn't heard The Top 5 Worst Things about Italy!
1. BAD HITCHHIKING
2. OBEDIENCE TO RULES -
"La mafia e nascido aqui," a guy in Palermo told me. (The mafia was born here.)
In coming to southern Italy, I expected to find tough and courageous people who made their own rules. I expected Sicilians to be a people romantic due to their wildness.
But, no. Sicilians resembled Northern Italians, in their unquestioning adherence to every law they were meant to follow and enforce. Far from being tough, they seemed spineless and cowardly; they submitted to corporate rules like little puppies. They dressed and wore their hair the way they were supposed to. They bought cars and kept them immaculately clean. Italians were dull!
"To agree to live by every law there is, you'd have to be a soulless robot." ... "The opposite of life/freedom is rules." - J.Breen philosophies
I disagreed with many of Italy's rules, which seemed oppressive or inhumane. The country pushed the limits for what I considered to be the bare minimum a human being could ask of another human being. In Pozzallo, for the first time ever, I heard a restaurant say it was their policy to not fill up people's water bottles.
3. CATHOLICISM
4. RACISM
5. IMMACULATE FASHION
HM included EXPENSIVE FERRIES; LOTS OF DRUGS; and AN EXCESSIVE LOVE FOR THEIR CARS.
Well, anyways ...
I enjoyed my six days in Palermo. I hadn't seen that much of my host, because she was very busy. But, when we said good-bye, Laura gave me the longest and warmest hug. She must've really cared about travelers. What a sweet girl.
Even so, I wasn't sure that I'd made my peace with Italy. But, then again, I'd never tried living there. I was always just passing through. I couldn't live everywhere.
From Palermo, I rode public transportation to Pozzallo. And then I boarded a ferry going to Malta.
The over-priced ferry ride left me with only two Euros.
My goal: to make enough money in three or four weeks, so I could buy a flight to Ethiopia ...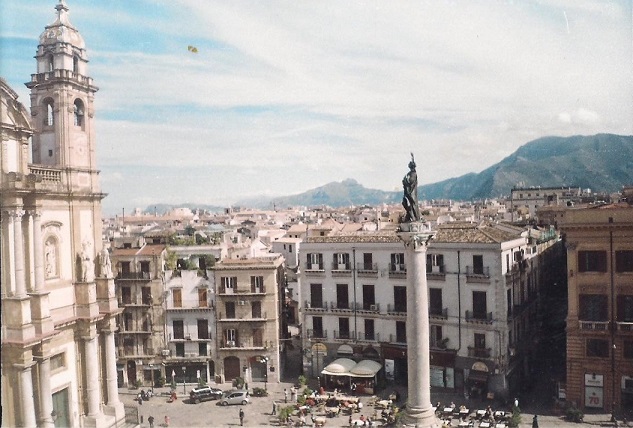 The Modern O.
Much thanks to Laura Giaconia & "Chicho" (her huge, white dog) for hosting me!