I'd arrived in Malta with two Euros. I also had $120, but I didn't want to exchange them until I got to my next destination. And luckily, I wouldn't have to.
I'd come to Malta, just like I'd once gone to Luxembourg during its wine harvest. Just like I'd gone to Andorra during her ski season. I'd come to make money. In tiny European countries, money grew on trees. Well, not exactly on trees. But, if you were willing to work, it grew in your pockets.
In Malta, I became money-hungry. On my first full day, I took the five Euros that my host, Sergei Bychkov, had given me so I could make an extra key for his apartment. Instead, I used them to print copies of my travel stories. And I began selling them for a Euro apiece, on the streets of Malta's towns. I was like Pac-Man. Instead of eating gold pellets, however, I moved around collecting shiny one-Euro coins.
Chomp chomp chomp.
Euros Euros Euros.
Hmmm. This street looks like a good place to sell stories. I think I'll turn down here.
Chomp chomp chomp.
Oh no! It's a conservative Maltese guy. Turn around!
Euros Euros Euros.
Oh no. It's a boring pharmacist! Turn around.
Hmm ... there are lots of cafes, bars, and restaurants on that street. I think I'll turn down there.
Chomp chomp chomp.
Ooh! The salesman in a women's shoe store just bought a story, and then three women bought stories without me even having to do my sales-pitch. That was like a power pellet! Now, I'm invincible. Even the busy insurance salesmen are buying stories.
Euros Euros Euros.
Uh oh, I'm not invincible anymore. And who's that ahead of me? A made-up girl who works in a clothing store, and who doesn't like to read. Quick. Turn around!
Oh, good. I see some stationery shops and photo studios on that street. They usually appreciate the design work I did on my stories, which come with black-and-white photos ... and autographs.
Chomp chomp chomp.
Oh, good. Italians. If I do my sales-pitch in Italian for them, they sometimes become so friendly that they'll buy stories, even if they can't read them.
Ooh! A large British woman just bought five stories! That's another power pellet.
Euros Euros Euros.
Actually ...
The non-reading Maltese men and the made-up jewelry saleswomen chomped me a few times. I had to sit down, take a break, and start over. Bee wee waa-oow WOOP WOOP!
On my first full day in Malta, I had to rewrite my sales-pitch four different times before I could sell my first story. I eventually wrote a decent sales-pitch. I sold some stories, made a key for Sergei's apartment, and gave my host his five Euros back.
The locals weren't interested in hearing about my travel accomplishments or my big dreams. They wanted to know what my stories could do for them. The following became my regular sales-pitch:
"Bonju. Kif inti? I'm Justin, from Michigan. And I do what I do ... better than anyone. I'm a travel/adventure writer. My stories are short, easy to read, and funny. They help you relax if you have stress, and they give you a positive feeling. I'm selling my best stories for a Euro each. This is my funniest story, if you like to laugh ... this is a romantic story, from France ... do you like philosophy? no? yeah, most people don't like philosophy ..."
People couldn't wait to get their hands on my stories, when I began with the above sales-pitch. 42% of them bought stories. Of those people, the average person bought 1.6 stories. It was easy to sell on streets that faced the sea, because people there were happy. It was difficult to sell in the town of Birzebugga, where the people were tight, spent their money on lottery tickets, and were interested in politics. In three weeks of selling, I sold 564 stories and profited more than five hundred Euros.
But, I would need more money than that.
An Indian man paid me another five hundred Euros, and he gave me an assignment to write fiction for him. He'd dreamt an elaborate dream one day while napping, and he wanted me to turn it into a story for him. The dream was alluring - with Christian and Muslim characters, but with an Eastern religious theme. I wrote the forty-page story in two weeks.
And in this way, I earned enough money to buy a flight to Ethiopia.
My trip to Malta was a success!
And I spent a sixth week in this tiny country, to do some writing of my own. I became acquainted with Malta ... even if I never went into a Maltese person's home. Even if I never tasted its culinary specialty, rabbit meat. Even if I never studied its language, which was similar to Tunisian Arabic.
Even if I never went to its second island - the more natural island of Gozo - I owed it to this tiny country to write a MODERN ODDYSEUS' TOP 5!!! in its name. The Modern Oddyseus stood firm in his belief that every country, no matter how big or small, had exactly five good things and five bad things about it.
Here were The Top 5 Worst Things about Malta! ...
1. DENSELY POPULATED
2. LOW SPIRITUALITY -
Many people were caught up in their busy work lives, the things they bought and consumed, their pleasures, and the attention they received with their appearances / cars / muscles / sun-glasses. Caught up in themselves.
"The more one looks outside oneself, the happier he is; the more one looks inside himself, the less happy." - J.Breen philosophy
Self-criticism and self-improvement were good and important things, of course. But, the Maltese were easily satisified with themselves, their country, etc. and rarely sought new wisdom.
Their Catholic church was not so accepting of people. Divorce had been illegal in the country until 2011. Now, couples had to be separated for four years before they could divorce. One woman told me that, because she'd dated a separated man in the past, it was forbidden for her to take communion at church.
3. BAD TAP-WATER
4. A STRESSFUL LITTLE ISLAND
5. TOO MUCH MAKE-UP -
Most local women considered it absolutely essential that they marry. Such a belief ensured that they would remain subservient to the men in their society, the men they needed. Many young women, who were beautiful naturally, spent a large percentage of their time making themselves up, to look unnatural.
"wherever ... the celibate class (of women) is practically nonexistent, there the position of women socially, economically, and intellectually is of a low order." - a British spinster-by-choice
"Cosmetic products and services, including surgery, are multi-billion-dollar businesses that would founder into bankruptcy should true gender equality ever materialize." - Sally Cline
If the HONORABLE MENTION portion of The Top 5 Worst Things about Malta! should ever materialize, it would look like this: REVVING THEIR ENGINES; REFUSING TO GIVE YOU TAP-WATER; and PLAYING THE LOTTO.
Those were the worst things about Malta. The Top 5 Best Things about Malta! would help you relax if you had stress, and give you a positive feeling ... Would you like to buy a story? Would you like to buy a story? Would you like to buy a story? Oh, no. That sales-pitch was stuck in my brain!
Here were ... The Top 5 Best Things about Malta!:
1. FRIENDLY AND HELPFUL
2. GHAJN TUFFIEHA BEACH
3. ARCHITECTURE / STUNNING CHURCHES
4. BIRGU -
A part of Malta's "Three Cities" neighborhood, this walled town began on a hilltop. Its straight, buttermilk architecture descended towards blue sea, on a curvy urban peninsula. From the hilltop, this peninsula could be seen romancing with a calm marina, stretching to conquer a piece of the main harbor, and gazing across the water at other buttermilk towns.
Inside Birgu's depths, narrow alleys turned a mocha color in the shadows. People walked through a quietness, absent of cars. They walked beside potted plants, some of which towered over their heads.
Once a month, Birgu celebrated its identity. Enormous flags protruded from the town and hung overhead. On the hilltop, the town's trapezoidal fortress was topped by several flags including a white-and-red Maltese flag and a yellow-and-white Vatican flag. Fifteen more flags - divided into quarters that were either red-and-white crosses, green pears, blue ducks, swans, or falcon-armored hands holding swords - descended from the hilltop in a line and traced the seaside.
The wavy flags. The square city walls. The curvy peninsula.
Birgu was amazing.
5. THE UNEDUCATED MALTESE
HM included: the GOOD BUS SYSTEM; SAFE & CLEAN; SNORKELING; SERBIANS; and GOZO, which was loved by everyone.
I also met many good people with good energy, while selling my stories. Some of my favorites were:
Kida, a short and blond make-up designer, who hoped to volunteer in Africa some day. Twenty-year-old Calvin, who wanted me to teach him creative writing. Antoine, a guitarist in the blues band "The Creepers", and his friend Ghiller, a muscular tattoo artist. Andrew, a pale petite muscular shaven-headed guy who went on "mission" trips and had incredible confidence. Gary, who'd recently broken his opium addiction by spending six months on a sailboat, and who loved my stories.
Gary's young girlfriend, Sandra, a Serbian who never stopped smiling and being happy. Juju, a "chill" Serbian hair-dresser girl. Carl, a middle-aged Englishman who bought me a drink and told me of his fears and excitement for the new son he was about to have. Maybe I should've bought him a drink?
And Jan, a Maltese woman who gave me ten Euros for a story. I mentioned to her that I had a girlfriend in Malta. "Is she Maltese?" "No. She's Eastern European." "Oh, come on! When you visit a new country, you can't eat at McDonald's ..."
In fact, my "Ms. Pac-Man" was Hungarian. She and I shared great conversations, and a common love for the sea. Together, we free-dove to forty feet below the ocean's surface and chased silvery, black-faced fish. I watched her swim back-and-forth-and-back-and-forth across Ghajn Tuffieha Bay, and it made me proud. I liked her tan swimmer's legs.
Sitting on the beach at night, we talked and learned a lot from each other. We laughed, because she told me one day that her two pet turtles had been practicing yoga poses with her.
It was great to have the sea in common with someone.
But, on June 3rd, I left Malta to fly to Ethiopia. There, I was going to miss the sea.
And I was going to miss Ms. Pac-Man.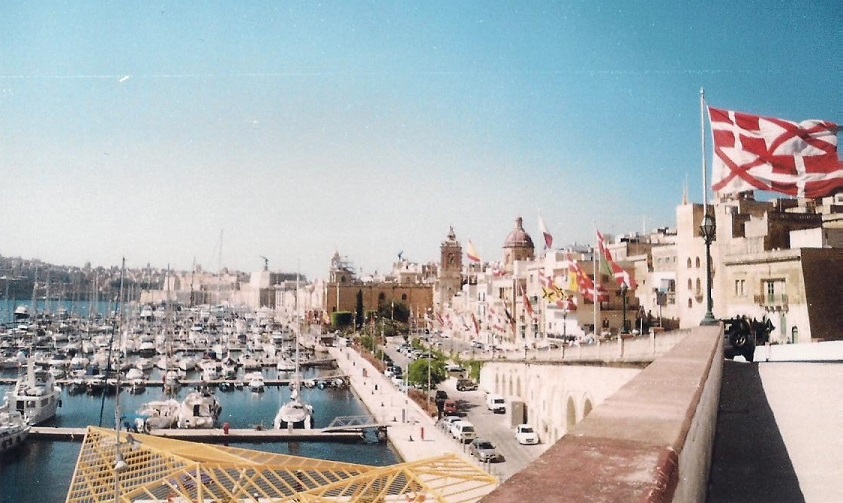 The Modern Oddyseus
Much thanks to Sergei Bychkov; and Radka & Lucka for places to sleep!