My brother asked me, while I was in Georgia:
"Is Georgia at all like (the state) Georgia?"
Yes, in fact. They were both known for their hospitality.
He continued with his questions. Apparently, he must've really loved me. He asked:
"Why are you interrupting your thrump in Turkey to spend time in Georgia?"
I was simply taking advantage of my trip to eastern Turkey, possibly the only time I'd ever visit Central Asia (even if Turkey wasn't actually in Central Asia), to visit the neighboring countries. For example, Georgia - which was in Europe.
The geography in these parts was so confusing I didn't know which way was up.
I didn't have a good map of Georgia. After three days in the country, I'd already been invited into the Kobaladzes' house and showered with hospitality, which was as good of an experience as I could've imagined. And so, I spent the next week wandering around without aim. I saw some nice things:
An adventuring Russian couple drove me to Borjomi, a town situated between the forests of a national park. We went to a restaurant and ate "khinkhali" (tennis-ball-sized pouches of pasta, which contained boiled beef and steaming meaty water). It was late night, so a deejay played music. Black-haired Georgian girls, one wearing long curly hair and a dress she filled nicely, got up and danced. The girls stood ten feet apart, faced each other, and expressively waved their wrists and bodies to the music.
"God, that's a beautiful house," I said, walking through Borjomi the next day. The rounded outlines of logs rested upon one another, creating a large two-story house that several families must've rented apartments in. Everything was a pinkish, light yellow color. Xs carved in a pattern, and white diamonds, decorated the building. But, most of its facade was windows, windows, old windows I'd love to read and cook and live behind.
From Borjomi, I was given a ride by Misha and his wife Anaida, a Georgian of Armenian heritage. They loved meeting hitchhikers. They bought some buttery Armenian bread with cheese baked inside, and we went on an excursion to the Sapara Monastery.
We drove way up into the hills, where forests of aspen trees were turning yellow, reminding me of Michigan. Big oranged stones created a large church with a cylindrical heavy steeple. Inside, the walls wore faded paintings of bearded men in robes with golden orbs around their heads. Pious faces looked down on me from the ceiling, far above. Six-foot-tall wooden chairs had been built for people who wanted to sit tall. A golden shield showed a saint slaying a dragon beneath his horse; it was St. Georgi, for whom the country was named.
Georgia had accepted Christianity in 300 A.D., though its history extended long before that. Today, many locals wore crosses around their necks, and made the "sign of the cross" three times when passing churches. Anaida donated to a silent monk in a beard and brown robe, so she could light candles in the dark church. Enjoying this excursion, she gave me a cross as a souvenir.
The Sapara Monastery had been built in the 13th century. Around the same time, Georgians were carving out homes for themselves in the face of a cliff sixty kilometers away. This town of caves, when I saw it now, looked like a mountain full of dark mouths and empty noses and deep eye-sockets. I and other tourists explored these empty rooms, which seemed like dull places to live. It was more fun to duck down and follow tunnels that began at the cavepeople's church and came out at different spots on the mountain.
Viewing the ancient cave town, called Vardzia, didn't provide me with too much insight into the life and people of modern Georgia. I had to gather that information from my daily interactions with the people. And those interactions did not go for naught, my friends, my readers, my fellow students of the world. Those interactions provided me with the ingredients to make another delicious MODERN ODDYSEUS' TOP 5!!!, with steaming meaty juice inside.
Here were The Top 5 Best Things about Georgia!, a country I'd always wanted to visit and which didn't disappoint:
1. THE PEOPLE -
Well-educated. Good-looking. Innocent. Friendly to tourists. Hospitable. Fun and funny. Laidback. What more could I say about the wonderful people of Georgia?
In one memorable exchange, Vlova and Irina (the adventuring Russians) stopped their car to buy wine in the countryside. A thirty-year-old local who lived with his parents took us into his cellar, where we tasted a light, cherry-like wine that reminded me of white Zinfandel. I paid $2 for a liter of dark purple wine that had a strong bitter taste.
This thirty-year-old guy was so happy living at home with his parents in the countryside. He was happy as he watched plum vodka ooze out of a weird machine's pipes, and he wanted us to hang out with him in his yard. His mom gave us a tour of her home.
Their drunken neighbor leaned over his fence. This white-haired man, with beard stubble on his strong, handsome jawline, bad-mouthed Vladimir Putin in Russian and angrily slammed his thumb into the palm of his hand. (Russia had recently invaded Georgia and stolen some of its land.) The thirty-year-old told the Russian guy not to mind his neighbor. "Ya ego dazhe ne ponimayu," replied Vlova. (I don't even understand him.)
Soon, the drunken neighbor had found his way into our yard and was forcefully hugging Vlova, and kissing me while yelling, "Obama!"; Irina and the thirty-year-old were taking shots of home-made plum vodka; and the mother was giving Irina a bouquet of flowers.
What genuine people.
2. TOASTING TRADITION
3. AGRICULTURAL LIFE
4. THE ALPHABET -
The Georgian letters were written by making lots of loops, squiggles, figure 8s, and babies' butts. A Polish traveler described them best when he said, "It's all just a bunch of macaroni."
5. HARMONIOUS GENDER RELATIONS -
Georgians told me often that their women waited until marriage to have sex.
Unlike Turkish men, many of whom seemed sex-obsessed and agitated, Georgian men seemed happy they would have one partner for life.
Perhaps the people were so beautiful because they waited to have sex? Perhaps my theory, that sexual activities caused people to age quickly, was proven true - in the large lips on the tiny face of gorgeous Natia the waitress?
What a great country.
HONORABLE MENTION included: CLOSE FAMILIES and BATUMI. In the city of Batumi, cobblestone streets passed beside East European architecture (ivory buildings lit up bright green in the night), Soviet architecture (ugly concrete apartment buildings in states of disrepair), buildings with Islamic arches, and Georgian cathedrals made of orange rectangles and ovate windows.
From Batumi, we took a wrong turn and ended up in ... The Top 5 Worst Things about Georgia!
1. VODKA AND CHA-CHA -
As a rule, I never drank alcohol. I thought it caused people to age quickly. I voluntarily broke this rule to try Georgian wine. The hard liquors, however, were concentrated poison.
2. COFFEE -
Georgian tea used to be famous, but now the locals drank imported coffee.
3. RAISED VOICES
4. MY FAILURE TO VISIT THE CAUCASUS MOUNTAINS
5. POLITICAL CONFLICTS OVER LAND
HM included: THE END OF THE SOVIET UNION. And that was the end of my list.
Before I could make it to the Caucasus Mountains of northern Georgia, I found myself in southern Georgia trying to return to Turkey. I was a bit sad to be leaving.
Just then, a sixty-year-old Armenian man called me over to his roadside cafe. I sat down. He told me some Armenian history.
He said Turkey and Armenia were at war from the 1870s to World War I. On one day in 1915, Turkey (led by three men named Ataturk, Tatyan, and Enver) killed half a million Armenians living in Turkey. They dumped the bodies in different places, like Lake Van.
This man, named Arugan, told me Stalin had given away some of Armenia's land to Turkey. (This may've occured during the same treaty in which Turkey mistakenly gave the city of Batumi to Georgia.)
I regretted that I hadn't visited Armenia. Returning to Turkey, I was sad to be saying good-bye to the great Russian conversations I'd been having here.
Just then, Arugan found me a ride to Turkey ...
... with Iranian truckers!
I was happy. Iran was the Central Asian country that most interested me. One of the truckers, named Ali Reso, had short curly dark hair and was very handsome in a plaid shirt. I could speak to him and the other two in Turkish. Ali Reso said that he, unlike his friends, didn't drink alcohol. A good Muslim. Every time my eyes met his, we smiled hugely, enjoying the irony of our American-Iranian alliance.
The truckers prepared themselves for the road, and then we sat down together to an Iranian meal.
We ate "apkusht" (meaning: Water Meat), a liquidy red soup full of intestines and tomatoes and peppers. We poured the red liquid into our bowls first, and broke pieces of flat dry bubbled bread into it. After eating that, we mashed up the meat and vegetables and ate them on the bread. We drank "hashlama" (sour yogurt). This delicious meal made me wish to be in Iran.
To my surprise, I didn't ride in Ali Reso's truck. I rode in the truck of a grumpy guy named Javat. The only thing he could talk about was his fondness for prostitutes. His small-minded personality caused me to realize not even Iran was perfect.
I thanked him for the ride and walked through customs.
I was back in Turkey.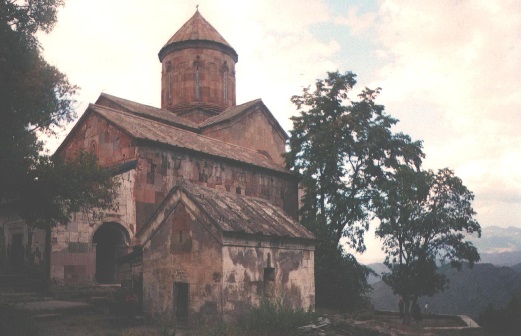 The Modern Oddyseus.
Thanks to Utari; Malkhaza; Ezmar & Akaki; Roin; Irakli; Vlova & Irina; Misha & Anaida; Georgi; Fridon; Georgi & Flavia; Zorbek & a sleepy guy & Faru; Alek; Nuksar; and Javat for rides!