Far away from home, I entered the final month of my latest "thrump" - my latest three-month stay - this one in the Kingdom of Lesotho.
My Grandma Breen in Michigan recently asked me (via email) if there were many white people where I was. My answer was: no, not at all. Although the surrounding country of South Africa was about 25% white, I only ever heard of one white native of Lesotho. Almost everywhere I went, I was the odd, tall white guy. People seemed to laugh at my long, unkempt hair and dirty, white sneakers.
But, there were non-native whites in Lesotho. Most were here temporarily. I'd divide them into two distinct groups:
The first group lived in the countryside, in the villages, in the mountains. They lived in humble dwellings with no access to internet, electricity, or running water. They bathed awkwardly in small tubs. They probably could speak Sotho. They worked, often teaching, as volunteers given modest stipends by the U.S. Peace Corps or other American foundations. I admired these whites for living like the traditional Basotho.
The second group stayed in the capital city, Maseru. They were concentrated near the tourist information building, a thatched-roof landmark in the shape of a conical Basotho hat. They earned ripe salaries, working for non-profit organizations or on contract jobs in modern offices, and they could shop in South African supermarket chains or in Pioneer Mall. Virtually none spoke Sotho.
A Peace Corps volunteer named Zach had been stationed in such an office, working for an American N.G.O. Prior to this assignment in Lesotho, he'd volunteered in rural The Gambia, where he'd shared a hut with rats and spiders, and he'd learned to speak Tidinkala. He harbored much warmer feelings for his time in The Gambia.
As for me, I stayed in the town, Roma. Here, the university of Lesotho offered me (unknowingly) free electricity, barely drinkable tap-water, cold showers full of large insects and a dead bird, and slow internet. Some of these facilities could go days without working, though. "Sometimes, I think I could cry," said the somber student, Stone, of the frequent stoppages of water.
And I'd found a way to support myself, by selling stories in Maseru. But, during the first month of my thrump, I'd lost money. During the second month, I broke even. In the upcoming last month, I hoped to make money.
So, I went to Kingsway Road in Maseru. Annoying taxis honked incessantly. Street-peddlars sat quietly beside their fresh fruit and dried peaches. I made my money by entering the modern office buildings and showing people my stories.
My story-selling abilities reached their peak when I sold the story, "In Search of the Dim-Witted Armadillo", to a blind woman. Ha ha! How was she going to read it!?
In all seriousness, I should say that, even in the offices, the whites made up an almost non-existent part of the population. I sold to Basotho people - a surprisingly large number of which worked in government offices.
And many of the women, themselves, were surprisingly large. Often, they wore traditional, knee-length dresses and bandanas decorated with hazy suns and blurry stripes. A man who drove me to Maseru on Friday told me Basotho men liked large women.
On Wednesday, I'd sold my stories in the Ministry of Health. A large woman named Palesa (meaning: "Flower") bought a story or two. Actually, this was just one of several buildings housing the Ministry of Health; these offices belonged specifically to the FNC, which stood for Food & Nutrition C...an't remember.
Since I'd recently already written that no one starved in Lesotho, I figured now would be a good time to check my facts. I asked Palesa if this were true. She said: people DID starve in Lesotho. Oops.
Palesa said something that I was quite aware of, that many parents depended on the schools to feed their children, and that other needy people received food donations.
Due to the fact that the rainy season this year had lasted two months longer than usual, through April, some crops had been damaged. Roads to remote, mountainous areas had become flooded. Aid had no way of reaching people.
Palesa said that, a week ago, fifteen people had been admitted to a hospital in the north for malnutrition. Most of them died. Yet, Palesa said it wasn't common for people to starve to death. I asked, concerned: How many people starved to death each year in Lesotho? "Less than ... fifty?" Palesa said, "Yes."
I continued my way around the offices. I passed a notice which said that I, as a hawker, shouldn't be here. No one seemed to care, though.
A bearded man named Tisetso (meaning: "Perseverence") bought some of my stories. I asked him: If the Basotho people had gone freely to the mountains and lived there for many years, how was it that they couldn't sustain themselves now?
Tisetso began by saying that many of the men from the poorest villages used to work in the mines in South Africa. When it became more difficult for Basotho men to work in those mines, the families no longer had money to buy farming equipment, nor this extra income.
Tisetso discussed the food packages which the poorest people received as donations. He criticized the stipulations the donors put on these packages.
For example, HIV-positive people received larger bundles than other vulnerable people. Ironically, this sometimes caused people to envy those with HIV/AIDS. Sometimes, people could even be seen celebrating once they'd received positive HIV test results.
In addition, people without crop-fields received larger food bundles than those who had fields. As a result, people might opt to neglect their fields in order to qualify for the bigger bundles.
In a separate matter, Tisetso said that stocktheft was also a big threat to the livelihood of the villagers. People were apparently always at risk of having their cows and chickens stolen.
Dang. Life in the mountains sounded rough!
Even so, I wasn't convinced that Lesotho needed Western donations. I still believed it would be better off if it took care of itself.
One man, whom I'd either ridden with or sold a story to, told me recently he'd been talking to a shepherd in the mountains. This shepherd didn't want to come down from the mountains. He said, "You guys have to find jobs. You guys have a lot of expenses."
He was happy in the mountains.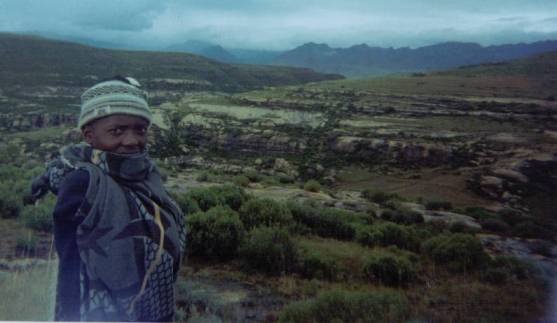 peace,
Modern Oddyseus
Thanks to Ntate Ntlae & Thabo Khosi; Tsepang Lipoto; Phamotse Malefi; Spol & Coffee; Mandla; and Bassie for rides!
Much thanks to Maple & Keke, again, for the place to stay!