My South African friend Kobus taught at a Christian school, incidentally, and considered himself a missionary. He said:
"A lot of people from other cultures think they need to come in and immediately start changing everything about the Africans. But, that's not true. They ought to start by learning from the Africans."
On Sundays, the whites and blacks who attended Dihlabeng New Frontiers Church with Kobus danced and sang to high-spirited music. A young woman wore a pretty, red-and-gray dress that contrasted nicely with her thin, dark calves, and an older black woman wore a purple-and-pink skirt. Near the front, large Kobus twirled and bopped around and clapped his hands to the music.
I agreed with Kobus's comment. If one wants to help a culture, he should first understand it, and to do that he must live in it and learn the language.
I also thought it would be terribly sad if the traditional religions of Africa ever became fully replaced by Western teachings, as I figured their local spirituality must also contain lots of wisdom.
Rumors had it that the nearby kingdom of Lesotho was comprised of 80% Christian believers and 20% traditional believers. Leaving Kobus's town, I went to this small country completely surrounded by South Africa. I hoped to be able to learn from Lesotho's 20%.
But, I entered Lesotho at its border town of Maputsoe - a horrible place where taxis berated me with their honks, loud music blasted out of shops, people sold things out of tin shacks, and a girl asked me for five rand.
A college principal driving a new SUV picked me up as I walked and hitchhiked, and I breathed a sigh of relief.
We drove through scattered-about villages wearing the disorder of poverty. Zulu or smurfs' huts, a clay gray, were capped by thatch the black of charcoal. (The Zulus actually lived elsewhere in Africa, though. The smurfs lived near Gargamel.) Other houses were concrete squares: made of one living room, or else a living room between two bedrooms.
The principal wanted to employ me to teach IT at his school. I also traveled to the country's only university, which said it would like to hire me to teach creative writing. But, I needed the approval of several offices to do these things. I would spend most of the next nine days seeking the approval of office workers who never approved anything.
As I waited, people regaled me with stories of Lesotho's crime. Professor Hala-Hala encouraged me not to pitch my tent off the university's campus, because the "boys" of this town often attacked people. A female student said that, on-campus, she'd once been grabbed by a security guard who beat her with a stone. The U.S. Embassy in Lesotho told me it had listed the country's crime status as "critical". Gee, I thought. That sounded like the highest possible rating. American Carla insured me it was.
Thankfully, the weekend came. I hitchhiked to the Mohale Dam to relax. The teachers who took me there were on their way to attend the funeral of a shepherd whose son had shot him during a dispute over sheep. Our road atop the green, carved Drakensberg Mountains rose to 2633 meters' (8,700 feet) elevation. We passed shepherds whose upper bodies and heads were draped with red or yellow shawls and cloths; the teachers told me to be wary of them.
My drivers left me at a place where the true-blue fjord formed by the Mohale Dam flagellated out below me.
Down below me in an opposite direction, a raging river formed a narrow valley. Two hundred meters below the road, no one was down there - although there were a few rows of corn plants. I figured, if I camped down there, even American Carla wouldn't expect anyone to kill me.
Halfway down, I ran into some donkeys. And then a nine-year-old boy in a shawl and headcloth appeared. In a bleating voice, he asked me for money. I felt bad as I turned him down.
He asked for a cigar. He asked for food.
I wouldn't have minded giving him food. But, I didn't want him nor any other people to begin viewing me as a source of sustenance. I turned him down.
He kept following me. Occasionally, he spoke to me in English and his voice became healthy and strong. But, it was usually pathetic. Following me, he frequently moaned and used his staff to point me to the easiest downward path. As I neared the river, he said, "Fish? Fish?" I tried to signal to him 'no', that I was going to write. He disappeared.
Wow. In only my first three days, Lesotho was doing it's best to make me feel fear ... and now, pity.
Slightly heartbroken, I put my tent next to a waterfall. I admired the icy-delicious-blue water as it spun its way down to twenty feet below the rock I camped on. Then, it flushed its way between cliffs. A white heron with black-outlined wings soared through and majestically seemed to fill the whole valley.
Night came, and Lesotho made me feel awe. "Wow-wow-wow-wow-wow-wow-wow!"
Above my valley, the stars and galaxy were so vibrant it seemed I merely had to levitate to the mountains' limits, and then I would next be in the stars. I finally comprehended that the constellation Taurus floated upside-down in its relation to Orion the Hunter. A nearby group of stars could've been named, The Brontosaurus. And The Southern Cross came out.
The next day, one other person came down to my valley.
He wore rubber boots, new jeans and a long-sleeved shirt, and a shepherd's shawl and headcloth. This young man walked along the cliff's edges, and he held a wooden block with some fishing string attached to it. A mangy dog - the same dog that had accompanied the small boy the day before - followed him.
This friendly guy came over to where I wrote on the rock.
He may've been inviting me to fish with him. He could only speak Sotho. After a while, he did say, "deep", to indicate the drop to the water was too far. He pulled in his fishing string.
He sat down beside me and pulled out his wallet. He unwrapped the shreds of a plastic bag and poured five tiny, hard, clear rocks into his hand. "Diamond," he said, letting me hold them. "Three thousand," he said. (I guessed he meant he could sell them for 3000 rand ($420).) He put his diamonds back in his wallet, we smiled and said good-bye, and he walked off in his rubber boots, to return to the small village above, or to finally catch some fish for that mangy dog.
I climbed up to that small village the next day, on my way to Roma the University Town.
This and other villages I would pass - in addition to huts - had small homes made of blackened stone. The homes wore grayish thatch roofs, and wide frames of bright white around their single doors and two windows. Perched in villages of forty homes on Drakensberg hillsides, they looked down on me like African clowns or Polynesian masks.
I walked through villages on my way to Roma. Kids called out to me, "Give me money!" or "Please give me!" An old woman motioned me to her with a harsh gesture. She mumbled, "Gmmesumsu-eez. (Give me some sweets.) Bon bons!" I said I didn't have any, and she turned on her way without a second glance. These villagers apparently mistook me for Santa Claus.
I considered it very rude of them to beg - especially since I, the beggee, was one of the only people in Lesotho without a house to sleep in that night. Of course, my tent was nearly as big as their huts.
When I reached Roma again, I was on a mission to attain comfort and independence for myself. I needed a safe place where I could leave my belongings during the day.
I explored a dense forest within the university campus. I pitched my tent in a conspicuous place which no one would find. I began exiting and entering the campsite from opposite directions, to throw would-be thieves off my trail. I was independent. Yay!
The university setting even enabled me to converse with interesting students. The first evening, I fulfilled a need by walking with and kissing a girl. Her lips were plump. Her upper arms and upper chest were glossy and smooth.
On another evening, another girl told me about what Lesotho had been like in 1830, before the first missionaries arrived:
"At that time, women wore just strips of cloth. The outfits were see-through, actually. But, nobody cared then. The men just wore clothes around their waists.
"They lived in small huts but spent most of their time outside. They were very rich. They had many livestock. Now, there are many more people in Lesotho.
"At that time, they weren't ready for a new way of life.
"We used to pray to our ancestors. Then, if an animal came, if we saw a snake in the house, it meant something." Hmmm. Interesting.
After our talk, like every evening, I went to my dense forest and stumbled around in the dark, hoping to avoid the webs of the large spiders. It was tough to see anything, let alone locate my tent.
But, I always found it.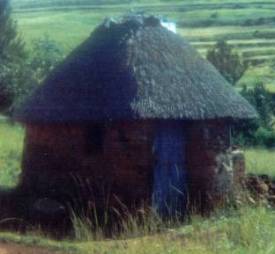 peace,
Modern Oddyseus
Thanks to Daniel; Donald & Agatha Moholi; Petros Matati; Mr. Mosuzoops, Andreas, & Edwin; "Christ the King" teachers, Nkopane Johannes Mahloali, Albert Serake, & 'Mamotsoane Gerthrude Mabula; Paul Modeele; and Francis & Lerato Laf for rides!
Much thanks to Piso; and Mohuari Aaron Hala-Hala for places to stay!