While still in South Africa, I got invited into the home of large, former rugby coach Kobus (pronounced: "Quibus").
Though a teacher, white Kobus lived in a house on a farm. This long, single-story rectangle was surrounded by white roses that smelled of vanilla frosting, and it was cheap to rent. Kobus's neighbor and landlord - like most Afrikaaner farmers - had built a dam on his property. And so, amid a Drakensberg Mountain landscape of coffee, capuccino, and vermillion rock sculptures, Kobus and his son Ben-Roo and I had a lake to swim in. Kobus said having a family was an integral part to his existence.
His eldest child, teenage Ineke (pronounced: "In-eck-uh") was home from boarding school, so wife Adrianni made a big, Sunday afternoon meal. We ate halves of potatoes and thighs of chickens, glazed in black seasoning; the same fajita-like seasoning, poured over rice; mashed carrots; a mashed mixture of potatoes and green beans; pickled beets; and pickled, bite-sized onions; and orange Squash drink.
Yum!
Thanks to Kobus's family, I got to experience other South African foods:
"mealy" (maize grounded to resemble mashed potatoes) - popular in many countries of southern Africa - eaten beneath a tomato-and-onion sauce;
a long, brown sausage whose Afrikaans name was similar to "bratwurst", with a chewy outside and tender inside - delicious with sunny-side-up eggs;
grated cheese and pancake syrup sandwiches;
and "rusks". To make rusks, Kobus's wife baked a huge pastry that smelled moist and delicious. Then, she carved it up and dried the pieces out. The filling rusks that resulted were dry except for their raisins, and usually eaten after dipping them in tea.
Carrying these light-weight rusks, and juicy apples from the farm, I headed off one day to explore a nearby national park.
Hitchhiking, I got picked up by two black women and a black man. They spoke their Sotho language and I was silent, until I asked the man about his black Orlando Pirates' soccer jersey. He said, "Yes", the team was from South Africa. "From Soweto." I recognized the name of Johannesburg's ghetto of 3.5 million inhabitants, infamous for crime.
This man, who seemed bitter but smart, went on to surprise me by saying life had been better under apartheid. (One of the ladies in front objected.) "We had jobs," he said. Repeating the opinion of blacks and whites alike, he said that the post-apartheid governments (since Nelson Mandela's presidential term) have been corrupt, awarding jobs to their friends and stealing.
These three dropped me off in front of the fancy hotel they worked at. The guy, Thomas, told me to visit them if I'd come through the area again. I liked him.
I now walked through Golden Gate Highlands National Park. Grassy earth climbed up beside the road. Near a boulder, an animal which I at first thought was a white-tailed rabbit moved. But, the small thing hopped like a deer. It was an impala. Funny that Chevrolet would've named such a big boat of a car after such a small animal.
Earlier in the day, I'd seen a white eagle whose eyes held the firmness of a bald eagle's, but who was much stouter. I hoped I was gonna see some of Golden Gates's zebras and snakes!
For many hours, I wandered near the rounded, yellow cliffs of the national park. Black stripes and orange streaks leaked down the sandstone. Water leaked down.
In moist caves beneath the cliffs, I looked for zebras lying down in the shade or for snakes dangling in the air (from the branches of mossy blue trees).
Between the cliffs, stepping its way down, a river gave life to a gray hobbit's forest. Climbing my way up, I had to huddle against the sandstone walls, or crawl through a low-ceiling cave, to avoid risking a long fall onto a hobbit. The floor of one low-ceiling cave was covered in poop. (That wasn't the one I crawled through!) Maybe rats or jackals or impalas or meerkats lived here? They needed to install a toilet.
Above the cliffs, I stood on a grassy highland and looked out upon the brown spines of the Drakensbergs (whose name means: "dragons' backs") interrupting grassy lowlands. Nearer to me, I saw flowers which I'd like to name; orange torpedo clusters, purple stars, and white scarlet-topped spikes.
... but no zebras. Darn.
I headed back toward Kobus's school. A distinguished white man, originally from Zimbabwe, picked me up. He said:
"You can never be bored in Africa. If you're bored in Africa, then you're doing something wrong."
He told how, once, he'd been overseas and explaining the wonders of Africa to an American girl. He became suddenly serious and said to her, "I've never lived without war."
Like many whites, he'd left Zimbabwe after the Rhodesian War of the early 80s. "Nobody wins in war. The soldiers don't win." He'd fought beside whites and blacks. "They would've died for me. I would've died for them."
He addressed the former system of segregation, apartheid, of his new home. He said the absolute worst thing about it had been that the blacks had been given no education or a very poor one.
This man, named Angus, liked to romanticize freedom, adventure, and Africa. Even he'd eventually gotten married, though, at age thirty-five. Happy to help me, he dropped me off at Kobus's school.
Yep; I was beginning to feel very comfortable in half-European, half-African South Africa.
Kobus was inside preparing the next day's lessons.
He took a break so we could discuss and ponder his next step in life. Though a family man, he disliked stability and craved change. He'd already: worked as a corrections officer; begun a rugby coaching business in Johannesburg; moved the school (unsuccessfully) to Cape Town; and taught with no qualifications - just a gargling, thundering voice - in an 85% black elementary school. He'd even performed twenty-one day fasts. Wife Adrianni had followed him all this way.
I wished them luck on their next move - but I hoped to see them again before then.
As for me, I hoped to go next to all-African Lesotho and spend three months there. I wished myself luck, too!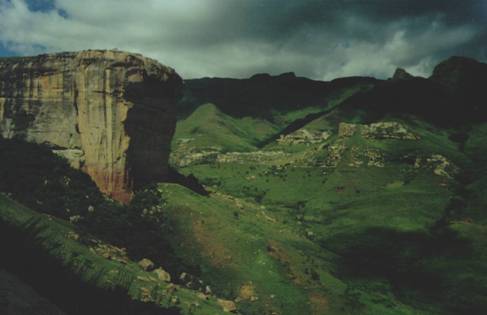 peace, Modern Oddyseus
Thanks to Julia, Lucia, & Thomas; Tebogo; and Angus for rides!
Much thanks to Kobus, Adrianni, Ineke, & Ben-Roo for the place to stay again!