The story of my voyage to Armenia, which was in itself an interruption of a three-month stay in Turkey, would now be interrupted. I ... - don't interrupt me - ... wanted to bring you a recent story from the distant land of Michigan. It had been told to me by my mom:
One day, my dad went over to my grandparents' house. My dad was a nice man, but a bit forgetful at times. And very bald. He told his parents he'd take them out to dinner.
But, when it came time for him to pay for their food at the restaurant, he couldn't find his wallet. My grandpa would have to pay.
Grandpa Breen was an especially kind and gentle man. He couldn't hear very well and wore glasses. He was also very bald. But, the ring of hair at the rear bottom of his head was white, not brown like my father's. When he opened his wallet this day, he had a lot of money in it.
Well, little Grandma Breen just about went crazy. The things Grandpa Breen did often annoyed her very much. She yelled at him: What was he doing carrying so much money? Who did he think he was? Some big shot!
Grandpa Breen paid.
When my dad got home, he still couldn't find his wallet. This part of the story didn't surprise me, because whenever I was home he was constantly asking me if his leather wallet wasn't mine. He couldn't recognize his own wallet. "I don't have a wallet, Dad," I always said. (I usually didn't have anything to put in one.)
He called his parents' house, and it turned out the wallet my grandpa had been using was my dad's. It didn't surprise me that my grandpa had gotten confused. A few months earlier, the man had gone to the supermarket and put his groceries in a bag and walked out and driven home without paying. Accidentally. Or maybe he'd done it on purpose?
He told my dad that, since he had so much money, he'd given the waitress a big tip.
My family did some funny things.
But, they were pretty healthy. I considered myself lucky that, as I was about to turn thirty-four, I still had all four of my grandparents. (One of the Georgian Kobaladzes, while toasting to everybody's parents and grandparents, had called me "bogatyy" (rich).) They were all in their early eighties, except for Grandma Bott, who was seventy-four. Unfortunately, poor Grandma Bott's health was the worse.
She had Alzheimer's disease. This petite woman with shiny white hair, who smiled happily and showed youth and innocence behind her glasses, forgot what she'd been talking about if she had to think hard; and then she frowned and became embarrassed for a moment. She walked around houses, compulsively bending over to pick up pieces of fuzz or lint off the floor. My dad had seen her begin to buckle her seat-belt in his car and, halfway through this act, stop and become puzzled by what she was doing.
She still lived in the large and comfortable house where she'd raised my mom and five other kids. She still attended St. Michael's Catholic Church in the farming community of Remus, Michigan. Grandpa Bott did his best to take care of her, and a younger sister of hers came often to help. But, they said it was a lot of work to get Grandma ready in the mornings, and she had to be watched over like a child. She was probably going to be moved to an Old Folks' Home soon.
However, she'd said a few months earlier: "I don't want to go anywhere. I just want to stay here and live with Grandpa."
On the positive side, it was still possible to have short conversations with her if she didn't have to think too much and she could sense that you were patient. If she was given time, she could remember many or most things.
I'd heard that people with Alzheimer's often benefited from learning something like how to dance, and I wished I could teach my grandma to salsa. But, I rarely traveled the sixty miles from my city to Remus, because I disliked cars and supporting the oil industry. Grandma was always happy when seeing me and her relatives she didn't see every day, although she apparently yelled at Grandpa a lot and cried and worried that her younger sister was stealing from her.
She'd had a great life. And I hoped there'd be much more joy to come.
She'd been born an Abel. She was born into a large family, and she and the other Abels and their families would remain close friends all their lives. Abel parties usually involved playing cards and dancing polka and talking about hunting, and wise Jim Abel would teach me chess. I fondly recalled dancing with Grandma to a polka band at her brother Jerry and Corinne's 50th Anniversary party in northern Michigan.
At age nineteen, she'd married Max Bott. He was nine years older. He was a smart guy who, like me, liked to conserve his energy when he could. He'd served in the U.S. Army's Navy during the Korean War. He was stationed in Japan, and he discovered a way that he could skip roll-call and sleep late every day without getting caught. He spent most of his time walking the streets of Japan, a country he loved.
My Grandpa Bott would return home and spend his career driving a delivery truck for Pabst Blue Ribbon beer. From the day I was born to the day I'd go to Armenia, he had a full head of charcoal hair and round glasses on a tan face. And he liked to fall asleep in his recliner beside the fireplace.
He was funny, like his son Allen and many of his kids' spouses. One day, we were all playing cards at my house, and Grandpa was amazed that Grandma and my Aunt Maureen kept interrupting the game so they could go fetch beer and remove plates from the table. Grandpa complained. Someone explained, "They keep getting up to do favors for people." He said, "If they wanted to do me a favor, they could stay in their seats so we could play some cards!"
Grandma Bott, until she became sick, had lived to serve others. She'd had six kids and cooked for them and raised them to be happy. She was a nurse, and she worked hard. She did nice things for her seventeen grandchildren, with what seemed to be superhuman energy.
When I was a strong Catholic believer myself, I might've said that Grandma embodied the ideal of Christian selflessness.
But, I stopped believing in Christianity at age fourteen; I continued to despise selfishness but now believed that selflessness also wasn't good because it could cause a person to neglect his/her own happiness. Grandma was so eager to make others happy, she sometimes seemed submissive. I believed her obsession with pleasing others must've been a weight for her to carry. Maybe she became worn out? Maybe this caused her Alzheimer's?
Her mother had also had Alzheimer's. As a result, some of my family members began "preparing" Grandma to get the disease. "I'm sick," poor Grandma Bott would say to me now. It seemed entirely possible that she had submitted to the idea that she was going to get Alzheimer's. I told her, "You're okay."
My mother, however, thought that two sad events had influenced Grandma's life. The first was when her brother Jim, at age nineteen, had become paralyzed from the waist down due to a water-skiing accident. The second was when another brother of hers, twenty-six-year-old Ken, was killed by a drunk driver; this caused her to have a miscarriage.
But, it was important to remember that she'd gone through life with happy energy and enjoyed herself.
She loved downhill skiing. She loved spending a week every year in Pentwater, Michigan with her best friend Jan Levandosky and her kids and grandkids; we played in Lake Michigan's waves, played cards at night, cooked marshmallows, and slept in a camper-van.
She traveled with her family to Florida, where her parents had bought land. Great Grandpa Abel showed us the wild and exotic birds whom he gave fish to; Great Grandma Abel took baby steps around her kitchen, and couldn't remember who we were.
She and Grandpa Bott drove to Alaska; went on a tour of Europe; and visited friends from that tour in Australia and New Zealand.
I loved my Grandma Bott and noticed I'd inherited some of her characteristics: a love for traveling; an obsession with attending every fun social event I could; and a "pack rat" desire to save all my old possessions and never throw anything away.
My fondest memories of her were:
1. She sewed stuffed animals for my brother and me when we were small. She made my brother a black dog, and for me a white dog with black spots. The dogs were nearly as big as us, and we slept with them under our blankets. We named our dogs, Midnight and Sparky. Later, Grandma made us puppies.
2. When I was away at college and unable to come home for Thanksgiving, it became apparent that nobody loved Grandma's pumpkin pies more than me. This made her happy. Whenever I was home in Michigan, she baked and brought me whole pies! Wow, I didn't even have to share. She stopped baking her soft, nutmeggy pies two years ago, unfortunately.
3. Traveling the world, I often wrote letters to loved ones. Grandma Bott, in recent years, had surprised me by writing me back the most quickly and reliably - getting letters to me in far-away places like Lesotho. She last wrote me in 2011.
4. She liked to greet family members with kisses. Maybe she supported the "Romantic Revolution"!?
I wished my grandma the best, especially since it looked like she'd begin living in an Old Folks' Home soon. I hoped she'd be doing well when I saw her next.
And now, I needed to remember to write her a letter soon.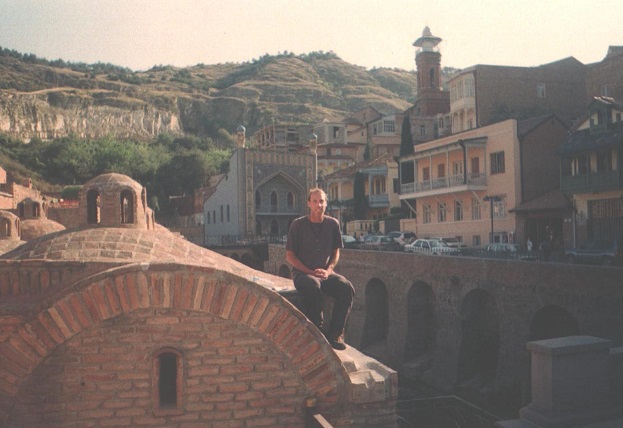 with love,
Justin Breen