Several days after I'd exited Donana National Park, thousands of people were going to be traversing the park - many of them on horseback. Their destination was El Rocio, a village of several hundred people which was the gateway to The Marshes.
But, they weren't coming to see nature. They were coming for La Fiesta del Rocio. My tanned, sunglasses-wearing driver claimed this was the best fiesta in Andalucia. For several days, the sand streets of the village would fill up with a million people, many of them on horseback, and their tents. On the porches of the white colonial mansions of the village, guitarists would play flamenco music. Women in bright dresses with flowers in their hair would dance.
There would be good food, like seafood paella, and sangria for sale. I was happy such a party existed. If I ever wanted to be really crowded and have some people, possibly the ones on horseback, vomit on me, I would come to it.
But, for now, I chose to travel with the tanned, sunglasses-wearing guy who could bring me all the way to the southern tip of Spain. (He'd go windsurfing there. I'd take a ferry to Morocco.) I wasn't going to get to date a flamenco dancer this year!
Darn.
The temperatures in southern Spain had gotten up to 40 degrees Celsius, or 100 degrees Fahrenheit, this May. Daytime temperatures had cooled to 18 Celsius, or 65 Fahrenheit, by the time I paid twenty Euros to take a ferry from Algeciras, Spain to Tangiers, Morocco.
In the modern "new town" of Tangiers, a short brownish man looked at me as he rushed about. He put his fists to his moustache, twisted them, and smiled. Was he telling me I needed to smile? What a friendly guy. Was I not smiling already? Hmmm ... maybe I was tired, from sleeping outside too much? And on that friendly man's recommendation, I checked into a hotel.
After a nap, I checked out Tangiers' "medina" or old town. I entered through a stone arch and walked through its pedestrian pathways. Much of the medina was a "souq" or market. Everything was for sale. Some shops sold the long, flowing robes worn by many men and women. The mens' thicker, wool or cotton robes wore simple patterns and drab colors, like maroon or light-gray. The womens' thinner robes seemed silken; a happy, Spanish-looking girl wore a bright-green robe and looked very pretty.
"Get some nice slippers! Five Euros," a white-bearded merchant called to me. He and his round belly were so calm and confident, it was like he knew I knew I was going to buy them. The slipper-salesmen displayed hard, leather slippers that slipped on your feet, in every drab color imaginable. If I would be Moroccan, I would want to be a slipper-salesman.
I left the souq and explored the dark, dirty white lanes of the residencial medina. The narrow lanes descended and tunneled beneath buildings. I felt surrounded and buried by concrete, in a dungeon. It was impossible to pass someone without feeling intimately connected to them. Yep, I'd be a slipper-salesman living somewhere around here. A happy Moroccan.
I couldn't wait to start hitchhiking, to experience the Islamic hospitality, to practice my Arabic.
Nevertheless, it was simpler for me to take a bus out of Tangiers. I went to Chefchaoun, pop. 32,000, the blue town. I hid my bags in the surrounding Rif Mountains.
Back in Chefchaoun, steps led up and down throughout the medina. Doors to homes burrowed like caves, in the old stone town. The walls were creamy blue, light sky blue, some mixture of bright blue and white, it felt like I was swimming in an agreeable shade of light blue paint. One beautiful door stood atop a tiny staircase, fit narrowly between a fork in the road; the triangular staircase became thin at its bottom, yet every step had a plant on each side of it, leading up to the turquoise door.
In the souq, a box of dry prickly weeds indicated I was standing outside a spice shop. A woman came to buy something. As she exchanged the local currency "dirham" with the shopkeeper, I noticed pouches of powder at her feet. The straw pouches had their tops rolled down to reveal explosively-colorful powders: burnt orange, swampy green, Crayola blue, deep lake blue. What were they for? I wondered. Turning your little brother green? Moroccan culture was blueing--blowing me away.
"Come and see my shop. It's good for taking pictures." A large, bald merchant led me to his shop, entitled a Coloured Life. He insisted I have some tea. After some small talk, and unexpected by me, he launched into The Mother of all Sales-Pitches.
He explained the contents of the jars on his wall. Most were teas, and one jar contained cotton-balls that were a perfume. The energetic, likeable man then showed me all forty of his carpets individually. "This carpet has the Evil Eye, it'll protect you from jealous boy, jealous girl ... Now, I'm going to show you my family's work. I'm very proud. I'm a Berber. ... The carpets in Tangiers are too expensive, because Japanese tourists have driven up the prices ... This one is 90% silk. It can't be burnt. Look, I'll put my lighter to it. See? See?"
At one point during the sales-pitch, he said spontaneously: "Give me a hug!" I obeyed him. "My friend from America," he said, "was here. He told me, 'Abraham, I'm thirty years old. And my brother never hugged me before!"
He threw away the carpets I didn't like, as he made me narow them down to my favorite. I chose a yellow-and-orange one, over a red-and-blue one that had the Evil Eye. I'd barely been able to speak during his sales-pitch. Sadly, I told him I wasn't in the market (in the souq, if you will) to buy a carpet - even if it was only $36. Poor Abraham. What was I going to do with a carpet? Sleep on it?
I left the medina and went to set up my tent in the national park surrounding Chefchaoun. Chefchaoun was also surrounded by farms.
These farms, possibly more than the blue medina or the national park, attracted tourists to Chefchaoun. The Spanish loved Chefchaoun! The farms specialized in hasheesh. Kifi. Marijuana.
"Bonjour. Ca va?" a young Moroccan would greet me on the street. (Most salesmen knew French, Spanish, and English.) "Are you French?" "No. Am--" "Spanish?" "No. Am--" "English?" "No. Am--" "Italian?" "No. American." "Aah! Welcome to Morocco! (Directionless small talk ...) --Would you like to smoke something?" "No. I don't smoke." "I have my own farm, five kilometers from here." "I don't smoke!" "Good price, good quality ..."
"It'll get you hiiigh, man."
Nobody actually said that.
The following day, I was with two Americans, and we bought goods from a young shopkeeper. This shopkeeper's thin body and balding brown head gesticulated in a heavy, gray-and-white robe. Speaking Arabic, he passionately told us about Islam. There were 1.5 billion Muslims in the world, and 20% of them were Arabs. He showed us his Koran, with its calligraphy like an artistic puzzle. He seemed to be saying that the Arabic language and Islam went together - that a Muslim ought to speak Arabic?
I didn't understand him too well. Lucas the American Teacher understood more, after three years of living in Morocco. The shopkeeper added that he sold everything for the same price, whether to Moroccans or foreigners. I liked that he didn't treat us like foreigners.
Humbly and happily, we Americans went on our way. Hailey, our tall and skinny red-headed companion, stopped to see what some kids were doing. Using a paintbrush and water, they were painting temporary pictures on the blue medina walls. Hailey, Lucas, and I joined them in painting flowers, suns, hearts, and lions.
We went down some steps to a tiny square which several homes opened up to. We and the kids introduced ourselves. The oldest girl, Lubna, had a big roundish nose. A curly-black-haired girl wore an orange skirt and white school-blouse, and she smiled and seemed to be in charge. A very thin, small girl wore a green sleeve-less dress, and though she was silent she had a lot of personality in her wavy nose like a doorknob. A boy with a "bowl haircut", whose arms were so thin I nearly broke them when I gave him five, smiled with cavernous dimples.
The dimply boy drew a crazy monster on the wall. I kissed it and said, "Zoojahee." (My wife.) Everyone laughed.
We laughed a lot. We played the internationally-known game, "patty-cakes". Hailey held hands with the girls in a circle, and they took turns hopping on one leg.
Then, Hailey and about ten kids held hands in a circle. They took turns having to "qabbal" (kiss) someone. They kissed cheeks. And, during the course of the game, there was not one inter-gender kiss. The girls usually kissed Hailey. The boys usually kissed the dimply boy. He wiped the kisses off. The kids sang a lot. They were sad to see us go.
Lucas said, "I finally get to see these games the kids are always playing oustide my window." I said, "They finally invited you to play!"
Lucas and Hailey returned to their rural Bed & Breakfast, owned by a Scottish couple who was stoned all the time.
I returned to my mountain. I ate my local dinner of almonds, honey, olives, and soft candy-like dates.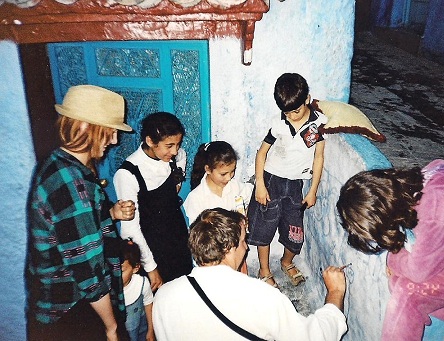 good-bye! from Morocco,
Modern Oddyseus