Although I didn't think that "business", for the sole purpose of making money, ought to be a person's main priority, I was happy that the streets of Spain were full of small shops owned by families. Indeed, the success of the small businesses was necessary if we, as humanity, were to overcome the current economic crisis. We needed to make ourselves independent of the large corporations, who were - in my opinion, backed by no economic knowledge whatsoever - the cause of the crisis.
In the mountainous town of Cuenca, people bought beers from small kiosks then drank them on town steps or benches. In the dark evenings, the plazas became filled with students - long-haired chubby guys, humble blond girls in relaxed clothes, etc. - drinking and talking. The Spanish also valued "conversation" and "togetherness". Shyly, I didn't talk to anyone while in Cuenca. I must've valued "silence" and "writing".
After four days, I was happy when I ran into Simon - the black-haired Bulgarian who'd driven me to Cuenca. He spoke Spanish in a strong, sweet way that made him seem intelligent and friendly. Because I traveled and wrote, he called me a "Hemingway". He reminded me that Hemingway had been in Spain, had fought in its Civil War, and had written books about it.
He told me that the N-420, the small highway I was taking to reach the south of Spain, would go next through La Mancha. This land of plains had been home to the great literary figure, Don Quixote de la Mancha. The writer de Cervantes had invented him. According to my Bulgarian expert on Spanish literature, de Cervantes had injured or lost an arm fighting in a war. He was then imprisoned, and he wrote "Don Quixote". Simon said excitedly, I was going to see Don Quixote's "molinos"!
What were those?
It was explained to me that they were "grain mills". Don Quixote had seen these hefty white cylinders, with their blades circling around in the wind, and he mistook them for giants. So, riding his horse, he attacked them with his jousting stick. His stick got stuck in the blade, and the molino lifted Don Quixote way up in the air and around. "They're molinos, Don Quixote!" "No, they're giants!"
When Simon told me this, I laughed and laughed.
Traveling onward, I descended from Cuenca. The flat land became a mixture of green crops and reddist dark soil. A guy named Feliz picked me up who could take me a long distance, but on a major expressway. I took his offer, as I needed a break from the scalding sun. But, I was sad to miss Don Quixote's giants in their natural habitat. It would've been fun to jump and grab a mill's blade, and ride it into the air.
Quixote and his sidekick Sancho Panza were immortalized as statues in a park in the small city of Ciudad Real. Quixote rode his horse; Sancho pushed his mule.
I, however, had come here by car. It was less romantic - unworthy of a statue.
But, I'd gotten to ask my driver (a former history teacher) about Fascism. What did it mean; something to do with intolerance? Did Fascists call themselves Fascists?
Gray-haired Jose replied, Franco's dictatorship had been about enforcing rules, and the brutal persecution or elimination of the opposition. And no, Fascists didn't call themselves Fascists, it was a name that was given to them by others.
Jose worried slightly, because Fascism was making a small comeback in the democratic elections of Europe. These views had earned 15-20% of the vote in France recently. And there used to be a saying in Spain, Jose said: "Vivimos mejor con Franco." (We lived better under Franco.) But, Jose wouldn't have said it.
Traveling to the south of Spain, I noticed a rigidity in the way the Spaniards followed rules. Truckers, and other people driving work vehicles, wouldn't carry passengers because it was against the rules. Employees of companies wouldn't let me leave my bags with them, because it was against the rules. And when I got in cars, everyone told me to put on my seatbelt even before I'd had the time to do it.
South of Ciudad Real in La Mancha, I entered the southernmost region of Spain, a.k.a. Andalucia. This land was famous for throwing crazy, town-wide parties. I hadn't expected such rigidity in a land of partiers!
A family-owned restaurant let me leave my bags with them, so I could check out the Andalucian city of Cordoba.
A castle wall, whose square-cut top resembled pieces of a jigsaw puzzle, surrounded the old town. Pointy triangles topping the puzzle pieces must've made their archers look scarier in the past. A moat and palm trees stood etween me and the old town. I felt like a kid again. I entered the castle wall, through La Puerta de Sevilla.
Inside, two-story cubical homes shone white. Their roofs, made of clay pieces in faded brownish-blackish hues, resembled bamboo. Rose, purple, pink, and white flowers covered the houses' windows completely. Walking on the stone-cobbled street, I reached an area where the white houses and their windows wore borders of bright golden paint. These connected houses curved away from me down one street, in a flash of white and gold and bamboo.
I loved these first impressions of Cordoba. That was good, because I didn't have much time there. I hitchhiked west to Sevilla. These 140 kilometers (85 miles) took me nine hours to hitchhike. Oh, the agony!
A guy who worked for himself in the heating and cooling business gave me a short ride. A stocky guy named Lucas, he wore a dirty t-shirt and uncombed hair. He said:
"People say there's a crisis. Look around. The people are living great in Andalucia. You see big cars. Everyone has a garden, they enjoy working in their gardens. There are lots of fiestas. People live better in Andalucia than anywhere in the world!"
As one low-budget traveler from Chicago put it to me: "Geez, some of these Spanish people look like they're straight out of 'Jersey Shores' (the tv show)!" The interesting-looking students of Cuenca an the dread-locked squatters of Barcelona were no more. Here, muscular boys wore tight t-shirts and crisp black hair and sun-glasses. Girls wore long hair and sun-glasses and little else, showing their curvy hips. They'd been born to wear and model shopping mall clothes. They looked like they were living well. But, I doubted many knew Spanish literature as well as Bulgarian Simon.
I didn't know Spanish literature well, either. But, I was visiting a lot of Spanish cities.
Sevilla had an old town that was more disorderly than Cordoba's. Simple black balconies glanced sleepily from every window on every three-story building. The color of each building, and the color of the trim surrounding each building, were usually faded and clashed with each other. What color could match faded orange? The most typical building was a strawberry-and-banana mix, though faded, dusty, moldy. The old buildings stood confidently, elegantly - especially the ivory-and-royal-blue mix next to an ivory-and-cherry.
"(The buildings) had done nothing but wait, and had become poetical. How easy to the smallest building, how impossible to most men." - Thomas Hardy
Sevilla's mountain of a cathedral dazzled the air with its complex decorations: cones with spikes all over them like the balls of a mace, a tower covered in bells, etc. And in the middle of the Plaza del Museo, gloomy old trees meditated, with their warped trunks like an old man's wrinkly neck.
I preferred trees to cathedrals. And that was why I left Sevilla quickly, to travel to nearby Donana National Park. I'd first tried to get to this place, a.k.a. Las Marismas (The Marshes), in 2007. Five-and-a-half years of waiting!
I'd be lying if I said I'd thought about them every day during that time. "Marshes, marshes, marshes!" But, I'd thought about them at least every two years or so. My dream was to become fulfilled.
My final driver informed me I was going to have to be sneaky to enter Donana. It was illegal for pedestrians to go in unaccompanied by a guide. No problem, though. "Sneaky" should've been my middle name.
The park stretched from the Mediterranean Sea to the Guadalquivir River and inland. It was home to lots of wildlife, including the rare Iberian lynx. I prepared myself to spend two nights in the park. At dusk on Wednesday, I began walking along the beach towards Donana. That final driver of mine had been caught once trying to sneak in at dawn. Rookie mistake!
I left the town behind. But, there was still a brightly-lit building up ahead on the beach. To be sure I would advance undetected, I moved from the beach inland to the sand dunes. Here, I found footprints like fluffy sporks in the sand. Did those belong to a lynx!?
Out on the beach, the lights of a vehicle drove by. Were park rangers patroling the beach at this hour? I felt like Yogi Bear after he'd just nabbed a pic-a-nic basket. I moved further inland, to a sand-bottomed pine forest. It was too dark to continue. So, I slept.
Using my compass, I navigated myself further inland in the morning. I passed through more pine forest; dry grass or shrubs decorated the ground. The land felt wild, virgin. Three lakes stretched out on the flat land in front of me. My first marshes. Hooray!
I would stay beside these marshes for no more than one hour. I had to leave, because: 1. Gnats were bzzing all around, biting and marking my body with red dots, and 2. Jeeps arrived at the marshes, and a guide or park ranger began walking in my direction. I would return and sleep beside the marshes this night, though.
Donana National Park was like a city of animals.
Wild horses (actually owned by someone) drank from the marshes. An army helmet moving across the grass was actually a somber-faced tortoise. Wild black pigs chomped on sticks in the forest. Small European deer bounded through the tall grass. A baby wild piglet almost ran into me while I was writing, he squeaked in fright and disappeared.
A brown hawk with a freakishly big wingspan jumped out of a tree in front of me. An albino peregrine falcon soared above. Herons stood near the marshes and stretched their gray-and-blue wings to dry in the sun. Ducks flew straight, like heavy bowling pins. Armies of flamingoes honked, as they descended upon or ascended from the marshes; their long bodies wobbled as they flew, appearing as rainbows of white, black, and hot pink.
Yes. Donana National Park had been as good as I'd expected.
Back in civilization, as I prepared to hitchhike towards Morocco, a member of Spain's "guardia civil" called me to him. Had I been in Donana? he asked. No, I said. He smiled and said, Yes, you were. He'd gotten a call saying that a tall guy with a ponytail and a jug of water in his hand had been spotted, running in the park. I wasn't in any trouble, he said. But, he just wanted me to know, a lot of people had been looking for me.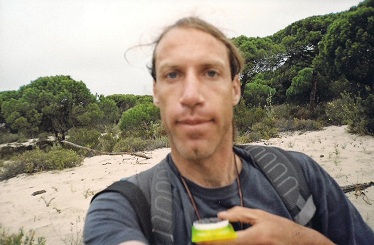 stay virgin, City of Animals!
Justin Sneaky Breen
Thanks to Johnny; Feliz; Carmen; Jose; Antonio; Khali Mehmout & Rehan; Jesus & Carlos; Lucas; Augustin; Juan-Carlos; Jose; Baldomero; Jose, Miguel, & Antonio; and Ivon for rides!