My three months in Lesotho came to an end at just the right time for me to go and celebrate a friend's 30th birthday in nearby Swaziland. This event was to include a music festival. Hitchhiking through South Africa to get three, I was excited!
I was also very happy to revisit Kobus in Clarens, South Africa on the way. This touristy small town, with its artists and galleries, delighted me for three days.
Its friendly people bought all the two-story booklets I was selling for ten rand (my new and improved product, replacing single stories at five rand apiece). The black and white boys whom Kobus taught played soccer with me. A broad lawn and exotic trees, at Kobus's farmhouse surrounded by mountains, provided me with a quiet place to write. And Kobus and wife Adrianni cooked us a meal of pasta and bacon, fresh puffy garlic bread, and thick, yellow butternut soup.
I was sad to leave. On a morning that followed a night of below-freezing temperatures, I left Free State (Clarens's province, with its Sotho natives) and descended to KwaZulu-Natal (province of the Zulus).
I was happy to be nearing Swaziland.
(Land of the Swazis.)
At one point, still within the Zulus' cattle country, I admired gorgeous South African scenery. A rickety fence made of bits of metal enclosed a dry valley - where cows may've grazed - full of stout, African bushes and windy olive trees. On the distant side of the valley, a hillside rose up, and a long red train could be seen traveling amidst the bush-trees.
That evening, I was invited into the home of an Afrikaner man. We had a "braai" (barbecue), though the night grew cold and dark in this wild Zulu bush. I savored the salty taste of chuck steak and long sausages. And the next day, I reached the border with Swaziland. Woohoo!
During this, my second stint in South Africa, I hitchhiked: six rides from white South Africans; and one each from black natives of South Africa, Lesotho, Zimbabwe, and Swaziland.
The last one enabled me to meet up with Julie, a white native of St. Louis, Missouri, U.S.A. - Those readers of mine most educated in modernoddyseusology might've remembered her as the quiet vegetarian who'd hitchhiked across Canada with me and two other guys, in 2003. Since then, she'd given up vegetarianism, which she now called "pretentious".
She'd also ... worked for the Jimmy Carter Foundation, spent two years in the Peace Corps in Swaziland so she could understand poor people better, gotten a Master's Degree in International Economics, and landed a job that flew her all over the world so she could help poor people get savings accounts. "Well, she sure puts you to shame, doesn't she?" my loving grandma told me, in a phone conversation.
Julie obviously understood poor people well; she insisted on paying for everything I'd need in Swaziland. "Thanks, Julie. Happy birthday from poor me!"
We spent the first two nights at the Mountain Inn, a great place to stay, especially if someone else was paying for you, and especially if you pigged out at the breakfast buffet. Buttery fluffy scones, delicate bits of papaya, sweet tarty guava juice. Yum! A girl who'd served in the Peace Corps with Julie joined us, and we attended the Bushfire Music Festival put on by a man who'd served in the Peace Corps with Julie. The festival's proceeds would go to this man's child sponsorship program, "Young Heroes".
A musician, Habib Coati from Mali, played on the last day. He and the other dark faces of his band wore black and sandstone clothing, reminiscent of the huge sand mosques of their country. One man played two bongoes, another tapped a wooden xylophone, and there was also a drum-set. A dread-locked man played smiling solos on a small "armpit drum", which he twacked with a wooden baton and awkwardly smacked with the hand whose armpit held the drum. Habib Coati twanged and plucked his gentle lead guitar, which echoed amid halls made of ambrosia. The band chanted a cloud-like French song, "Africa", and it made me want to visit their country.
Following the music festival, Julie rented a car so we could visit the countryside of Swaziland where she'd served in the Peace Corps. We left the tiny capital, Mbabane. We drove on paved and dirt roads, through scenery that was not harsh. We drove through fields whose hills were mere bumps, not mountains, and everything was covered in tall grass.
As we drove, Julie told me about her time in the Peace Corps ...
"You're going to Swaziland! Is that an amusement park?"
When Peace Corps volunteers told other Americans where they'd be going, the Americans usually didn't know where Swaziland was. They didn't know that Swaziland had the world's highest rate of HIV/AIDS infection. Julie suggested it was 38%.
With her long rounded nose that liked to be quiet and smile, pretty Julie said her time in the Peace Corps had been full of "drama".
The father of her host family, who already had two wives, disappeared with other women and took a third wife. Young girls got pregnant. People died. The father's first wife hated the second wife.
Once, the family got a call from an uncle. He'd just taken a bunch of pills in order to kill himself, but now he said he wanted to live. He was taken to the hospital, but he died. During his funeral, his wife fell sick and was hospitalized.
That same night, another woman in the family went to use the latrine. As was the custom, she lit matches as she went so she could see. But, since people had thrown out a bunch of lighter fluid in this area following the funeral, the latrine and woman exploded in flames. Her husband pulled her out, but they both suffered horrible burns and were hospitalized.
Julie went to check on them all. "All three of those people are with you?" said the doctor, incredulously. "The one who swallowed pills died." Apparently, the dead uncle's wife had also taken pills to kill herself.
Drama!
Driving along, we passed a hanging, pedestrian bridge that spanned a river. Julie said she'd had to cross that bridge, which was missing wooden planks, in order to visit a PC volunteer who lived an hour's walk away on the other side.
She went on to tell me about an HIV patient in her village. This young man had suffered the negative side effects of ARVs (drugs which combated AIDS). His skin began peeling off. Julie went to his home and advised him to swallow his pride and admit to the village he had AIDS and go seek treatment.
Afterwards, she went to visit him in the hospital. Before she could get herself gloves, he grabbed her, with his bloody hand of pus; and he begged her to fill his water bottle. Julie worried she'd been exposed to AIDS here.
But, she would be all right. He, however, would die from the ARVs.
Drama!
We stopped to visit an orphanage.
To be continued ...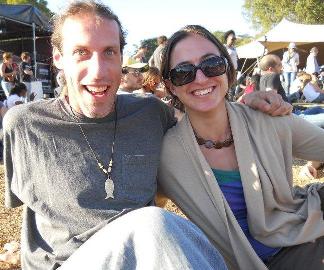 Thanks to Johann Booyens; Kalono; Solomon; Kriki & Hardus; Shawn; Hein; Colin Maritz; Pete; Casper & Wayne; and Isaac & Zodwa for rides!
Much thanks to Kobus, Adrianni, & Benru; Colin Maritz; and Julie for places to stay!