Once I'd gone to Lesotho's Office of Immigration to receive my free visa extension, I sold some stories so I'd have enough money to buy myself a big tub of ice cream.
And pretty soon, I was answering people's questions of "U phela joang?" (How are you doing?) with:
"Ke phela hantle haholo!" (I'm doing very well!)
I said that a lot – during my "thrump" (three-month stay) in Lesotho. I hung out every day with Maple, a wonderful girl I became very close with. I lived in Roma from Day 1 to Day 89, giving me necessary stability. The people around me were great. I had a good and easy time.
There was little left to be said about the country. And most of that could be said in the form of a list I'd been compiling and scrutinizing over, an absolutely fantastic list that deserved to be its own independent country, or at least have a street named after it. Here, to present another exciting version of the list known as MODERN ODDYSEUS' TOP 5!!!, is … the Modern Oddyseus! ("Yay!"s and "Hooray!"s from the crowd.)
"Hey, I'm Modern Oddyseus the presenter. First of all, I'd just like to thank Modern Oddyseus the writer for allowing me to interrupt his story.
"Before we proceed with today's MODERN ODDYSEUS' TOP 5!!!, there are some facts you should know about Lesotho. I'll hand you over to the other Modern Oddyseus, who'll present those facts."
(Facts)
pronunciation: The people of the country were called the Basotho. A single native of the country was a Mosotho. In their local language, they called their language "Sesotho", although in English it's often called Sotho. Why all the "sothos"? I didn't know, but they were all pronounced: "Soo-too".
currency: Local currency was called "maloti". They were used interchangeably with South African rands. One U.S. dollar was equal to about seven of either one. However, the banks in either country would rip you off if you exchanged dollars; so, I always tried to find an Indian or Nigerian businessman who'd gladly buy my dollars at a fair price.
names: Nearly all Basotho people had Sotho first names, English or Christian second names, and Sotho last names. They went by one of their first two names.
entry requirements: I didn't have to pay to enter Lesotho; my tourist "visa" was a free passport stamp, upon arrival.
(End of facts)
"Thanks, Modern Oddyseus. You're wording was brilliant, as always.
"If you don't mind though, Modern Oddyseus, I, the present-tense Modern Oddyseus the presenter, would like to keep relaxing at the peaceful farmhouse of my friend Kobus in South Africa, where I am at the moment. Do you think you could provide our readers with a brief history of Lesotho, seeing as how you're still there?"
What!? Sure.
The Maloti and Drakensberg Mountains of Lesotho had nearly been uninhabited a few hundred years ago. When the Boers began settling in southern Africa, the Basotho people's ancestors fled to these mountains.
They first became a nation about two hundred years ago, under King Moshoeshoe, the most famous Mosotho. Truth and legend said of him: he lived in a cave; the mountain on which he declared the Basotho nation rose like a fortress in the night; his grandfather was eaten by cannibals; one of his wives was taken by a wolf.
(Historically, the people of Lesotho were polygamous.)
Moshoeshoe, in a manner representative of Basotho people, kept friendly relations with his neighbors. He preferred to offer them money or cows than to make war. He reluctantly agreed to give his white neighbors a large part of his territory.
Lesotho went on to be colonized by the British and then become independent.
But, the next historical occurence that majorly affected Lesotho was when, thirty years ago, the first case of AIDS was identified, in an American man.
"Bravo, Modern Oddyseus! Good history lesson!
"Well, it's about time I present to you the first MODERN ODDYSEUS' TOP 5!!! from Africa. There are no lions on this list, don't worry.
"Since Lesotho's a pretty agreeable place, I'll begin with The Top 5 Best Things About Lesotho!:"
1. OPEN, OPEN-MINDED, AND FRIENDLY -
I had great conversations with the Basotho - a people who liked to read and study. They were ever eager to talk to and meet someone new.
2. BEING OUTSIDE -
The town of Roma was dazzled by rounded, orange cliffs overhead, and by distant grass-covered pyramids. The town of Semonkong, with its treacherous Maletsunyane Canyon, enticed me with its horseback men and Stone Age huts and delicious lamb meat meals.
3. COUNTRYSIDE HOMES -
While I stayed - ironically enough - with Americans in their traditional huts, I loved how the burning candles created the mood of a supervillain's hideout or of a wedding-cake bakery, as they illuminated the orange-clay or yellow-painted wall(s)(?). I loved reading in this candlelight.
4. SESOTHO GRAMMAR -
Being my first African language, Sesotho offered me some new and difficult grammar. For example: instead of saying, "Justin slept in prison", you'd say the equivolent of "Justin he slept in prison." And then you could add whatever derogatory comment about the legal system you felt appropriate.
5. SOFT, PLUMP LIPS
"And the HONORABLE MENTION includes: ROMA; SEMONKONG; EVERYONE GREETS EVERYONE; THE HARD-WORKING BUSINESSMEN; MOTOHO (a heavy drink made out of sorghum); and "CHAKA" BY THOMAS MOFOLO.
"'Chaka' is considered to be one of Africa's twelve best novels."
"This brings us now, unfortunately, to the Top 5 Worst Things about Lesotho!:"
1. PASSIVE PEOPLE -
Most Basotho weren't assertive. They wanted to be led, to be taken care of, to be given things, to have a job that paid them to play computer Solitaire.
And they were afraid of so many things! Common fears included: swimming, deep water, riding horses, snakes, a legendary huge snake that lived in deep water, bad spirits in the forest, remotely cold weather, shepherds' dogs, and frogs.
-- The shepherds, on the other hand, seemed to walk tall and run on the mountains and be fearless. --
2. BORING CUISINE
3. FEW TREES (OR WILDLIFE)
4. "GIVE ME SOME MONEY!" (THE PERCEPTION OF WHITES)
5. CHRISTIANITY IS TAKEN FOR A FACT -
Nearly all children were being educated in Christian schools.
The Sotho word for preacher, "moruti", was deceivingly derived from the verb "ruta" (to teach). One of the most upsetting things about Christian missionaries was that they claimed to know what they only believed.
"The Sage is never sure of what others regard as sure" - Chuangtse
The poor Basotho were being taught ... "in that innocent and ineffectual way, in which the Catholic priests teach the aborigines, by which the pupil is never educated to the degree of consciousness ... and a child is not made a man, but kept a child." - H.D. Thoreau
It had been King Moshoeshoe who'd welcomed the first French missionaries into his country. Men had resisted the foreign religion better than the women. While the men enjoyed mock-fighting - fencing with their shepherds' batons - they used to taunt those who'd failed to defend themselves: "That's because you're a church-goer."
A fictitious church leader (a Dostoyevsky character) once said, "We'll convince them that they'll only become free once they've given up their own freedom to us and obey us."
"Wow, readers! It's Modern Oddyseus the presenter here again. # 5 of that list could've been a story of its own!
"Anyways, here's the HONORABLE MENTION: RUMORS OF CRIME; TAXIS HONKING IN MASERU; EXPENSIVE PHONE CALLS; MUD; and BEING INSIDE. In the lowlands, where people had electricity, many people just watched TV or looked at the computer in their free time. Boring!
"Well ...
"That concludes MODERN ODDYSEUS' TOP 5!!! However, on this lucky day, it will be accompanied by an amazing *BONUS* list. Check it out:"
1. SAMOA - 97
2. AUSTRALIA -97
3. TIBET - 91
4. LAOS - 85
5. FRANCE - 81
6. FRENCH-CANADA - 80
7. ICELAND - 79
8. SIBERIA -70
9. COLOMBIA - 62
10. CZECH REPUBLIC - 60
11. LESOTHO - 59
12. MICHIGAN - 50
13. SWEDEN - 40
14. ENGLISH-CANADA - 38
15. CHINA - 34
16. EUROPEAN RUSSIA - 30
17. GREECE - 28
18. BRAZIL - 27
19. ARGENTINA - 26
20. ISRAEL - 26
21. FLORIDA - 25
22. ENGLAND - 23
23. TRINIDAD & TOBAGO - 13
24. ANDORRA - 2
"That list shows, on a scale of 0 to 100, how good I think the life is in each place I've gotten to know well. What an interesting list!"
Modern Oddyseus the writer here again. I wished I was already at Kobus's farmhouse like Modern Oddyseus the presenter, but I was stuck in the past tense.
After three months in Lesotho, I crossed over the border and returned to South Africa. I tried to hitch a ride. It was tough.
I remembered how unfriendly and unharmonious South Africa could seem.
And this made me really appreciate Lesotho.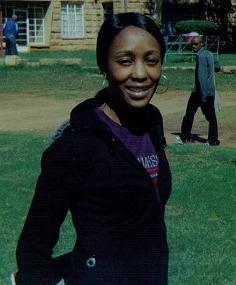 good-bye, my dear Basotho friends!
Modern Oddyseus
Thanks to Mosa & Paul & Khotso Potsanyane; Ntsibane; Lehlohonolo Pofoli; Mpakaletsa; Maria & Mother Katleu; Richard; Pheko Ntsane; Leomile; and Elliot, Janette, & Aaron for rides!
Much thanks to Zach & Jesse; and Paul, Delphina, Rantso, Matthias, Mapitso, Relebohile, Puleng, Lineo, two more babies, Mamoketsi, & George Bokaako for the places to stay!
"Chaka, I'm telling you, there is nothing that can overcome man." - Isanusi the witch-doctor (a Mofolo character)
"Chaka, kea u bolella ha ho letho le ka hlolang monna."