Although, in and of itself, hitting on girls hadn't been one of the main things that attracted me to spending the winter in the Czech Republic, I found myself doing it a lot. The soft-faced girls almost always said "ano" (yes), when asked to dance. Often, they kissed; I especially liked how small, romantic Erika held the back of my head with her fingers, as we kissed on the couch in V Club.
I wasn't the only person struggling to stay free while, at the same time, getting the love he/she needed in Rymarov (a small town where couples rarely kissed twice without becoming monogamously committed). Each of these "small town Casanova's" had his own strengths and weaknesses, as well as different goals and success rates.
Among us, there was I. My goal was celibate love, or just a good dance; the less talking involved, the better. I clung to the naive belief that the battlefield of love should be a friendly place, a place where people feel safe and have fun and remain friends - not a place where girls seek comfort and a higher social position, and then close themselves off to new love.
My STRENGTHS: tall; good ad-lib and salsa dancer; looks good in a suit; bold moves; particularly effective with young, drunk girls; American; renowned adventurer; stays sober. My WEAKNESSES: unpredictable hair; looks like hell when tired; Verca; worry over a girl expecting sex; can't work on subjects unless inspired; doesn't like talking; anti-sex and anti-monogamy views.
My BIGGEST SUCCESS, I'd say, came with a girl I didn't have great success with, but who really inspired me. Katka's happy, gleaming face consisted of baby cheeks and black eyes and ponytail; her healthy, round butt and two roaming continents for breasts pushed on the short dresses she wore to balls with such opposition you'd think the dresses would burst. She liked playing with me, but she had a boyfriend, so she couldn't always play. The first time I saw her, she was dancing in leather pants on the stage in V Club, and I came up to join her. The next time, we were the first pair dancing on the ballroom floor at a ball. A third time, I saw her on a slow night in V Club. I asked good-natured Michal Zet'ak, a champion hip-hop and electric boogie dancer, if he and his girlfriend wouldn't help me entice Katka into dancing. Katka responded that maybe she'd join us in a bit. I picked her up from her position, lounging on the couch; she squirmed in my arms, but smiled. She followed us to the floor. And ten minutes later, I gave birth to a new move, when Michal's girlfriend hopped on my right arm, I scooped Katka up with my left, and spun us around.
"That's right, my friend, women really like action, daring, violence ... women were made to be carried away, they want to be carried away by the strong, - good Trivalin, it's the law of nature that women love heroes ... Dear Trivalin, women are weak, that's why they're attracted to heroism. A woman, my friend, loves blood on a man's hands, and wants to be won." - Brighello to Trivalin, in the "Play of Love's Destiny", by Karel Capek
A second "Casanova" was nineteen-year-old Jarda. He had short, dark hair; light-brown, serious eyes; and a jawline that was developing from "young and soft" into "firm and successful." His goal in life was to be a rich businessman, and as happy as possible. When interacting with girls, he wanted to get to know girls intellectually, to gain a better understanding of women, and he also wanted what most guys want. His cold-hearted approach indicated a more-realistic attitude toward the Rymarov girls, most of whom were opportunistic and unsympathizing. (One source said his first girlfriend had been unkind.) He engaged in power struggles with girls, to see if they'd obey him when he asked them to do things; and he rejected girls, so they'd like him more.
His STRENGTHS: good jive dancer; well-loved in the community; interacts with the girls on an everyday basis; student of "pick-up" strategies; charming. His WEAKNESSES: aims too low; tries so hard he doesn't enjoy it; seen kissing too many girls in public.
One night in V Club, I was talking to Jarda about how we all reach our "peaks" at some point in life, and after that we go downhill. A NOTEABLE SUCCESS of Jarda's happened when, some time later, he told a girl, "We might be at our peaks right now, and we don't even know it," to convince her they should have fun together now.
I could tell you about other "small town Casanova's", such as blond, twenty-eight-year-old Klara Sigmundova. Her STRENGTHS: hillarious; pretty; good party stamina; no competition (no single girls over 21); funny photographer. WEAKNESSES: too strong for most Rymarov men; susceptible to nervous shaking when sober. But, we have to continue with our story ...
After seven weeks of kissing girls on the weekends, I realized that what I needed most were some real friends I could talk to, and whom I could see during the week. In the next two months, happily, I found some. Not all of them were present at my "good-bye party" in early April, but Jarda and Klara and some others were.
In an alternative-style bar, I read into a microphone one of my travel stories which I'd translated into Czech; it was barely comprehensible, and well-received. Jarda then suggested we play a drinking game involving dice. But, since I didn't drink, we decided the players could have the option of doing "ukoly" (tasks) if they lost.
Jarda sat the furthest to the right, playing and enforcing the rules. When he lost, he often chose to drink, but he didn't become drunk. Among the "ukoly" he performed was to sit on an unsuspecting girl's lap, take a sip from her drink, and say, "Hey, honey, so how do my chances look tonight?"
I sat to Jarda's left. Once, for a task, I had to ask an acquaintance if he didn't have a spare condom he could loan me. Later, I had to climb to the top of a gate and say into the microphone, "Compared to me, King Kong is a pansy!"
The latter "ukol" had been thought up by eightteen-year-old Michal Zet'ak, who sat to my left. He, like classmate Jarda, had been my students three years ago, but we only became good friends now. The possibility of teaching again had been the #5 reason I chose to spend the winter in Rymarov. Unfortunately, for me and for the town of Rymarov, the school principal followed Prague's orders and didn't let me work illegally.
"Any code of rules is an act of violence. ... Laws are oppressive handcuffs. ... All governments are tyranny." - Adam, in Karel Capek's play, "Adam the Creator"
So, I worked instead as a plumber's helper.
Michal Zet'ak, meanwhile, for his "ukol" had to jump and hug our bar's stripper pole and twirl around it. His innocent smile, the smile of a boy who believed we should do what we feel and who loved drinking and befriending people, looked funny on the pole.
To Michal's left sat pale Martin. Martin, in his second year of university in Prague, loved girls, and he came home to Rymarov almost every weekend to attend the balls, though he was often quiet and unsure at them.
These balls, of course, had been the #3 reason I'd wanted to winter in Rymarov. This season's highlights included: any jazzed-up, rock dance with Jana Krecmerova, a tough little girl in a shimmering, gold blouse who shook every part of her body angrily; a ten-minute polka with Jana K., in which we hopped and spun so quickly sweat dripped from my forehead onto the sleeves of my suit-jacket; a racing waltz with Jana K., in which we triangled our way through the crowd and got nauseously dizzy; and slow-dancing with Orange-cheeked Petra, who sang the Czech song to me.
For an "ukol", Martin walked on all fours through the bar and yipped and shook his head around like an excited puppy. Later, he was supposed to lick someone's ear. He walked slowly through the bar, unsurely looking at girls' ears. Finally, he ended up at the bar and, giving up on the task, resignedly ordered a shot.
The next player, little Klara Sigmundova, would inherit this "ukol". Though she was totally sober, she walked straight over to a shy boy who had a lot of hair. She melodramatically pulled back all the hair that was covering his ear, which took a long time. Then, she gave the ear a big lick like a St. Bernard licking a steak. The poor boy turned red.
Fun Klara was my best and most loyal Czech friend, a girl who lived to cook for and have fun with the people she loved.
She'd been the only friend to join me for ice skating, the #6 most enticing thing about Rymarov's winter. Tragically, she suggested we take some funny photographs while skating. She wanted to skate at me and jump into my hands. "Hmm, that seems dangerous," I thought, "but dangerous for her only, so if she wants to do it, who am I to stop her?" Sure enough, I couldn't hold her weight while on skates. She fell backwards. The next morning, she found she couldn't move her neck, and she had to wear a neck brace for the next two weeks.
Next to silly Klara sat our game's final player, Andrejka. Not knowing her that well, I'd say she's typically Czech: thin and strong-willed and beautiful, with dyed red hair; monogamous and reserved and controling. I couldn't believe Jarda got her to play this game. For an "ukol", she had to go to the bar's bearded owner and ask if he didn't mind her doing a striptease for the bar; he, as if trying to contain his glee, just shrugged, "Sure ... why not?"
The tall, lanky guy to Andrejka's left was her boyfriend - unhappy that she was playing what he'd later call, "A game for pigs" - and one of Klara's and my good friends. A month before this, he'd said to me, "Tvoje trojka byla rozhodlna." (Your three-pointer was decisive.) The town basketball tournament was the #2 thing I'd come to Rymarov for. We won our last game, 61-58, against a mean, bullying team that included Jana Krecmerova's boyfriend. I surprisingly made a long-distance shot with ninety seconds to go, and we took second place in the tournament.
Andrejka's boyfriend looked on as Martin performed a late "ukol". Martin crawled under the long table, stuck his head out in an unsuspecting girl's lap, and said, "Little cow, little cow, give me some milk."
This black-haired, sad-eyed girl was Verca. Martin pushed himself against her as he struggled to get up from underneath the table, clumsily.
The thought of dancing with this girl - alias Vika, a.k.a. Vert'a in my stories - at the Public School's Ball had been the #1 best thing I could imagine about Rymarov. She wore a long, gray dress and she seemed to have tears in her eyes, when we did indeed dance at the ball. Our thighs and faces were very close, we moved to the music slightly. A faster song came on, we held hands and jumped around, we came together, and I dipped her, which was so fun. As she left, I thanked and kissed her.
The #4 reason why I'd come to Rymarov was because I was in love with Verca. She and her persistent disregard for me made me weak.
Unlike with Katka's rejections, I was unable to shake off Verca's rejections of me and approach her the next time with confidence. She was so cold ... and joyless. She suffered and was beautiful like a Dostoyevsky novel. Whenever I was next to her, I felt like there was nowhere else I had to go. And yet ... deterred by her rejections, I stopped trying to talk to her months before this night. I wasn't even sure if she'd come to the bar because she wanted to say good-bye to me or not. As scared as I was of her, I was not Verca's hero.
The boys and Klara and I quickly left for V Club. Katka, who happened to be a good friend of Verca's, was there. I tried telling her about my ideas for a utopia without sex; she said she liked sex, and went to her boyfriend. Just then, Jarda gave me the task of talking to and entertaining one of his "girls", so she wouldn't get bored while he went and talked to another.
Two days later, I saw Katka in a bar. She in her full, light-blue jeans wanted me to smoke my first-ever cigarette with her, and I agreed. Later on, we went to a dark room to dance, but unfortunately the song ended after twenty seconds.
Two days after that, Verca and I had a meeting. I told her I'd been in love with her. To my surprise, she said she hadn't known. I mentioned how unfortunate it was that we hadn't spoken together for months; in response, she noted that I'd been a bit of a playboy at the balls. And that was that.
The SMS I'd written to Verca in January, "Mam novy napad. Ty, Katka, a ja budeme spolu, a budeme zit bezkonecne st'astni," (I've got a new idea. You, Katka, and I are going to be together, and we'll live happily forever) never got more of a response than, "OK, now, that plan makes no sense to me ..."
I hoped my Casanova abilities hadn't reached their peak yet.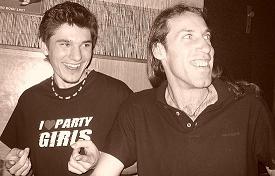 - Modern Oddyseus
Thanks to Marco; Antonella; Renato; Milo; Piotr; Christian; Marek, Sylven, Paulina, & Kristyna; Filip & Gina; Joze; Petr; Tomas; Honza; Cyril & Ludmila; and Franta for rides to and in the Czech Republic!
Much thanks to Jano, maminka, & Brano; Albina, Igor, Katka, & Niki; Pavel & Dasha; Mom & Dad; and Klara for places to stay!