Some time during this past week, I realized that the nature of my trip to Russia requires me to be "obmanchivyy" (deceitful) - I have a secret.
This goes completely against my interests. What are those interests? Well, I've placed myself on a path towards achieving complete freedom of verbal expression. To be free, one must speak freely, without care nor apprehension. Open, honest discussion strengthens relationships and improves our understanding of the world.
Russians love speaking, they're good at it and speak very freely, and there are few taboo questions or subjects. Their most-common leisure activity is to "gulyat" (walk) around town, in fashionable high boots and jeans or skirts, if they're girls, and talk.
Turning to Russian literature, we see that Dostoyevsky's main character in "The Idiot," Prince Myshkin, speaks his mind with no apprehension. (At least, as far as I've read, he does.) He even thinks you should speak about "everything" with children.
And Dostoyevsky's Raskolnikov, in "Crime and Punishment," gets frustrated and worn out while talking to people, because he can't let them know that he's committed murder.
My relationships in Tomsk are good. But, they'd likely be even better if there weren't any secrets. Maybe I'd be less worn out. Secrets are harmful to your health.
With things going badly anyway, I decided I'd leave Tomsk. Go home. The decision had to be a fast one. I would have to - first of all - hitchhike 4000 km just to get to Ukraine. And, having some sense, I wanted to do this before snow would come again and while the temperature was often above freezing. Eek! Going backwards, of course, wasn't as enticing as going forward - with my trip. But, I was road-weary and thus longed for home.
I gave myself two days to say good-bye. On the first night, I met Sasha and Tanya at an underground rock bar.
There were no available seats in the long and narrow, gray bar, yet Sasha and Tanya got us invited to a table near the band. The local band, "Mega Mix Blues," played classic rock'n'roll songs. This bar seemed out of place. But, it was great. Thin but rough-looking, army-haired Russian guys sang in English and with the facial expressions and emotion of an old-time band.
They played songs from every decade: from Elvis's "Hound Dog" to Mick Jagger's "Satisfaction" to Nirvana's "Rape Me." A young guy wearing a black, fringe beard, who had bad teeth and drank from a metal flask, danced blissfully and smiled witlessly. Not a lot of people danced, but those who danced rarely sat. My friends and I danced.
A circular-faced, young fellow with a thin, lynx-like goatee walked by and pointed a smiling finger at me. He'd spoken to me with a freshness and a fury - after I'd arrived at the bar alone and as I waited for my friends.
Among my friends who'd come were small Nastia and her boyfriend, Dima - the same couple whose wooden house I'd fallen in love with.
Earlier this day, I'd seen Nastia for the first time in about a month. She said I looked unhappy. Other people have been saying I look tired. One female commented that depressed Russia must be getting me down.
But, on this night, in the rock bar, I forgot all my problems. Enjoy the night. I spontaneously yelled things after the band's songs. "Zamechatelno!" (Wonderful!) Following the song, "I Feel Good," I yelled, "Nastoyashyy Dzaims Braun!" (It's the real James Brown!)
Curly-haired, child-eyed Sasha, along with orange-Asiatic-skinned Tanya from the Xakasia region of Siberia, were two of my roommate's and my best friends. We giggled as we pushed each other at our table. They began to say they were gonna miss me, sad expressions that didn't belong on this care-free night. Besides, I told them, I was already beginning to rethink my decision to leave Tomsk. Let's dance.
Only a week before, before this magical night, before this perfect rock bar, I'd had a humbling and rather funny experience dancing. My search for work led me to trying out at the city's most-stylish nightclub to be a stage dancer (with clothes on!). At the "casting call," a man named Igor turned on "house" (rhythmic electronic) music for me to show him my moves to. On-stage, I moved. What did I do? I pretty much danced in the most ordinary, boring way possible. I couldn't think of a single move to do! And so, I jumped down and apologized for wasting Igor's time.
However ... in this rock bar, on this night, rock music was playing.
Nastia got up. She slinked around the dance floor.
Small Nastia is an interesting person. In some ways, she's amazing: she's clever; her mischievous smile is like the golden sun over the green Altai Mountains; her great taste in music includes "The Dead Can Dance"; and she's capable of totally freeing herself and making weird, funny, musical, verbal sounds. But, at the same time, she's enchained: her job in the capitalist world (in an internet café) is demanding and unrewarding; she smokes marijuana too much; and her older boyfriend is ready to settle down while she's still dreaming. Her biggest fear is being deserted.
She, of course, moved slyly and coolly to the music, stalking. The band played one of many slow rock songs. This time, I danced with her. I employed some salsa twists and turns. I tried moving erratically to the rock beats, spontaneously, but keeping Nastia with me. When I dipped her, she let me pick her up completely off the ground. And, also, when I turned us speedily around, she clung to me and lifted her feet up as we spun. "Klassno tantsuesh!" she complimented me, surprised, with a big smile beneath her green eyes as thick smoky as a house-fire.
We twisted to, "Let's Twist Again ... like we did la-ast summer!"
The band, "Mega Mix Blues," played an eerie, rhythm-less, long-drawn-out, instrumental song that was stimulating. Nastia and I kind of stepped around each other, making spooky actions.
Nastia returned to seated Dima. Sasha and Tanya had left. No problem. I was in a rock bar. A Russian rock bar. In Russia.
In this part of Russia, I'm not the only American guy. Earlier this day, I'd visited black Michel, a student from New York. He advised me to stay. "Man, when I went home, I felt terrible. What are you gonna do there?" He was, most likely, right. I'd go home; see my mom and grandparents and relatives; see my friends; and then I'd be itching to leave. He also mentioned how incredible Russian girls are.
American women can be incredible, too. But, Russian women: there's something amazing and strong in almost every one.
In the rock bar, two curvy girls with curvy dance motions had been dancing together all night. One had long, black hair, one had long, hazel hair; they were sweet and sexy.
The band played Green Day's "I Walk a Lonely Road." I slow-danced with the girl whose hazel hair reached its tips past her belt.
Her face, smile, and breasts were round, soft, and sweet as rain. Being near her chest was like swimming in the tropics between two coconuts. She was a painter. My hands, upon the back of her black sweater, felt warm sweat, and my fingers touched the mid-points of her Yenisey-River-long hair.
She liked being dipped backwards, and when I dipped her, she tilted her head and white neck back towards the floor ... and posed there.
We danced several songs together, including the last one. I think if I'd come to this bar once or twice a week, it would be all I need to be happy - even if I have a secret. I'll certainly be there next week.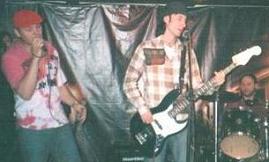 smiles, Justin