As Furry Pasha's fifteen-year-olds behaved worse and worse, Dopey Vasya's seventeen-year-olds grew more and more pleasant to be around.
11:10 a.m. on Monday, I met the older group for the second time.
This group included President Pasha, the president of the school. He had dark features, milky skin, and a charismatic and well-meaning smile. His classmates had told me that he's the funniest member of the class - not Dopey Vasya.
I'd been invited by the school to attend a "Sentyambrovka" (a September, weekend retreat at a camp). President Pasha would be leading a group of students in a competition, versus other groups and versus the group that included me, the teachers' group. Pasha aspired to be a comedian, and his group was expected to make a very funny performance. I was really looking forward to the Sentyambrovka.
During the break between lessons, I stayed in the classroom, and Dopey Vasya and other students swarmed around and surrounded me to talk. One girl whose movements were light and whose face was soft, round smile, told me about a Siberian mountain range she'd been to and loved.
In the second lesson, I wrote, "He/she is ..." and a bunch of adjectives on the board. "bald, happy, sad, artistic, rich, quiet," etc. Also: "He/she has ..." and, "a beard, long hair, a nice personality, a big belly, many shoes," etc.
We described family members and classmates. Smart Lena spoke a lot. Towards the end of the lesson, I told Dopey Vasya to describe me. He said I'm "happy, tall," etc.
I was going to move on, but he stopped me. He pointed to the extra weight he carried, holding it with both hands. Dopey Vasya and I led the whole class in saying: "Vasya has a big belly!"
He came up to me and pointed to his face. I didn't understand the Russian word he was saying, but, soon enough, we were leading the class in saying, "Vasya has freckles!"
This group's jokes were never cruel, always tasteful.
At some point, I told a slightly older female friend of mine about the fifteen-year-olds' poor behavior. She wisely said I must yell at them.
8:30 a.m. on Thursday, I was with the trouble-makers again.
Again, I called on Gypsy Roza to talk. Furry Pasha commented, about me, "Konechno vlyubilsya." (He's certainly fallen in love.)
I wrote words on the board which no one copied down, gave a homework assignment which no one planned to do, and showed the class my pictures. Everyone was mad I hadn't brought pictures of my wife, Shakira.
During the break, Furry Pasha and Triceratops Vanya and others swarmed around me. Some girl I'd never noticed before engaged me in a friendly conversation; she ultimately wanted me to know that I shouldn't call on her to come to the board, because she would not, under any circumstances, obey me. Beautiful, free-yellow-haired Katya asked me for my e-mail address.
English Class resumed, and I wanted us to collectively tell a story about a dog and a cat. First, Triceratops Vanya refused to come to the board to write.
Then, I called on Pale Dima. I pointed out that if he now came to the board, it would in some way make him better than Vanya. Sweat poured from Pale Dima. What would he do?
He wouldn't go, he said. Furry Pasha cackled that it was no use reasoning with Dima. "On bez chuvstva," said Furry Pasha. (He's without feeling.) That was kind of funny, actually.
Pretty soon, our cat was smoking cigarettes, our dog was an alcoholic, and the phrase, "smoked meat," had been mentioned half a dozen times.
The classroom, meanwhile, had turned into a paper-airplane factory and airport. One airplane hit me in the head. I stomped on the planes when I could. Once, Furry Pasha's hands raced my feet to a plane. His hands won.
Clean-looking Zenia became irritated by the fact that our dog and cat were doing only bad things. He suggested they have dinner together.
Our lesson ended. As I walked out of their class, the last thing I remember seeing was a blond boy holding an airplane by the tip and repeatedly beating Pale Dima's ear with it; Pale Dima just sat there ...
I didn't yell.
... Oh, boy.
Thankfully, 10:30 a.m. came along.
Unfortunately, for the first time, I would be teaching only half the students of a class. And Dopey Vasya would not be joining my "high-level" English half. He liked learning with me so much - if we did, in fact, "learn," that is. His teacher asked if I'd take him into our class, and I said yes. And yet, Dopey Vasya's hand was extended towards me, as if he was falling down, down, and I ultimately failed to save him.
Dopey Vasya missed a dream of a lesson. Nearly all of the students had done their homework: bringing in photographs, with sentences in English written about them.
A goofy but confident girl held her photo proudly and told about it. Two young rockers proudly showed photo's of their band. Blond, plain-looking Aleksei - whose hobby is Russian baseball, "lapta" - showed a photo he'd taken with a friend, when they'd climbed a ski-jump in winter to capture their faces above Tomsk City during the sunrise.
President Pasha struggled to tell about a young comedians' festival he'd attended in the summer. He'd competed in it and spectated. He said he'd show me the video during the "Sentyambrovka."
I wrote a lot of new words on the board. Smart Lena hurried to make notes of them all.
7:00 a.m., the next morning, came quickly.
Ugh, I felt bad. The weather was drizzly and cold and unhealthy. Could I wake up, ride in a "marshutka" for forty minutes, packed in like a rat, and then go to the Sentyambrovka, where more energy would leave me, speaking Russian all day?
I reeeally wanted to go. President Pasha, Dopey Vasya, Smart Lena, Furry Pasha, Clean-looking Zenia, and four more of my students would be there, along with fun teachers.
I ... couldn't do it. "Koshmar!" (Nightmare (a mild expletive)!) Koshmar ...
Man! (This was the day I realized I needed to move to the center.)
I prepared for the future.
Teaching the fifteen-year-olds was a challenge. Whenever I teach only good students, I miss bad students. If I ever will teach only bad students, I might go to the tallest school and jump off it.
I figured that, on Monday, I'd ask the fifteen-year-olds, "Who wants to learn English?" Five or six students, including a peaceful boy who always just watches the lesson and smiles, would probably raise their hands. The rest were just Furry-Pasha-wanna-be's.
Maybe I could win the others over if I spoke about philosophy in Russian, about Acts of Spontaneous Ecstasy like "dance" and "swim" and "kiss" and "teach". I could read them one of my stories which had been translated into Russian. The students needed to learn about happiness more than English, I think. I figured, whatever I did with the students, the other school employees would just be happy it wasn't THEM who had to be with those delinquents.
Wrong! 8:20 a.m. on Monday, the vice-principal called me into her office - just like when I was a kid!
I wouldn't be teaching the same classes anymore, she said. Another teacher had returned, and, besides that, I hadn't been giving the students grades.
I felt bad for the seventeen-year-olds. But, I was tired from my early-morning, four-mile walks to school. The vice-principal and I agreed I'd lead some after-school English Clubs, once I got my living situation figured out.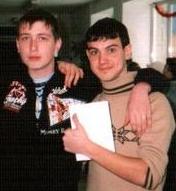 Ta Ta For Now, students!
- Modern Oddyseus