Hitchhiking to Montana was a lot of fun. But, the fun came to an end on June 24th. It came to an end, in order to make room for ...
more fun!
Elaine quickly scootered off to Costa Rica for a college biology class trip. There's a whole rainforest of trees to hug there! She's gotta be happy.
I miss Elaine, but at least I'm missing her in the latest country to draw my interest: Sweden!
Sweden interests me due to the equality of its people. I expect to find reduced crime, increased brotherhood, gentleness, and a heightened social conscience.
All these things would indicate speedy hitchhiking there, wouldn't they? You see, I'm a thumb-selling businessman.
I walked out of capital city Stockholm's airport. I inhaled the cool air's northern cleanness. Hitchhiking Step 1 (the only step there is) says, "Present Thumb."
And, then, guess what!? A huge bus stopped. And, I got a ride from Elrina (the chauffeur and team captain) and the rest of the Swedish Bikini Team, just as my buddy Dan had directed me to do upon reaching Sweden. Thanks for the advice!
No, I'm just kidding. I learned the other night, actually, that there is no Swedish Bikini Team. It came as quite a surprise. I mean, how can a proper country even run without such an instrumental cog?
Women's rights in Scandinavia are very advanced, I think. The gender equality seems to empower women and make them confident and really cool. For this reason, I wasn't surprised that the first three drivers to offer me rides were single women, my age or older.
Kina was the first. She drove me twenty kilometers from Stockholm's rural airport. This secondary road was the most beautiful I've been on in Sweden yet. Plentiful and large oases of northern pine forest intermingled with hills of pasture and red, wooden, stubby farmhouses. Yellow signs held moose silhouettes and indicated hooved-animal-crossings. The road's curves dipped and wound so tightly around the forests that we wouldn't have been able to tell if a car was twenty feet in front of us.
Kina also told me about "allamansrattar," a great thing. There are few fences in Sweden. "Allamansrättar" means "Everyone's rights," and it means everyone has the rights to the country's forests. You're allowed to camp out anywhere you want in Sweden, for at least one night. People in Sweden aren't so defensive of their "property."
I camped in forests two nights as I hitchhiked north. This far north, the sky barely darkens. From eleven p.m. to two a.m., the sky still commands a grayish illumination. The temperature has stayed close to sixteen degrees celsius (50 fahrenheit), day and night. It has rained a bit, so I simply hitchhiked Mary Poppins-style, hoisting an umbrella.
Pine forests are virtually everywhere in underpopulated Sweden. I saw three mud-gray, stout-antlered moose chomping on grass during the last ride I hitchhiked.
That ride was offered to me by talkative Ilva and her friendly mother, Asa. Thirty-year-old Ilva had her long, blond hair in a braid, and her face had an attractive, soft roundness to it. Swedish body parts can characteristically be described as full, soft, and round.
Ilva and Asa took me to the town of Umea. Northern Umea has a population of 133,000. It lies on fast, brown Umeå River. The center of the town is like a big pedestrian mall, with shopping, fast-food restaurants, and grocery stores. The town has little "Swedish" charm, because a recent fire hit the town hard. But, it is a progressive college town, with lots of vegetarians and vegans and activism and dread-locked hair.
The town is also cool because so many people ride bikes here. Old-style bikes fill bicycle parking spots all over downtown. Many of them aren't locked up. It's wild to see a whole wave of cyclists waiting to glide across a busy street together.
I'm planning to make my stay here in Umea, and I've been here for five days. My main activities are searching for work, searching for a room to rent, and studying cacklish Swedish.
I often approach people and start talking to them in Swedish. I can speak the language now pretty well. Then, they respond. What then happens is either: 1. I stare at them open-mouthed, wondering why their Swedish made so much less sense to me than mine did. 2. I just say something unrelated, not wanting to admit I can't converse in Swedish. 3. I say, "Vad!?" (What!?)
My latest Swedish teacher is Pippi Langstrump (Pippy Longstalkings), the classic Swedish kids' book that everyone recommends to me. It's pretty good. Whoo! that freckled Pippi, with her one black and one brown sock, was quite a character!
Luckily, almost every Swedish person speaks English fluently and is quite nice. My best friends so far have been three crazy girls I met Saturday night. They were twenty and drunk and funny, and their funny drunkenness made them aggressively try to keep from ever being one of the ones not talking.
They were very nice. But, they pushed their "snus" on me. I trried to resist, but I told you before Swedish girls are strong. Pippi Langstrump can lift a whole horse over her head!
"Snus" is a Swedish alternative to cigarettes. It's tobacco in a little tea-bag that you put below your upper lip. It causes your lip to stick out. When I put a "snus" below my upper lip, one of the girls said, "Aah, now you look Swedish."
Eww. The "snus" was all drippy and foul-tasting and gross. I'd never even taken a hit off a cigarette before, so it affected me strongly. I told my friends I was feeling "yr" (dizzy). We were walking down an Umea street, and the girls and the street and the buildings got all wobbly. Actually, I think it was me who was wobbling. It was like I was on some sort of drug, but one that wasn't enjoyable.
The girls told me that "snus" has not been proven to cause cancer. (It's just a matter of time, I'm sure.) However, it does burn holes through your lip, and it's several times more addictive than cigarettes.
"Oh, man, I gotta get me some more snus!" Oh, no, I'm addicted! I'm going to go out on the streets and start grabbing Swedes by their shirts and throttling them.
Just kidding, I'm not a "snus-head."
What I am is the newest member of the Swedish workforce. I start two - count 'em, TWO - jobs tomorrow. I will be a laborer in an interior construction setting, and I will work a hotel breakfast. Woohoo! The coolest part is that I played hardball already with one of my bosses, and I earned myself a higher wage. ha, ha.
Other than that, I should just let you know the hitchhiking in Sweden wasn't very easy. Even though the place seems very safe, people aren't that open to strangers. You should also know that, in the end, as many guys gave me rides as girls did, so the tally is even there. I'm just waiting for Sweden to get its butt in the third-world and start itself a bikini team.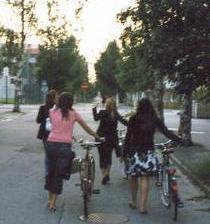 More "nyheter" (news) to come! - the Modern Oddyseus
Thanks to Kina; Ulrika; Helen, Pontis, & Lucas; Nelson & Nina; Peter; Juan; Agnetta & "Maiden"; Olle; Uve; Bengt & "Pepsi"; and Ilva & Åsa for the "karningar!"