On our first full day in Montana, my travel partner Elaine and I had my brother's car for the day, so we went out to explore.
We drove southeast from Billings. We drove a road called the Chief Joseph Highway (which is mostly in Wyoming, actually), a.k.a. Dead Indian Pass.
The land began rising, as we entered the Shenandoah National Forest. A shield of green, cylindrical pine trees rushed across steep slopes. The vast Shenandoah floor was all cut up, by bluffs and ridges and mountain wedges that dominated in sandy-tan and soft, friendly purple hues. A stripe of white flew through the sky, the snow topping on distant, devilishly dark-purple Rocky Mountains. It was all a huge, godly amphitheater, and flat and tree-less, interrupting grassy havens were the best seats in the house. At the highway's highest point - 8000 feet above sea-level - the blustery chill kept poor Elaine from stepping outside to take even one picture.
After the Chief Joseph Highway, this high land became flat. Our car snuck under pine forest so engulfing that it seemed to be moving in on us. Elaine's favorite part was where the forest opened up to a swampy clearing. A deer dear lay peacefully there, looking at us and its other fans.
We ate peanut-butter-and-jelly sandwiches beside a tranquil pool fed by the gushing, fountain-perfect drops of forest-roaming streams. Near Yellowstone National Park, we ventured into the wilderness for a hike. I was quite worried that a girzzly bear might suddenly appear to pounce on me. But, 120-pound Elaine just mocked me for this and told me she'd protect me.
A bridge led us over rushing, foamy, crystalline-blue rapids sharply carving their rock-walled gully. Thin trees led us to where a wide, quiet river broke the forest apart, onto some slabs of rock where mountain lions may have lurked, to a thin waterland where a moose might have slipped by, and to a stolen-away (cold!) lake where I skinny-dipped. Snow still lingered on the ground in spots, but Elaine and I were still shocked when it snowed and hailed on us ... in mid-June!
We headed back to the car to head back towards Billings. The absolutely incredible Beartooth Pass was our road, and it climbed up ... and climbed up ... and climbed up ... to a whopping 10,900 feet above sea-level!
The highway climbed up until bullying banks of snow turned the highway into blind white twists. The snow-covered apexes of mammoth mountains seemed to be right outside our windows.
We came to a flat parcel of land where the "Top of the World" restaurant sits. Steeples of rock poured up, and the wide plateau was mostly infested with snow. Elaine spotted a fluffball groundhog thing and there were breathtaking, so high, gray lakes glazed over in ice. It amde me want to get out and just run everywhere. I got to slide down one huge slide of powdery snow. As white crystals fell from the brisk, so clean air, it felt like Elaine and I were in a wholly different world.
When we picked my brother up from the Billings airport, we figured Elaine should hold a sign for him, because they'd never met before. It was her joking idea to hold a sign saying, "Brandon - Sorry We Crashed the Car!"
We stayed with my fun brother a couple of days. He took us to a friendly, log-cabin-style bar to drink 25-cent beers and play air-hockey. Another night, he cooked us pumpkin-burgers. (That's right, burgers made out of pumpkin!)
We also spent a lot of time looking at maps, researching what hikes to go on. "Hey, look," I said one day. "There's a Lake Elaine in Montana."
Elaine said, "I bet it's the most beautiful lake ever."
"I bet it sucks at air-hockey," said my brother. (He'd beaten Elaine 7-6 on the air-hockey table.)
"Oh!" Italian, cheeky-smiled Elaine pretended to be offended. "Ouch!"
Our best hike was to Lost Lake.
The path followed a boulder-blotted, light translucent river-let. Steep, rock massifs enclosed either side of our forest and the river-let, and we slowly climbed ahead to where these mountain ridges seemed to converge.
There camped out immaculate Lake Louise. Its waters were silvery-gray like medieval misty armor or dusk on a mountain-top. A light brown - so light, as if no color were necessary because so few eyes looked upon it - stern and looming rock wall shot straight out of the lake's other side and into the similarly light white clouds. Snow powdered all. All hues were those of top-of-the-world bleakness and desolation. It was cold and snowing, but great. A lone camper was there and fished.
It was sad to leave Montana's beauty. Elaine and I spent our final Montana days with my brother's best friend in Bozeman. There, we went drunk bowling, and I wore a pink bowtie and pink suitcoat. We also saw a black bear, but I think the pink suitcoat was more rare.
Sadly, we had to hitchhike home then. My favorite moments of our return trip included the following:
1. A drunk, self-proclaimed "hippy" named Kris gave us a ride in Montana. I loved this ride because Kris blasted the Greatest Hits of rockin' INXS for an hour.
"Here come the woman, the look in her eyes. ... Close the windows! Sharpen the knives! It makes you wonder how the other half dies. (Duh-duh, duh-duh-duh, duuuh, duh-duh ... duh-duh duh-duh, duh-duh-duh, duuuh, duh duh!)" - INXS (Devil Inside)
Poor Elaine was trying to sleep through this ...
2. Any state whose name ends in "Dakota" is a crappy place to hitchhike in. So many single guys passed us one morning in North Dakota (ND) that I made a sign reading, "ND Guys Wear Dresses - Or They'd Stop!" It cracked up Elaine, as well as a car of two girls that passed us. But, we had to change the sign, because a truck with three guys in it nearly stopped - not to give us a ride, but to kick my lousy hitchhiking butt.
3. In Minnesota, a mom, a grandma, and a four-year-old boy gave us a ride. The cute boy, Jacob, energetically talked his head off to Elaine and me. He told us all the animals he'd seen when they had gone to SeaWorld, and we pointed out trains and cows and horses to him as we went. The grandma, Mae, explained to us that Jacob had never met a stranger. Jacob replied, "What's a stranger?"
4. Gloria and Will, a couple with white- and gray-colored longish hair, drove us for ten hours through Michigan. They looked poor. They were very nice and smart. They'd given all four of their kids opportunities to study or visit overseas. Will had done military service in Germany, where he ventured away from his fellow soldiers to go make friends with the locals.
Will said one thing that I really liked. He said, "Wherever I go, I always like to hang out with the poorest people. They always seem the most interesting, willing to help."
Elaine said poor people usually picked us up while we hitchhiked. People driving fancy, big vehicles with lots of room rarely stopped.
In all, forty-three vehicles gave Elaine and me rides on the trip. 55% of them were driven by single males, three by 2+ males, one by a male with kids, four by couples, and 26% included more females than males.
I would especially like to thank all the people who Elaine and I stayed with. I had a great time.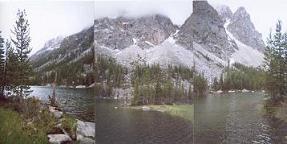 Peace out! - Modern Oddyseus
and Elaine
Thanks to John; Glen & Hannah; Marcus & Tre; Lerae; Julie & "Baby"; Kris; Dale; John; Bruce; Joy, Mae, & Jacob; Jason; John & Kay; Tray + her kids; Terry; Mark & Dale; Jim; Jackie; and Gloria & Will for the rides!
Much thanks to Brandon, Kelli, Anna, Kristen, & Cathy; Pat; and Brandy & Matt, again, for the places to stay!