I was shown to a great and rocking time while in unlikely Little Rock, Arkansas.
My friend and Little Rock host was Ron King, a cool guy about fifty. He had a clean, white beard and short, white hair and a friendly, intelligent, and well-mannered face. His speech was pleasant and slightly Southern. We'd met briefly while Ron was helping poor people in Trinidad & Tobago with his church. We'd kept in touch since, e-mailing about baseball, travel, philosophy, etc.
"You're a guest here," he said and warmly treated me during my stay. Our first venture was to his wife's favorite restaurant, a Cajun place. I ordered red beans and rice, with arboillee sausage. It was memorably yummy - one of the hottest spiced meals I'd ever eaten. I couldn't drink enough water.
After that, we caught a lot of music. We saw a Lynyrd Skynyrd concert on the first night.
It was a true Southern experience. Young and old came alike. Some crowd-members wore Confederate flags or Confederate shirts, and the band came out once with a Confederate flag. For half of the people at the show, it was like the experience of their lives. The band was pretty good - their highlight, of course, was "Free Bird."
I retired that night not to Ron's home, but to a hotel. Mold was growing in Ron's guestroom, so his insurance company helped me to live large in my own comfy hotel room. I loved having my own hotel room. I had just $80 to my hitchhiking name, but I was chomping bagels at the breakfast bar toe-to-toe with business travelers.
Ron and wife Sherry, a nice, curly-blonde with a Southern accent and dimples, came for me the next night. We visited Sticky Fingerz, a downtown spot owned by Ron and Sherry's son.
Sticky Fingerz was the type of restaurant/bar I would go to all the time if it was in my hometown. Its motto was "Love Live Music," and Ron's son prided himself on the bands he brought in. Its most mouthwatering menu option - if you asked me - was fried green tomatoes, soft and juicy and breaded. Its clientele were mostly young, working-age, attractive Little Rockerners. Its walls were orange and kiwi, hung with kid-looking colorful paintwork of black and white people and parts of bodies. A christmas tree hung upside-down from the ceiling, adorned with skull and Halloween decorations.
It was Halloween Friday. The many Sticky Fingerz bartenders and waiters dressed up well as members of the Addams Family and the Munsters. One big, tall guest was Beetlejuice. A girl came as an elegant Lucille Ball. One especially silly-looking guy wore a yellow, striped shirt; to complete his bee costume, he wore the tiniest, out-of-place wings, which must have come from a little girl's costume. The girl I liked was a round and perky, blond nurse who danced the whole time and showed smooth-skinned cleavage.
Brave Combo, from Austin, one of Ron's favorite bands, was the headliner. A tall white guy in glasses led. A long-haired indian/hispanic played lead guitar and sang. A fat, goatee'd guy in a kilt sang and played horn. Their music included bits of polka, salsa, merengue, rock medley, and a spooky Halloween tango. Many danced to the clunky noise, and the dance floor looked like bumper cars.
Ron and Sherry went to bed afterwards. I was too excited and headed out for more Little Rock - pop. a quarter of a million or so - nightlife.
"Midtown" was an after-hours bar with a lot of character. It was a smoky dive, and the people who frequented it matched the atmosphere. Most wore costumes. Gilligan was there. Shaggy appeared, with a stuffed Scooby Doo on his back. There were devils and fairies. A costume contest was won by a bloody "Carrie," from the Stephen King-based movie.
And the band was awesome: Yamataga from Memphis. The guitarist had attached a stuffed poodle to his crotch, and his costume was a "dog-%#!$er." The band's lead was its bass player, dressed as the Simpsons' Duff-man.
Duff-man ruled on the bass. They rocked. They were psychedelic. They did crazy Star Trek things and played fifteen-minute, walking on the moon, rising and falling instrumental songs. Yes! Duff-man would play a three-minute bass solo that we loved, and then the guitarist and drummer joined in and were awesome. They brought such a smile to me dancing in their funk on the smoky Midtown floor. It was on this night that I most wished I had a girl traveling with me, so I could have a dance partner for such occasions.
The next day saw even more entertaining music. Ron and Sherry's son, Chris King, had proudly brought in The Dempsey's, also from Memphis. They were incredible.
The three bandmembers had buckwheat haircuts and wore little-schoolboy, tight, white, collared shirts. One guy played - hacked at, with his palm - a big, stand-up bass. He stood on it at times and played. Beside him, the guitarist kicked his foot in the air. Occasionally, the bassist got behind the guitarist and wrapped his arms around him, and they played the same guitar simultaneously. It sweetly screeched.
They did a rapid rock medley, where the bassist yelled, "Van Morrison ... Van Halen ... B.B. King ... The King!" and they played bits of different people's songs. It was great.
They entered the crowd. The bassist stood up on a table. He whapped the chords for an awesome, hick'abilly, three-minute solo. When the rest of the band rejoined him, the crowd cheered.
The black-haired, boyish-looking drummer did a solo where he beat and tapped his sticks on everything, non-stop, all around the room. He tapped the sticks together. He tapped tables, and people's beer bottles to make them overflow. It lasted four minutes. He reached the stand-up bass on the table, tapped on that, and then he and the bassist took turns rocking. Whoo!
For their finale, the band-members switched instruments and played well. Ron and I loved it.
Ron's and my days were less exciting than our nights, but still fun. Ron's Argentinian neighbor and Chilean friend had us over for an Argentinian-style barbecue and Chilean wine and conversation. The Argentinian worked with the Heifer Foundation, which was based in Little Rock, and which Ron supported. The Heifer Foundation provided livestock to poor, needy people in developing countries and even to poor Americans.
Ron, by day, was owner of Refurbished. The company bought used office furniture, refurbished it, and used it to put in cubicles for offices who wanted to save a little money. I even put in a day's work putting in cubicles for the company. Ron awarded me with a day's salary and a Southern breakfast that included grits (gray and moist, but okay with butter).
Ron, for his part, had traveled to Trinidad and Colombia on missions to help poor communities. His pictures of the different-colored kids' faces in dry, poor, rural Colombia were incredible. There, Ron had helped put up a radio tower. But, Ron ached to see more of the world.
We saw as much as the Arkansas River, as we climbed a mountain on my last day in Little Rock. We, amid many friendly Arkansassians and their kids and dogs, made the nice, small hike to the rocks perched on top. These square boulders left the mountain's withered forest canopy, and we could see to the brown Arkansas River cutting through green land.
It was very nice to see Little Rock and Ron. But, the following morning, I left to see more.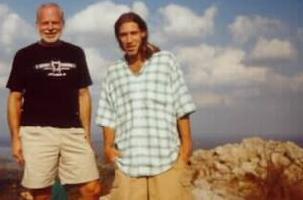 Later. - Modern O.
Much thanks to Ron & Sherry King for the place to visit!