Not much waiting was required as I hitched from San Antonio to Dallas. A Mexican trucker took me most of the way. In the past, he had transported cocaine into the States from Guatemala. This made him almost a millionaire. He got caught and served four years in jail, though, and he didn't do that anymore.
On the night before my birthday, I went to Gilly's, the largest cowboy country western bar in Dallas.
Shortly after midnight, amazingly-hot Dottsie danced with me. Woohoo for the 24th birthday! Ah-woo! She was short, blond, and cute as a doll, with a wicked-sculpted face. We danced close momentarily; say, I could get used to the country two-step. ... I didn't really dance well at this point, so the dance wasn't as nice as it could've been. (Dottsie was married, anyhow.)
Another Texan later taught me to two-step. Basically, you take two steps to the left, one to the right. Two to the left, one to the right. I quickly tried it out on a girl in a cowboy hat.
A dance was saved for my gracious host, Nikki Schram, also. "That was fun!" Nikki yelled, as she turned to my salsa-employed moves. Nikki was another beauty, in jeans and a jean jacket. She had a pettite frame, good skin, a small face, and shiny and light, brown hair. She was a sentimental family girl from my hometown and very nice. She had been the biggest supporter and fan of my travel writings for one month or two.
We´d met when we were both modelling in a hair show in Michigan. Nikki, though, was a professional. I never earned a cent.
Nikki and her friends and I returned to her new home in Dallas. Young Nikki was a good host. On my birthday, she treated me to a meal and ice cream at Denny's, and I was content. 24 years old! Wah-Hah-Ooo!!!
I was content to keep hitching on a few days later. Heading east of Dallas, my final ride took me to Sulphur Springs.
They were two country Texans who drove me in. They were Dana and Justin, a 19-year-old couple. They were cute, especially to hear them talk. Justin was shaven-headed, and he argued with Dana because he wanted to chew tobacco. Dana had short, blond hair and dark eyes, and she was sweet-speaking.
They spoke like that Texan actress from "Designing Women" and "Saturday Night Live." They said "thay-um" for "them," "hay-oose" for "house," and "o-kaiii" for "okay." Dana argued that she was a "woman" and not a "chick," because, "Look at maii butt. Ih ain't gott no tay-ul feathers tuh rustle."
The couple's friend, Brandy, allowed me to crash with her until I could hitch onward in the morning. The depressed town of Sulphur Springs smelled of sulfur. It was described by most as a "gloomy" place. Dana said everyone she knew in Sulphur Springs had tried to kill himself. Dana and Justin each had kids with other people, and there seemed to be a lot of sleeping around and violent urges. Dana was on probation; Justin had been in jail for marijuana possession and an illegal fire-arm.
Sulphur Springs didn't sound like the best place to be from. However, Dana, Justin, and Brandy were all very nice to me. Dana held my hand and was sad to see me go in the morning.
I got a ride with other Texas country-folk the subsequent day. An old lady, a slow-looking guy, and a black girl picked me up later. The black girl kept complementing my eyes and saying, "Imagine that! A cute-looking guy like you: hitchhiking." They also invited me to stay with them. The thin-faced black girl was kind of pretty, in a voodoo, intimidating, snake-charming way. At least, she was kind of pretty for someone missing two top teeth.
Regardless, I opted to hitch on. And I got stranded just shy of the Arkansas border.
Dennis, a Southern-type country guy, lifted me first the next day in Arkansas. He'd just lost his underpaid job laying concrete. And he only had $1 on him. But, man, he was nice. He kept wishing he had more money so he could help me out and take me all the way to Little Rock.
But, my final two hours to Little Rock were soon spent in the truck of James "Jimmy" Mulligan.
Jimmy was an older guy, in glasses, with a mouth that wrinkled upon itself when he talked. He told about his traveling days as a youth. He'd traveled the trains as a hobo from age 18 to 25. He kept a journal that he wrote in every day. At age 26, he published a book called, "Places to Go, and People to Meet," as James Mulligan. "That's how I made my first million dollars," he said.
He now owned his own trucking company and lived in San Bernadino, California. He told me to keep doing what I was doing. Other than that, he didn't have much interest in me. He talked all the time and bored me and didn't listen. His ride wasn't as cool as it at first seemed.
But, I was now contently in Little Rock, Arkansas - that tourist mecca that draws about as many visitors a year as Paris ... Paris, Texas. Not many.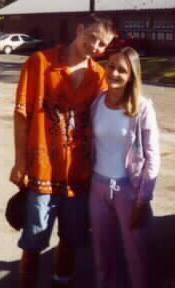 Later, from Little Rock, Modern Oddyseus
Thanks to Junior & Fernando; Juan Martinez; Raul; Mary; Dana & Justin; Tim & Tytan; Linda, Kim, & Michael; Michael; Skib & Ace; Dennis; and "Jimmy" James Mulligan & "Baby" for the lifts!
Much thanks to Nikki Schram; and Brandy & Langston for the places to crash!