A construction worker named Scott picked me up. He was thin with a moustache.
He could drive me south of Bozeman, Montana, through mountain ravines. He was working on a three- or four-story log cabin for Alan Ada, the founder of Ebay. He said the money had corrupted the guy - or else he had been corrupted in the past - because he was a horrible person.
Scott used to walk around North America. He'd had a long beard and long hair like ZZ Top. He was given a timberwolf pup, white, that walked with him before getting poisoned in Arizona. Scott had read outdoor survival books when he was in the marines, he ate beans when he hiked, and he once had the dream to go up to Alaska and live by himself. He recommended I read a guy from New Jersey who wrote field guides to such things as urban survival and edible plants.
The next ride was a fun one. Eightteen-year-old Tyler was the driver. He was a big Jack Kerouac fan, and he was excited as heck to have a hitchhiker in the car.
He wanted to take trips like mine. He was a firefighter in Yellowstone National Park. He'd encountered approaching walls of flame and valleys full of grizzly bears during his work. Before I left his car, he insisted I take his favorite book, "Desolation Angel," by Kerouac, and he wouldn't let me refuse.
Yellowstone National Park was up next on my way to Salt Lake City, and it was awesome. A guy named Curt drove me through in his blue VW truck. This rare vehicle had the friendly personality of a toy, and kids complemented him on it at gas stations.
At one dry-grass plain on the Yellowstone Plateau, we observed a herd of "buffalo" (bison) running and grazing near geyser beds. Steam poured through the ground behind the bison, rising as terrestrial clouds.
We got out as we toured to walk a pathway above scalding mud. Coated by shallow hot water, the stone and mud wore streaks of dirty orange and dark brown and clay white. Steam was so blanketing and moist, in parts, it overwhelmed us, and we could only see white around us and maybe the person's figure next to us, like in a space machine.
We drove on through the park. Pines in this high-altitude forest were spaced apart to create merry alleys, which led to places out of sight but places where we knew we would want to go.
Tourists gathered around Old Faithful, the predictable tall-spray-spewing crater. At around 8400 feet elevation, royal Yellowstone Lake was big and an average, cold blue. White-topped mountains surveyed the lake. Nearby was a depression of sulfur springs: horrific, bubbling, gurgling pits of liquid mess came up from the earth and squirmed around evilly.
Wildlife-wise, Curt and I mainly saw elk and bison. The elk were massive, their horns reminiscent of christmas trees. The bison had scraggly, dirty-looking, dirty-brown beards beneath somber eyes and bad posture.
As Curt and I drove and rode all day, we talked about many things. Blond Curt was young and excitable for forty-three. He'd just flown to Vancouver to buy this VW truck, and he was taking his sweet time to drive home to North Carolina.
He consoled me when I told that I wasn't currently paying off my student loans. He hadn't paid on his until he was thirty-one but had since paid off every penny.
Curt told of his dad, who deserted a young Curt and family to go learn saxophone around Europe and not pay child support. Curt was working in New York City years later when he met up with his father again. He fondly recalled a time in which he regularly hung out after-hours at one of New York's hottest music spots. His dad played in the feature band; their friends, Blues Traveller, opened.
He told of an incredibly beautiful woman he married, who cheated on him. A messy divorce ensued, and Curt left New York. He loved boasting about his four-year-old, Nathaniel, the good that came out of the marriage.
He turned his most animated, however, when he heard I carried a snorkel mask and flippers. "It's insane!" he said, that I hauled such things across Canada, of all countries, and now to inland Wyoming. What was I thinking?
We drove out of Yellowstone.
At the subsequent entrance to Grand Teton National Park, a young staffperson named Cody welcomed us. He lounged beside a window in a roadside booth, while we asked him directional questions. He said, "Well, we've got a map right here." Without moving, he reached with this claw device - probably a litter-picker - to a spot four feet away, pulled the map out, and handed it to us. Cody liked to amuse himself during his day. He later told us the bartenders in well-off Jackson Hole were all "cowboys who drive Mercedes and like to fight" and he thus didn't go out.
Curt and I entered the park known for its three Teton mountains rising from low land.
A long basin of shallow or dried water lay between the mountains and the road. The Tetons were large and sudden and spectacular. They were a dark gravel color and jagged like knives. At the top was white snow, dripping down the sides. Curt thought it would be great if I took a picture beneath the Tetons, wearing my snorkel mask and flippers.
We had dinner in Jackson Hole, and friendly Curt drove off in his friendly VW truck.
Nighttime came, and I snuck behind a two-story apartment building to lay down. In my sleeping bag, shaded from the street-lights, I was within fifty feet of probably twenty or more people. But, it was very sneaky.
I was uneasy at first. Apartment lights flickered on and off around me. Someone turned on a stereo. A Mexican family conversed in Spanish. A window just above me closed suddenly, and nearby a police siren began wailing.
But, the siren wailed not for me. Sprinkles of rain fell beside but not on me. I slept well.
The next day, I hitchhiked through American-flag-brandishing, probably Republican, not-too-friendly-to-hitchhikers Wyoming and Utah.
I reached Salt Lake City. My friend from college, Melanie, was there to host me. She greeted me with her sandy ponytail and smart-alec grin.
While we were in college, she had still been a Mormon and didn't drink. One might wonder, why even go to college? She - to study? ... she had been a lot of fun, and she got her kicks from the mischief she caused and her great, wise sense of humor.
She and I used to love heckling (mainly at baseball games) while in college. We went to a Salt Lake City bar and picked out an on-stage bandmember to ride. Melanie yelled, "Replace the bass!" And I: "We want a bassist, not a bloody Fascist!" (which rhymed, the way I said it)
We went out another night to a nightclub. Melanie loved themed dress-ups, so we sported cowboy-esque uniforms and went to the Westerner Club. We still didn't fit in too well with the big guys in cowboy hats, who all knew how to line-dance and two-step. It was an interesting scene, and all ages came together. I danced with Melanie's short, amply-proportioned roommate, Sonia, which was like dancing with two boobs.
During the daytime, Melanie worked as public transit coordinator for Provo, Utah.
I stayed at home with Melanie's playful black lab adolescent, Pako. Pako's two favorite household activities were: 1. Chasing me or a giggling Melanie from room to room. 2. Playing what Melanie's boyfriend, Steve, called, "The Fighting and Biting Game." Steve even had a catchy song to accompany it. 3. Instant-Messaging his puppy friends on the computer. - or not.
Pako loved outdoor activities even more. He loved sitting on Melanie's porch, while Melanie shouted taunts at people playing on the golf course across the street.
We drove to Mt. Timpanogos for a hike. Pako took charge and led his people up a switching-back, thin trail up the mountain. He skirted the edges and ran crazily, fearlessly past steep falls. If for some reason Melanie and I got ahead of him, Pako hated being behind our slow legs and struggled and whined to overtake us.
We climbed the spilling hills that, like a broad canyon, split apart Timpanogos. To our left, a sheer, thousands-feet-tall rock wall hung. To our right, pine-tree-lined clifflets stepped more gradually to the mountain's top.
Timpanogos' autumn was content like a young ballerina. Trees and bushes pushed forward their final performances. Dark pine, lighter green, chicken yellow, halloween orange, and cherry lipstick red danced on tiptoes. Melanie said, "Do you think if you laid beneath a tree for a whole day, you'd be able to watch the colors changing?"
We remembered our last outdoor excursion. We'd endeavored on a fifty-mile roundtrip bike journey while at college in Florida. On our way home from the visited beach, I kept urging her to go faster and had her ride through a dangerous part of town at night.
During the ride, she picked up a forgotten doll and insisted on carrying it. For some reason, she stretched to pass it to me as we rode, and she fell crashing off her bike to the payment. I think I thought it was funnier than she did.
But, this Timpanogos trip was more relaxing. We climbed high enough for Pako to spot a gruff mountain goat and bark at it. We headed down. I said good-bye to Melanie the next day.
Before leaving Salt Lake, I made a number of astute observations about it.
1. The girls were quite pretty.
2. The people there appreciated the nearby canyons and mountains and hiked a lot.
3. There were a lot of Mormons.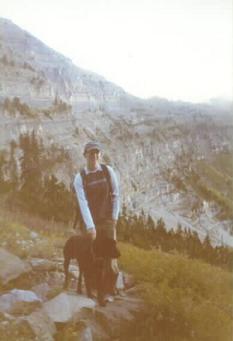 Later. Modern O.
Thanks to Scott; Tyler; Curtis Fields; Matt; and Clayton Cook for the rides!
Much thanks to Melanie, "Pako," Sonia, & Eric for the place to stay!
NOTEABLE WILDLIFE SIGHTINGS: elk, bison, mountain goat