My friends had all gone home. I was alone now in Washington.
I hitched into Seattle to try and check out some of its grunge music scene. As I stood on the side of the road with my thumb out, I gripped and ate from a half-gallon of gooey cluster ice cream. Eating ice cream while hitchhiking was an idea so great I couldn't believe I hadn't come up with it before. It was probably the single best idea ever - except for the idea to make a show about an underwater sponge who talks and cooks french fries.
At a Seattle club, the entrance fee was $19 to see a band I'd never heard of. THE WEST IS WACK, EVIDENCE # 5 - The unfeeling pig-lady who sold tickets at Seattle's Showbox nightclub wouldn't give me a break. I even worked out a deal with the cool door-men, who let me slip inside when I handed them $10. But, the lousy ticket-vendor spotted me and narc'ed.
Man. I caught bits of other shows, but Seattle had an early noise curfew on Thursdays. All was dead by 12:30 pm. Seattle was pretty lame.
So, I hitched back to college-town Bellingham in the morning. The nightlife was better there anyways. My host, party-animal Nick, and I went out one final night. Beeming with excitement and pride, Nick introduced me to "veggie-browns" at a local diner. These hash browns mixed with vegetables were a staple of late-night Bellingham culture.
Bellingham had been awesome. Nick even handed me the $95 I'd earned painting his fence. With this money, I bought a half-gallon of lemon icebox cake ice cream from Hagen supermarket. Two guys going in the direction of Montana picked me up while I breakfasted on the hard-earned ice cream.
Oh ...
... my ...
God!
This new ice cream flavor was so good I almost cried. Its inception had probably been the single greatest idea ever. It had the sour taste of lemon cake. It had soft, maize-colored, sweet, tasty "crutons." It had icing-like, sugary white bits in odd shapes like wax.
When I got out of the two guys' car, I set my ice cream on top and closed the door. Distraught, I realized that maybe they'd drive away just then, so I stabbed at the ice cream with my left hand and knocked it falling off the car - to certain uneatable gravel doom.
Oh! This scene was all-too-familiar to me. I flashed back to Northern Ireland. I was fourteen years old, on vacation with my family. The hotel we stayed in had the greatest scrambled eggs ever in its breakfast buffet. To this day, I can imagine their buttery moistness sinking into my mouth as they pass my teeth on a slice of toast. Wow.
My dad had urged me to hurry, because we had to catch our flight. Only, I didn't want to leave the eggs. In an over-rushed scramble, I placed the remaining eggs on a piece of toast and went for the door. Horrifically, my balance was off, and I tilted the toast so that the eggs went tumbling to the floor. Noooooo! It was one of my all-time biggest regrets.
Standing in Washington, I was now prepared for this situation. I shot the palm of my left hand under the falling ice cream and swung my hand around like an acrobat on a tightrope. Okay, maybe it didn't require that much acrobatethleticism. Regardless, it was the Play of the Day.
The ice cream ended soon after, but the good Washington hitchhiking continued. I enjoyed a ride in an open-aired jeep. A school teacher named Melissa - who allowed her students to read the journals she kept when she was young - took me out of her way.
Bruce, a bearded artist on his way to judge an art show, lifted me. He and his wife had felt bored, so they decided to "cut loose" recently and went to Togo, Africa. Togo is French-speaking and a dictatorship, but Bruce said the Togo-sticks (natives of Togo) were less desperate and better-off than the neighboring Nigerians.
Later, a young girl and guy from Tacoma University made room. Jenny had really cute, dark eyes. Bill had long hair. Jenny spunkily wore a baseball cap and short, hazel-ish scrappy hair. They were on their way to go mountain-climbing, and they both adored hiking in the west.
Jenny ran Tacoma University's organic garden. I mentioned my victory in the "milk challenge," and she dared me to a chili-pepper-eating contest. We ate thin, red peppers from her garden. They made the back of our throats burn for a couple minutes. Bill was in dire pain. Jenny said we were now connected, like "chili-siblings."
I waited, happy, beneath an optimistic sun. A young guy in a new, white truck yelled, "You made it a long way from North Bay!" He'd obviously seen me hitching earlier in Ontario, Canada. Once again, he didn't pick me up.
I chose to turn down the next ride offered me. It was from a sketchy guy in a mini-van. He wasn't going my way, but he kept wanting to give me a ride somewhere. There was an open beer beside him, and a sticker on his van showed a boy praying before a cross. His was the first ride I ever rejected.
The expressway took me eventually to the Columbia River, the prettiest part of the day. The wide, sun-shined blue river turned under a construction bridge below some swooping brown mountain ridges.
My eleventh driver of the day, Vince, was who could take me to Montana. He was a big truck-driver, with a wrap-around goatee, ten months from retirement. We spoke intelligently about the plight of the American small farm. Vince said farmers don't do well because supermarkets buy where they can get a lot. Farmers' Markets help some.
I spent the night on the top bunk of Vince's trunk, in Coeur D'Elane, Idaho. The next afternoon, I was in Bozeman, Montana.
I would be staying a week in this college town. Two of my brother's best friends, "Edmund" and "Marcus," would be putting me up. Marcus even got me work building houses.
In the morning, I chowed down on ice cream for work energy. Marcus and I went an hour east of town to build in rural Montana.
The build site was a windy hill. Grass everywhere was dry and brown. In the distant distance, beyond the Big Sky which expanded across Montana's tree-less flatness, mountains stood at every direction. On one cold day of precipitation, wicked snow fell far away on the devil-black, stark Absorky Mountains.
I'd never worked construction before, but our crew of five made steady progress on the house. We layed a level foundation made of pebbles; sawed, put together, and erected pieces of wood for the framework; glued down and stapled floor-boards; nailed, measured, and carried countless things; and put up some of the two-story wall-frames and window-boxes.
I think it would've been enjoyable work if I'd had any idea what I was doing. My precision with the nail gun was horrendous. Mostly, I carried out tasks for the other crew-members. Thus, I had no grand vision of the project I was undertaking, and this made it difficult for me to get excited about or even understand my tasks.
My second-favorite memory from my construction week was when my blond, twenty-five-year-old boss, Nathan, said, "Can we build it? Yes we can!" quoting cartoon-character Bob the Builder. My favorite memory was probably when Nathan handed me a check for $290. Woohoo, I was a millionaire!
By the end of the week, Marcus was joining me in eating half-gallons of ice cream before we worked. I was so happy. He chose cookies n' cream for his first all-ice cream-diet meal.
Marcus and his pal, Edmund, had grown up with my little brother and me in Grand Rapids, Michigan. They were great guys, and I was happy to see them.
Marcus was big and broad-bodied. He was smart and philosophic, yet humble. His personality was a treat to be around. He was like a student each moment of his life. He always asked questions, he spent a lot of time thinking, he sometimes wrote poems, he loved the game of chess, he wrote letters to his unborn son, and he read all the classics and more. He had a year to go in studying math and philosophy.
Edmund, like Marcus, I admired because he could carry on discussions about all the works of literature most of us should've read. He studied history. He was sleek-bodied and shaven-headed. He had taken to working out, something I was at a loss to understand.
But, he was in good shape for the hike we did. Shaven-headed Edmund and I went up a dull, brown-pasture mountain. The softness of this giant hill's canyons, and the quietness protected by the many types of small trees ushering us down the trail, made for a beautiful hike. Though only September, the mountain-top got lightly whited by falling hail.
Edmund and Marcus and I talked about old times and philosophized. We partook in the innocent activities we loved as children. We went Monday Night $1 bowling, we played chess and Stratego and Balderdash, and we played a big game of football.
Between construction and football, I found Montana people to be pretty great. Nathan, my boss, was always nice, smiling, and joking (even when I proved to be a bumble-headed employee). The kids we played football with showed no egos and merely enjoyed the game and the jokes, even when directed at themselves.
I thought it cool that Marcus and Edmund had come to Montana together. There were two things I found especially cool.
Firstly, when they left Michigan, they fabricated the names "Marcus" and "Edmund" just because they thought it'd be fun. Their real names were Davin and Pat.
Secondly, they were going to amateur-box in Bozeman's Tuesday Night Fights. 180-pound Marcus had done it the year before and won four of seven fights. He'd been bloodied and had broken noses. He called himself "Clockwork."
He showed me the tape from a fight he'd won. He laughed and said that nobody who amateur-boxed knew the rules, and most of the boxers didn't even work out or exercise. In the fight he showed me, he knocked a guy down three times in one round. Marcus had won by TKO. But, he didn't know this. When everyone entered the ring to grant him victory, he still bobbed around with a confused look on his face, wondering why he wasn't boxing more.
Edmund had yet to box. He weighed 140 lbs. and would be calling himself "The Polak." Showing off his ancestry, he wanted to enter the ring wearing a Polish flag. I said he should request Polish music during his introduction and make the bikini'd ring-girl polka with him.
The boxing idea killed me. I said good-bye to old friend Edmund and spoke late with philosopher Marcus on my final night in Montana. Marcus said, "Even if the only conversation we had was, 'eat lots of ice cream," I already feel like I've learned so much from you."
The world needs more philosophers - and more all-ice cream-dieters. I wish luck to Marcus, on his diet, and on his philosopher-jr.-to-come.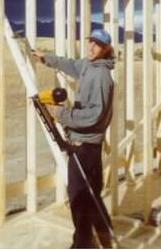 Later, guys. - Modern Oddyseus
Thanks to Matthew; Rich; Christian & Ron; George & Leonard; Dustin; Melissa; Jack; Bruce; Steve; Jenny & Bill; Mel & Chris; Lee; and Vince for the rides!
Much thanks to Marcus for the place to crash!
NOTEABLE WILDLIFE SIGHTINGS: (every day, returning from house-building) white-spotted antelope, white-tailed deer