I was down to one Canadian penny.
I e-mailed a friend, Andy Gardner, who had this helpful thing to say: "I don't know what that translates to in American money."
Well, Andy. It translates to two-thirds of one U.S. penny.
My new hitching partner, Johnny, would see to it that I had enough peanut butter, jelly, and ice cream to get me to our next destination. We were at that dire stage of our cross-Canada trek in which we would be crossing wide, empty Ontario. Johnny and I said good-bye to Adam and Julie in western Ottawa. We hoped to see them next 2000 km away in west Ontario, how many ever days that was going to take.
Anyone who has hitchhiked across Canada will tell you horror stories about Ontario and likely use the words, "hitchhiker hell." They will tell you about the enemy O.P.P. (Ontario Police Patrol, or something), who will hassle you because it's "illegal" to hitchhike in Ontario. They will tell stories about drunk native-Canadians robbing hitchhikers of their backpacks.
And they will surely tell you about Wawa. No two repetative syllables can induce such whimpering fear into a strong Canadian hitchhiker's heart as those, "Wawa." Wawa is in the middle of nowhere, and people wait for days in this town. Adam was told a story about a guy trying to get through Wawa, who went into the same restaurant every day he couldn't get a ride; by the fourth day he went in the restaurant, he decided he'd just stay there and asked the waitress to marry him. Johnny and I heard a similar legend about a guy who couldn't get a ride out of Wawa for three days, and the town made him mayor.
Johnny and I got started. Even our start wasn't promising. We hitched in a moderate rain, and we were concerned because an O.P.P. headquarters sat beside our on-ramp. To stay encouraged, we tossed around a tennis ball and sang made-up songs.
We got three rides on the day and went a mere three-hundred kilometers west. The people who passed us drove with heads down and looked sheltered and dull. The young chef and traveler who picked us up last, like many Ontariopies, spoke reservedly, seriously, soberly, without great animation.
Johnny and I spent the night in North Bay, a large, flat town made comely by a running/biking path along the town's dominant-sized lake. The cool, black lake made for great swimming.
Johnny got us invited into somebody's house that night, when he approached a lady driving a VW bus. The house contained two intimidating pitbulls, one of which was infamous as a people-biter, but the lady and her daughter were nice and fed us.
From Julie's cell phone, we knew that she and Adam had spent the night an hour ahead of us.
We received six rides that next day, but we never caught our friends. We traveled five hours further to Sault Ste. Marie. Our longest ride came from two recovering alcoholics who hugged us when they dropped us off. "You could tell they went through rehab," said Johnny, pointing at the hugs.
In "the Sault," Johnny knocked on a nice house's door. A nineteen-year-old, blond hockey player, Brad, let us camp in his father's yard and had us in to play cards.
We headed out to our tent as Brad's dad came home. He had a wobbly, singing voice and was hammered drunk. It was clear this wasn't an irregular occurence.
We awoke in the morning. The day was dark, because it was pouring outside.
We were a thousand kilometers away from the next large-ish city, Thunder Bay. The only other place a driver might be headed was the town of Wawa, two-hundred kilometers away, and we knew we didn't want to go there. I didn't have the money to run a mayoral campaign.
We put our backpacks in our garbage bags and ourselves in jackets and ponchos. We walked west on the shoulder of the trans-Canada highway, beside a northern, coniferous forest. The cars were all going fast, and we looked for a decent place where they could stop. Visibility of the road was limited at a distance by the silver of the sheeting rain.
All we could do was try. Johnny and I staggered ourselves before a curve and tiny turn-off point in the highway. Rivers ran down our ponchos, as layers of clothing slowly ceased being dry. On this dark day, we waited three hours as cars zoomed past.
Johnny stood beside a roadsign, and he called me over. He told me to read the back of the sign. In marker, someone had written there:
"STILL HITCHHIKER HELL"
It was a dismal sight. At least we weren't alone in this.
We were cold to the bone. Hypothermia wasn't far away.
Luckily, we had the hockey player's house to return to. We threw our clothes in Brad's dryer and fell asleep on his basement floor. I even suspended my all-coldwater shower policy, for the first time in six months. aaah, sweet warmth ...
Brad drove us to an out-of-town gas station once we were rested. Before he said good-bye, the last thing he wanted to say to us was about his father.
"He's a good guy."
He must be, Brad.
It had stopped raining.
But, Johnny and I caught no rides. We camped behind a fire station. Johnny made sure I got up at 5:40 a.m., so we could get on the road. Were we, we wanted to know, ever going to get a ride?
We waited it out, playing catch with our mitts and baseball. A cold fog had taken the land, forcing us to wear all our long-sleeve shirts. With my long hair and Johnny's buzz cut, I could see how cars might suspect we were a pair of ex-cons.
The morning hours faded as did the fog, and a serious discussion grew beside the highway forest.
Johnny had studied political science in college. His dad was running for Baltimore city council as we spoke. He had read all the texts, which he valued.
I had read little, and I knew less of political history. Yet, I was trying to travel the world to learn as much about people as I could. And it was obvious we, as a people, needed a drastic change. I spoke optimistically of the possibilities of this great change, displaying the naivety of a person who hadn't studied.
Johnny and I agreed on most things political, but Johnny knew small changes were the battles to be won. He undermined my great hopes; my hopes, above all, for a world in which humanity lived and cared for one another as one. A world with no poverty, no wealth, no wealth-seeking alliances, no need for crime, no excessive consumption, no deceit, no selling, no use of people, no hatred, no ephemeral happinesses ...
I wanted a world that was communist, because it trusted in and cared about humanity. Johnny called this unlikely.
I'm pretty sure everyone would agree with me on this one. - Just kidding. Actually, Johnny pretty much called this impossible.
He undermined also my ability to perhaps lead, based on that I hadn't studied politics in school. He was probably right on all this, you know. He liked to play devil's advocate; I liked to dream big!
And then, a guy picked us up who had crazier views than even I. I don't get to say that much; feels good.
Twenty-year-old Mike had a dark beard, dread-locks, and a sprout face. He was driving a bulky, gray live-in van from Windsor, headed for the Yukon Territories. He could take us to Kenora - at a lolling forty-eight miles per hour, his best gas speed.
His typically Canadian accent sounded like a dopey bear, and he said things such as, "Yeah, like, fuck, eh, like, aboot?"
He'd been hitchhiking himself recently in Atlantic Canada, and he waited five hours for a ride in Nova Scotia. He made and held up a big sign that read, "WHY NOT?"
Before that, he was in Barbados, where he got to taking heavy drugs. The people he met there started taking advantage of him. His uncle's death was the only thing that brought him back to Canada. Mike thought his uncle's death had gone to saving his own life.
Mike wore a rastafarian hat. He spoke of something called the "Free Masons," an elite group he claimed to exist that knew the secrets behind everything and controlled most of the money and power. He suspected American President Bush of orchestrating the terrorist attacks on 9/11 so he could get his war in Iraq.
He hated organized religion. He believed priests were in his "Free Masons." He thought they brought in churchgoers, then collected their energy - like, in a ball - and used it for other things.
He believed crystals and amethysts held special powers. I didn't necessarily believe everything Mike said, but it opened my mind to listen to him. He wanted to get married and start his own farm.
We spotted a fellow hitchhiker, so Mike stopped. Tim entered the van. He wore small, black sunglasses and toted only a black bag. His teeth were yellow and black, and his cheeks were seriously caved in. He'd been walking all night, since Sault Ste. Marie. He began taking marijuana out of his backpack for bong after joint after bong after joint, and, even though he was creepy, Mike never turned his pot down.
The road north of Sault Ste. Marie passed some of the most wondrous scenery I'd ever seen. It went through Superior Provincial Park.
To the right of the road, dark lakes sat cradled amidst brown, rolling pine forest. The road climbed and went down hills, as the untouched shore of Lake Superior roamed to the left. The mammoth lake had no opposite side in sight. Its deep color was purple blue. Superior blue.
The shore was mainly sandy. However, enough large rocks had either gone wading in the lake or relaxed at the beach so as to frame picturesquely our views of the water.
Mike offered to stop at Agawa Beach to cook us some veggie dogs. Large, rocky capes hung out majestically at each end of the beach, reminding Johnny of tropical Costa Rica. Spotted, golfball-sized petoskey stones covered the beach and dazzled through the blue offshore. I ran into this nippy, branding-cold lake that surrounded you and made you its. Johnny joined me. It was one of my favorite moments.
In total, Mike, Tim, and Johnny and I spent sixteen hours together from Sault Ste. Marie to Kenora. We watched a black bear lumber across the highway into some green pines. Mike stopped at a mine to look for crystals. We caught more views of rock gods rising from the endless, flat lake.
The highway left Lake Superior at Thunder Bay, and Mike stopped where Kakabeka Falls tumbled through a gorge so he could make us more veggie dogs and macaroni and cheese. He played CD's of jam bands, like Phish, and told nostalgic tales of the greatest jam band bar ever, "The Ho'" in Canmore, Alberta. It became dark, and we took a break to awe at a blue sky infected with stars.
The sketchy guy, Tim, told us of being a dealer of at least pot in his hometown. He told that, the night before, he'd seen a guy in Sault Ste. Marie get pulled over and arrested for drunk driving. Tim reached the guy's vacant car and looked through it until he took out the guy's wallet. "He deserved it."
We were happy to get rid of Tim before Kenora. Even though he was creepy, I wouldn't have sent him to hitchhiker hell.
Ontario, in all, wasn't that bad. The police never hassled us. It was beautiful. And, we were only in Wawa for a second, and we got to see its giant Canadian goose statue.
Mike found a dirt parking lot to stop in. He slept in his van. Johnny and I slept in our sleeping bags, under the stars of precious northern Ontario.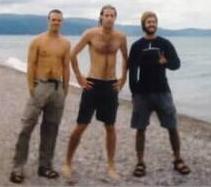 - Modern O.
with Johnny, Adam, and Julie
Thanks to John; Dave; Ben Walker; Jamie; Chris; Wendy; Ron & Joe; John & "Chicky"; Jim; and Mike for the rides!
Much thanks to Lori & Tiff; and Brad & Berry for the places to sleep!
NOTEABLE WILDLIFE SIGHTINGS: black bear