Julie and I were hitchhiking from Montreal to Ottawa, and we rode in the cab of a large truck with four other people. These people were on their way to the racetracks, where they would be racing some horses they hauled in the trailer behind us. I thought to say something they could relate to.
"Well, I think the most talented horse of all time was probably, uh ... Mr. Ed.
"He could talk and everything."
Meanwhile, somewhere north of Montreal, Johnny and Adam were psyched because they'd gotten two straight rides from solitary girls. The second was a "hot" nurse wearing a kind-of-see-through shirt. The "Johnny and Adam" duo had a real knack for getting picked up by girls.
In French-speaking Canada, also, women seemed to stop a lot more for us.
So, Johnny and Adam were hanging out with girls in see-through tops, and I was stuck with Julie, the least made-up girl ever, and her sweatshirts and ponytails!
No, I'm just kidding. I certainly don't believe anyone should feel pressured to make him/herself up. It was just that I needed something to mock Julie for, because she was mocking me.
"Nice Mr. Ed joke," she smiled and mocked, the second we left the horse truck. She would later on, in Ottawa, tell all how lame my comment was and how the people in the truck laughed hesitantly.
Julie was really beginning to assert herself - at my expense, in this case. She had begun to speak more in cars, too.
The next car to stop for us was Tom's maintenance van. Vietnamese Tom said to us, "I'll have to 'rob' you at this corner." Later, he even said it again. "I'll have to 'rob' you at this corner." Each time startled me until I realized he was saying, in his accent, "drop' you at this corner," not 'rob.'
Julie and I safely arrived in the clean Canadian capital, Ottawa, population 785,000, with all our money in our pockets. I, for my part, had $12 in remaining funds, after not finding work in Montreal. I wasn't sitting pretty.
In this small, new-looking downtown, we found Johnny and Adam a while later. Around us, the streets were walked by a homogenous population of white, short-haired people in suits and ties who subscribed to office jobs. The air here had a subdued, boring feel to it after that of flavorful Montreal and Quebec.
A big reason for stopping here was to meet and stay with Luc Levesque, creator of the travelpod.com website where I post my stories. Luc took us to his wooden-and-white downtown apartment, a.k.a. the Travelpod Lair. Late-twenties Luc had adventure-big eyes, a young, composed smile, and short, light-colored hair. He worked by day in computers.
His passion was building his website in which people are encouraged to post travelogues. But, he had also had some awesome travels of his own. He'd stayed in sanctuaries with Burmese and Sri Lankan monks. He'd come close to crossing the lines of tension in both Cyprus and Sri Lanka, two islands torn by civil conflict.
He met Tim Page, the fearless Vietnam War photographer who the movie, "Apocalypse Now," was based on. He was granted permission to enter a Palestinian refuge camp, where he observed an anti-U.S. rally. He loved the country of Syria, where he said the Syrians feared the U.S. He visited the former Soviet republic, Georgia, where a poor lady invited him into her family's garden home and told him they were better under communism. Luc's favorite country had been Tibet.
These travels had touched the humanitarian side of Luc, who said he believed the best thing he could do for the world would be to make a whole gob of money then use it for charities, such as the one for Sri Lankan kids he'd begun on his website.
At the bar on this night, Luc got Julie talking on the helpfulness of the Peace Corps. Julie was preparing herself for a role in progressive third-world development, yet she shied away from Luc's steady eye contact as we conversed.
Luc also was curious as to how well traveling in a foursome worked. One of Johnny's areas of expertise was the dynamics of group relationships. He told Luc we openly talked out our problems and thus got along well. If there was a problem in the group, it was that Adam and Julie often weren't moved to input on decisions, while Johnny and I were usually the heads battling it out over the Canada map.
There were few decisions to be made on the following day. It was Adam's 22nd birthday in Ottawa, and we were gonna have a time. We went to the local thrift store to buy ourselves some outfits. Here's who came along:
Me - I found this short, shiny white jacket that was decorated all over with classic cars, Diner signs, and the name, "Florida." It looked like something a drunk, widowed, sunburnt snowbird would don at the bar. I wore pink windpants, tucked into my socks. My hair was in a thin ponytail, and my light moustache was coming in. I was the type of sleazeball who hangs around retirement communities, trying to pick up sixty-year-olds.
Johnny - he wore thigh-revealing, tiny blue shorts. He tucked in a t-shirt that read on back, "Chicks Dig the 5K." His turquoise-striped socks were pulled up. With his aerodynamic head, Johnny was the annoyingly chipper, personality-less jogger who believes life only counts when you've got your heart-rate up.
Julie - poor Julie had to sport a green, polyester one-piece dress. She was, seemingly, some sort of "Star Trekkie" who had gone to a convention, dressed as her obscure favorite character.
Adam - the birthday boy dressed in the white pants and tunic that used to be somebody's tae kwan do uniform. He was a karate master.
Luc - Luc didn't come 'til later. He just wore some dark-colored pants and a shirt. Luc was, well, "Luc" - but, hey! it was new to us.
While Luc was working, we walked around Ottawa. Adam insisted on walking the city sidewalks barefoot, I guess so he could stay ready for combat.
Johnny did some high knee-kicks in-place, while practicing his deep, controlled breathing. Adam did a bunch of rapid foot-stomps and karate chops, while yelling, "Wah!" I went up to a girl in the park and asked, "Are there any places to dance here? That play good music? You know, 70's ... disco?"
We had a car honk at us, but most locals passed our great costumes by without a second glance. Man! these Ottawadicans were as lame as my Mr. Ed joke. They were so straight-faced and sober, so lacking in irony.
We so went to the liquor store, and then took our rum and sprite to the bowling alley. This was to be Johnny's and my second rendering of drunk, thrift-store-outfit bowling, to ring in a friend's 22nd birthday. What a pastime.
Only, we were in Canada now, and we were both shocked and horrified to find what we found at the bowling alley. They don't have ten pins in Canada. They have, get this!, five!!
It was an unbelievable cultural experience. Eye-opening! Folks, these cultural experiences right here are precisely why we travel! None of us would ever return to how we once were, back in those simple days before we'd five-pin bowled ...
I'll allow a moment for that to sink in.
One exciting thing that happened that afternoon was that Julie bowled the highest-scoring game. We were all aware, at this point - many of us even brought up this very fact nearly every single day - of how Julie hadn't won at anything on this trip, even after the dozen or so card games she'd been in. Yet, here, she'd bowled the highest game. Too bad her teammate on the day had been 5K Johnny, by far the worst bowler among us.
"Even when you win, you lose!" the birthday boy told her. (Julie pointed out that she had won an early Hitchhiking Scavenger Hunt or two.)
Julie was sad because she and Johnny had rolled the lowest team score. They were losers of our bowling bet. As payment, they would now have to lead "The Wave" at the night's Triple-A baseball game.
We returned to Luc's apartment to pick up our host. When Luc arrived from work, Adam leapt from the kitchen and did a flying karate kick chop to scare/greet him. Luc just laughed and dubbed karate Adam, "White Tiger."
"White Tiger" and his gang of birthday misfits headed out to the Ottawa Lynx ballgame. The game was sparsely attended, and Johnny grew chilly in the night, but Adam and I held the bowling losers to their end of the bet. We wanted to see "The Wave."
Johnny and Julie disappeared around the top of the 8th inning. When they came back, for some reason, Julie was in Johnny's running clothes, and Johnny's round pectorals were showing as he was bound up in the polyester green dress.
Johnny explained the situation:
"We went into the bathroom and changed clothes for a second, so I could get warm. But, then, she wouldn't change back! I tried wrestling with her in the stall, but I realized that wasn't going to look good."
Julie smiled at her prank.
She and Johnny almost even got stadium personnel to invite our whole group onto the dugout to lead "The Wave" with a microphone. In the end, they wouldn't let us on, though, because they feared we were drunk and might fall off. Based on how we looked, I'd say it was a pretty good guess.
Instead, Johnny and Julie stood in the rows up front. They recruited Adam and I to sit beside them and follow their lead. They also recruited a visiting boys' hockey team from Switzerland, who wore hats with propellers on them, held up miniature bats and "We're # 1" giant foam hands, and heckled the opposing team in French.
"Okay, everybody!" Johnny announced in his green dress. "We're gonna do The Wave!"
He and Julie led. Adam and I and the Swiss boys followed. The Wave continued through the crowd for about four sections until it broke up where there weren't any people sitting. Johnny and Julie tried once more, to the same result.
After the game, a cute, black college girl asked to have her picture taken with Johnny and his muscles in the green dress. I guess his polyester wasn't too embarrassing to him.
Back at Luc's, Luc showed me some of his pictures on travelpod.com of shaven-headed, Buddhist monks in maroon robes. He showed Palestinians waving flags and rifles at the refuge rally he attended.
And I responded to these amazing scenes by showing him travelpod.com pictures of my cultural experiences, such as me taking girls on dates in eye-opening St. Petersburg, Florida. (Okay, so maybe my "Date of the Week" program during college wasn't as culture-rich as some of Luc's tales.)
Regardless, the most eye-opening cultural experience we learned about in Ottawa was that, once you leave the world's richest country and go even sixty miles across the border, Canada can't even afford ten pins! Maybe Julie should concentrate her foreign development strategies to find a way to get five more pins for Canada?
Five more pins for Canada!!!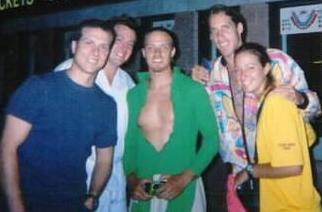 - Modern Oddyseus. Five-pin bowling rocks!
with 5K Johnny, the birthday boy "White Tiger," and polyester green Julie
Thanks to Jean-Claude; Alain & Ricky; Jim, Franz, Helen, & Lisa; Tom; and Roger for the lifts!
Much thanks to Luc Levesque for the place to crash!