"Club Nautico: Mi Ranchito" welcomed me back, with Nano┤s open arms, after my self-awarded day off. It was happening Thursday Reggae Night. The night that put Club Nautico on the map. Well, physically speaking, I guess a cartographer put it on the map. But, Reggae Night was big!
I bar-tended on the second-floor porch. I clapped my hands and checked out the action below, where young Samario guys and girls jumped around to kumbia, salsa, reggae. The huge barn-sized place had a lot of people inside. Some came up to my level and sat around and wanted to be served. Luckily, I didn┤t have to break sweat, because Nano had positioned me with my own personal assistant: a young waiter who told me to call him "Coco" (Coconut), though everyone else knew him by a different name. At this rate, I┤d soon have my own staff of waiters and could start franchising my own Mi Ranchito┤s.
Reggae Night was pretty fun, but it ended very stressfully. First off, all my co-workers called me Chester. That┤s right. Not Justin; Chester - a name that calls to mind a buck-toothed, freckle-faced, red-haired middle son.
A lady was totally the night┤s sales, shaking her head in a furious huff, and yelling at me and repeating, "No sÚ que Chester entregˇ!" (I don┤t know what Chester (something)!) I thought by (something) she meant she didn┤t know what I had stolen. In an effort at defending myself, I went over the night┤s business, referring countless times to the help "Coco" had given me. But, since nobody knew who "Coco" was, this only further complicated things and got everyone thinking I believed in a magic coconut.
The following night, everything again returned to normal at Mi Ranchito. Why they kept letting me come back I┤ll never know? Again, the arms of Nano - that dark-haired, less-muscular Colombian Indian version of Fabio - were as open and welcoming as a loving grandma┤s. -- Er, I should say that everything was back to normal at Mi Ranchito, except for the fact that there was an American working there for $5 a day who hardly spoke spanish. In this aspect, things were quite abnormal.
I learned the word, "entregˇ", meant not what I┤d "stolen" but what I┤d "sold." I had to keep good track of that, since I was now both the second-floor bar-man AND waiter. That┤s right; half of the legendary Chester/Coco Club Nautico service duo wasn┤t working, and presumed fired.
Again, the place was quite full. At first, I thought that when I went to take the tables┤ orders in my weak spanish, they might look at me perplexed then laugh in my face. The double-take looks sure came, but no one laughed in any faces. I brought the young, at-play Colombians their bottles of rum, such as Ron Medellin or Ron Viejo de Caldos, or the firy liquor, Aguardiente, accompained by soft drink and a basket of diced coconuts, pineapples, oranges, and lemons.
Four illustrious artists from Bogota, performing theatre in Santa Marta, sat beside my bar. One actress, a short, athletic-bodied brunette who kicked her feet and shook her body like a wind-whipped flag to the rapid champeta music, asked me to meet her after Mi Ranchito closed.
We sat on a park bench facing Santa Marta┤s broad El Rodadero beach and talked. In addition to performing theatre - which she preferred - the actress also was a featured character in Colombia┤s "novelas" (soap operas). Her name was Diana Goleano, she┤d been in the novelas for a few years now, and she was about to star in and begin recording two new series. The Latin American novelas, of course, are the biggest media industries in these countries, something like Hollywood movies in the U.S. Thus, if anything romantic had passed between Diana and I, it would┤ve been something like Julia Roberts falling for a younger, illegal Mexican migrant working for minimum wage in the States.
... Well, what would YOU compare it to!?
I asked the fun question, "Acta como una persona buena o una persona mala?" (Do you play a good girl in the novelas or a bad girl?) She said she┤d be a good person in one of the coming novelas, and a kind-of-bad girl in the other. I was very attracted to her personality, but I┤d caught Diana on a bad day, as the contacts she┤d been wearing all day were causing ooh!-painful-looking red streaks to spiral out from her eyeballs. My poor little Colombian Julia Roberts. Alas, no Hollywood romance matured; Diana was leaving town in a few hours. We watched the sun come up over a mound rock deep in the sea, cheek-kissed good-bye, and Diana invited me to her apartment if I ever went to Bogota.
I had work to do. Saturday night brought more good Mi Ranchito times. This was the night I endeared myself into the Colombian patrons┤ "corazones" (hearts) and collected an extra nine-THOUSAND!! pesos in "propinas" (tips - about US$4). Including five-THOUSAND! pesos from a se˝or who said, "Atendeˇ bien." (You served me well.)
Sunday and Monday night, almost no one came into Mi Ranchito except for me and Nano. Some Colombian girls - friends of the young dj┤s - were hanging out. They had brown, bright eyes, soft dark hair, smooth skin, and they talked as adorably as Elmo; passing the time with them was better than a four-figure tip.
With things going well down at "la oficina" (the office), I now obviously needed a house and a little lady to come home to. On Monday of this work-week, I began renting a room from a pleasant woman who I found eating lunch at my hotel. So began one of the fondest stays - though ┤twas short - my ye┤ heart can remember. My stay with Monica.
Our humble home, first off, was in a quiet suburb of dirt streets branching off a main road three miles from downtown Santa Marta. Basic, light-painted houses shared walls. Gated fences locked in frontyard patios. Monica┤s house had rarely no fence, and she let her neighborly friendly neighbor friends walk straight in the house at any time. Our neighbor friends included: the twenties-something girl across the street and her focused, four-year-old, glasses-wearing brother; a tall and pigeon-thin, beautiful tan-skinned fifteen-year-old with dimples above her butt; and ten nicest teenage boys always around, inviting me to play futbol with them, or asking, "La morena estß?" (Is the dark girl at home?) It was poor but peaceful. A near peaceful bliss.
The dark girl, or "morena", Monica was a solid brown amongst the Colombian grays. Thick strands of dark, curly black ribboned down past her shoulders. She had an un-worked forehead, slightly sleepy eyelids, and cheeks like a plump fruit. She branded a cheesy grin so ever and so flirtatious you would┤ve thought she was playing a high school cheerleader. Her voice sang, but she cutely couldn┤t stop a scratch in the back of her mouth. She wore craftsy jewelry, bright clothes and bare arms, and her hips, upper body, and tickling fingers pleasured the air as she moved. All this, and she had a fourteen-year old son, now in Bogota. Her graceful age was twenty-nine, or thus she claimed.
On my first night there, I came home late from good ol┤ Mi Ranchito. And, I was frozen into glass to hear the words, "Justin, quieres dormir aqui?" (Do you want to sleep here?) coming from Monica in Monica┤s bedroom ... in Monica┤s bed!
OK, I┤m not afraid to admit: I was not expecting this. And I was terrified.
Of course I accepted, I┤m not an idiot! But, I was so wonderfully nervously tense, you could┤ve squeezed my arm and gotten juice.
And then, I wanted to smack my poor self, because I suddently realized what one of my strongest beliefs is and what I was: a communist. - no. wait. Well, I┤m a communist too, but that┤s not really relevant. What I was was: a celibate. For some goofy reason, darn the luck.
For all of you communists out there, let me put this night┤s event into perspective. Having Monica in there and knowing that I had to turn her down at the most crucial point, was like one of you communists finding a winning lotto ticket on the ground and having to turn it down due to your values. Darn the luck, huh?
OK. Now that I┤ve tried presenting myself as a respectable, hard-principaled man, let us return to the matter at hand. And the sad, but true, truth: In this situation; caught off-guard as I was; twenty-two years stupid; entering the den of a wise and experienced, hungry, sassy woman; in the midst of a giant, pillowy bed and the hot and sweaty Colombian night and Monica┤s ocean-swaying hips; my morenita house-mate needed only to snap and lick her long, chocolate fingers and I would┤ve been puddy in them as she had her wild, sorceress way with me.
Hey, doesn┤t sound half-bad! I went in.
And then, after all this hoopla ... nothing happened. Nothing . Aww, C┤MON!!!
The next day, I didn┤t work at Club Nautico to instead work at the pizzeria/bar I sometimes worked at. I like to think of myself as loyal and good to Nano, but the other place was paying more. Hmm, maybe I┤m not a communist after all. But, I mean, how could I turn down $6.50 a night!?
After work, my morenita invited me back into her bed. This time, we touched. And kissed. Woohoo!
And then some ...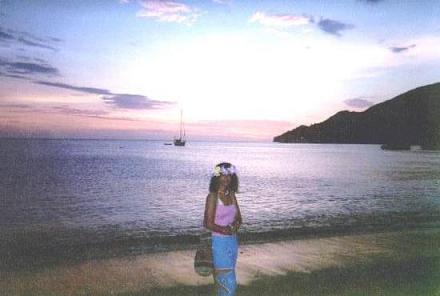 To be continued.