Before I'd gone to Merida, I was told that I would fall in love with the place so much that I would spend months there rather than days and I would forget all about my crazy notion to go to kidnapping-happy Colombia. That was almost right; I did love Merida. But, stubbornly, I would let nothing stop me - least of all a couple of ongoing civil wars and the world's biggest drug ring - from going to Colombia.
But, I had one more stop in Venezuela first.
"If you keep moving on, you're going to eventually get somewhere." (That's what I say.)
A Venezuelan in Trinidad had invited me to his family's house. His name was Jose-Manuel, and he'd said, "Go to my house and you will get very, very good food and very, very much of it." Now, I didn't actually know Jose-Manuel that well, but I didn't want to be a selfish jerk and deprive his mom and family of the cherished opportunity to be hospitable and serve lots and lots of food to me and my gracious American stomach. So, for their sake, I went.
Like a posessed zombie, I went. Who am I kidding? Me and my greedy American stomach wouldn't turn down "very, very good food and very, very much of it," for our sake, if it was promised by the shadiest-looking Colombian driving a van marked "Drugs R' Us" with three tied-up Americans in back.
Jose-Manuel's family welcomed me into their old, fading-white, but small-warehouse-sized home in downtown San Cristobal. I noticed the smiles of the family first.
Liliana, the 25-year old sister of Jose-Manuel, was one of those Venezuelan girls who chatters her spanish so quickly like an over-excited chipmunk. Great for me, I got her on the phone when I was trying to find their place. But, her slightly raspy voice was sweet and admiring. She had light-gray skin, ash-black hair, egg eyes, and though she wasn't the thinnest Venezuelan, she had a smile that sparkled, and she just made you feel good and important.
Nice Francisco, fifteen, had skin like iced tea and two big teeth. Pre-teen Solumae had similar skin, hair in her eyes, and the movie star smile of "Who's the Boss?" Alyssa Milano. Jose-Daniel, the round-headed six-year old son of Liliana, loved playing games with me and cackled crazily while we looked through old pictures of his mom.
Next, I couldn't help but notice the food. I first dined there on the most generous arepa sandwiches yet: cheese and ham AND eggs all melted together between buttered yeasty arepa. Liquidelicious potato soup was the appetizer.
For breakfast, I was stuffed with Venezuelan cachapas. Cachapas were snowballs of corn flattened by a mallet, cooked, and then aten with butter and shredded cheese. It was like a simple, rustic pancake I'd picture lumberjacks eating, but pretty good. Around this time began my new theory: All foods round are good. For lunch, the popular local dish, pavellon: rice with beans with meat with salad with fried plantains. Mmm. And, after tripping up to the rainforest-setting, water-dumping "Chorro de los Indios" (The Indians' Shower), we feasted that night on spaghetti.
The beautiful, kind, sainthood-deserving soul doing such a good job on my poor tummy was Carmin, Jose-Manuel's mom. Kidnergarten teaching supporter of six/homecooking maestro. Compassionately, she said I would travel on like a son to her.
Which could only mean one thing. That, like my mom, grandparents, aunt, usually fret-less college roommate, even my rather aloof brother, she was going to try to dissuade me from the whole hair-brained Colombia idea. For a little lady, she voraciously assaulted my plans. During an hour-long debate, she brought up Colombians in Cucuta who pose like they're offering you a service only so they can rob you. She suggested that if I took a bus through Colombia it would almost certainly be stopped by the country's lawless guerrillas. She even went so far as to tell of a bad experience she had once in Venezuela's capital, Caracas, which was like bringing up crime in Columbia, South Carolina.
I was very concerned about guerrillas encountering my bus in the countryside, too, and this whole talk really agitated me. But, I wouldn't surrender for even a second, saying, "Pero, voy super-inteligir los FARC por viajando durante El Copo Mundial cuando los preguisosos no van estar trabajando." That I would outsmart the guerrillas by travelling on a day they'd be inside watching the exciting World Cup Final and not working. Ingenius plan of mine, no?
I reiterated that I was going to Colombia, period, and pleaded for all to talk further only in the positive that had dominated my San Cristobal stay up to this point. I felt good for holding my ground. I figured I'd presented myself as either sure and unwavering, or just ass-stubborn.
Nothing would stop me from going to Colombia. It was my dream. Well, one of maaaaany dreams.
I'd met young groups of happy Colombians in South Beach, Miami, where they'd set up their instruments on the street at night because they wanted to dance and play salsa music. I'd met peaceful Colombians in Iceland, who'd kicked their feet like shine on diamonds as they latin-danced and who'd invited me to play football. And cheer-overflowing Colombian young teens on an Amazon boat in Brazil, who'd consumed us Westerners with their tickling rolling spanish and sun-teasing glee. One such girl, only sixteen, had forever won over one of the farthest wandering parts of my soul with her self so beautiful like a hidden forest pool.
The Colombians had allured me as a people who have fun and want little.
The fun of Venezuela would be tough to beat, though. Liliana took me out my last night, to a bar where her boyfriend was dj-ing. I'd seen the air-guitar before, the air-drums, even the air-flute, but Liliana's boyfriend, Rigo a.k.a. in the dj-ing world "Rigo-tech," performed the first air-accordian I'd seen, to the area's "kumbia" music. Somehow not the coolest instrument in the air-band.
We stayed up all night, and in the morning I was to take off. Carmin wouldn't let me go, of course, without breakfast. We ate "auyacas," known in most spanish-speaking countries as "tamales," I think. My auyaca was a hot, steamed, big doughy wrap with delicious meat and other things inside. Tasted earthy, good.
The morning before, I'd gone to buy the auyacas with Liliana. She said they were a food of christmas. During christmas, many people make their own personalized auyacas and give them as gifts. There's a great exchange of auyacas. This cracked me up, as I tried to imagine people sitting around on christmas trying to act excited about auyaca after auyaca: "Oh, joy, just what I've always wanted! I never in my wildest dreams would've guessed it'd be ... ANOTHER auyaca! What a relief, now I don't feel so bad about going all-out on my gift to you. Which was? ... ANOTHER auyaca!"
I waved good-bye to Carmin, the four kids, and the two old people who baby-stepped around there (grandma and great aunt, I think). San Cristobal (a less-dramatic, bigger city than Merida) was only forty miles through the Andes from the city of Cucuta, Colombia. "Rigo-tech" crossed the border with me to ease Carmin's concerns.
In Cucuta, I bought a bus ticket to my destination town on the Caribbean, Santa Marta. I'd been anxious about the bus trip, that guerrillas might stop the bus and kindap the only mule-stupid American on-board. But, apparently the bus company I chose made pay-outs so the guerrillas wouldn't stop them. My bus seat was as spacious adn comfortable as any I'd seen, there were some nice Colombians near me to talk to, and so the bus trip wasn't really that exciting at all.
So, I was heading for Santa Marta. Alone. I didn't know anybody there. I didn't have a job, of course. Didn't have a place to stay. No friends. Was in easily the most dangerous country in the Western Hemisphere. I hadn't showered in a day. And, the latest report from the "S.America on $320" bean-counter revealed that I'd arrive in Santa Marta with about US$150.
Quite the adventure.
But ... no matter, though ... because ... I ... was ... in ... COLOMBIA!!!
Woohoo. One dream down, only a hundred or two more to go.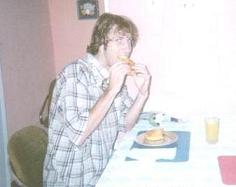 - Modern Oddyseus