The world's longest chain of mountains, the Andes, begins in western Venezuela. Lucky western Venezuela.
There's a city there called Merida, which everyone told me to go to and that I would love. Those people couldn't have been more right if they'd said the sun is bright, or Guns N' Roses rocks, or that 1 + 1 = 3. Indeed, had they made that last statement, they would've been much more wrong.
I got to Merida in the Andes. I got picked up from the bus station and showed around town by a little punk named Yasin. I call Yasin a punk because he was only seventeen years old. Normally, I don't let myself be seen with people that young unless I'm dating them. (Sorry, bad joke, but it is true that the last time I visited a seventeen-year old it was my ex-girlfriend in Brazil.) Usually, I don't hang out with seventeen-year olds because I don't like how immature they make me look in comparison.
But, Yasin was a friend I'd made as he was devouring his english studies in Trinidad. He was a smart little punk, actually. And he didn't mind putting me up while I was in beautiful Merida. It was late when I first arrived, so he soon had hospitably made up his bed for me to sleep in. On the third floor of an apartment building, I left the windows open so chilly Andean air could whip across me as I pulled a hefty comforter snug. I later told Yasin it reminded me of being tucked away during cold Michigan sweet dream-filled winter nights. It was a nice change from steamy Trinidad.
I checked out Merida in the morning. A cozy 300,000 people lived tightly in a modern town. We all sat in a valley surrounded by green mountains that carried us away in their stacked hills climbing thousands of feet into the sky.
A college town in girl-dominated Venezuela, Merida and its streets were an over-booked convention of pretty, long-haired Venezolanas in tight pants. I was like a fat, six-year old kid alone in a room with a giant, candy-bursting pinata. Of course, there were some other guys on the Merida streets, so I wasn't exactly alone, but ... screw them.
Yasin said that many of these girls were shallow and snobby, which seemed reasonable considering all the hot pants, skin cream, beauty trends they so fiercely adhered to. However, I never saw a bad side of any of these girls, who mostly seemed caring and sweet. For example, Yasin lived with two older girls - his mom and his aunt. When these chubby ladies weren't working, they seemed only to want to be overcome with their eye-closing, soul-inflating, little-girl, cute little laughs.
After Night 2 of cuddling up beneath the Andes cool, I went on a day trip to Ja Ji with Yasin. This trip took us climbing and winding through a decidious forest, past creekside cabins and their intimate, rich lawns, and eventually to the pine tree fringes of the tops of the mountains. Below us, mountain dipped to valley.
As Yasin drove, I spotted what would've been possibly Venezuela's best picnic spot. That is, if we would've brought any food with us besides the thin honey cookies we'd bought from a roadside bee farm. Near the road, a big bushy ball decorated itself with the eye-catching shine of large, bright purple flowers. A vacant, thirty-yard stretch of fluffy, greenest, overgrown grass blanketed this plateau to its eventual drop-off. The perfect place to mow down on a few arepas, then spy into the towering light brown peaks across the valley until the friendly breeze seduces you into a light nap beside the ungreedy ants.
Up the road, Yasin took us between two tight, white buildings and under a white gate. On the other side, we were in the central plaza of tiny town, Ja Ji. The local kidnergarten played and some teenagers danced to salsa music at the town's social square. A large church, with sky blue outlines the same white color of the rest of the town, stood before the mountain hills that supported the town's strawberry and potato farms. There was little to do in Ja Ji besides eat some strawberries and cream, enjoy the closeness to the sun, and wonder how great it would be to live there.
Back in Merida, Yasin let me sample another local treat: vino de mora (blackberry wine). I would drink this stuff as often as I could; it's thick and syrupy, flavor-packed with the sweet taste of tarty dark maroon.
A nice guy, long-haired friend of Yasin's, Luis, was going out that night, and I was eager to go with him. A ten-minute walk to downtown led us to Virosca, a foggy dance barn playing rock, rap, reggae, salsa, and kumbia music. There were some very, very pretty girls there. Since many people in Merida are students coming from elsewhere, I figured it would be a good ice-breaker to find out where these girls were from, even if I had to make up my own spanish words to ask them.
I said, "Desculpe, tu eres una Meridentista?" (Excuse me, are you a (combination) native of Merida/dentist?) This got one girl laughing, but then I moved on to: "Hola, tu eres una Meridinosaura?" (Hello, are you a native dinosaur of Merida?) I thought this was pure pick-up line brilliance, but each time I said it to a girl I was the only one smiling.
At three o'clock in the morning, the streets of Merida were safe enough for Luis and I to walk home. Imagine that, will you? A Latin-American city where the people all live rather well, and there's little crime. Let's hear it for Merida!
In the morning, Yasin and I paid $1 roundtrip apiece to ride a bus into the mountains and get out at the top of La Culata. It wasn't a town, just a peaceful hotel at the end of the Andean road. The cold nipped us a bit. A giant cloud ceiling struggled to stay together just a few feet overhead. Air here was so fresh it seemed to have trapped all the life people had lost and seemed to give years back as we breathed. The city below didn't seem to belong to the same world we were now in.
It was quite immaculate, I say. Green clumps of land surrounded the hotel and its neighboring farms. The clumps turned into forests which were slowly absorbed as they met white cloud. Across the street from the hotel was a comfy mound where high school couples from Merida had come to make out in the scenery. My, they had a good life.
From the hotel, we further climbed a dirt road lined with white rocks. Sometimes, barren rock heads would become briefly visible with a sniper-like presence through a hole in the clouds. Solitary white farm-houses boasted of their families' peaceful existences but couldn't keep from shivering. Yasin and I reached the cloud line. Swimming in mist, it was tough to see the tree on the side of the road.
Further exploring at La Culata led us on a green path through forest, along a gurgling stream of cool, ultra-refreshing mountain water. Clean boulders were strewn about beside pine needles. It was the type of perfect place elf princesses come when they want to dance. La Culata was one of the best places I've ever been.
We returned to Merida. As if this place hadn't enamored me enough to it, we then visited the shop, Coromoto. Home to more flavors of ice cream than any shop in the world. 1000! Tuna, plantain, Polar (beer), ham & eggs, etc. I tasted port, Nestea, Oreo, rum, Solera (also a beer), meat, and cheese. As you would expect, Oreo was just about the only one that wasn't disgusting. Doesn't mean I'm not dying to try the other 992, though! All at once, if I had the money.
For my last night in Merida, Yasin and Luis and I went to a cafe called Kawy in the bohemian city. After our Kawy milkshakes, Luis and I went again to Virosca. Danced some salsa early on. And as the night wore down, this classy club let us dance to some great rock. The Doors, Rolling Stones, The Cure, "Paint It Back," and finally "Wish You Were Here" by Pink Floyd.
Luis and I enjoyed another tranquil walk home that night.
Looking back now on my time in Merida, I'm reminded of something I said to Yasin: "You know, if you re-arrange the letters of Merida, you can spell 'mierda." Mierda is the spanish curse-word for "shit." I'd say that quote I told Yasin sums up my experience not-at-all.
However, if you re-arrange the letters of Merida in a different way, you could spell "dreami," which isn't a word but it almost explains Merida. Delving into the name a step further, you could also spell "iemard." Which means nothing at all. Which all goes to prove a point. And that point is: "I am red." There. You see, I used the letters of Merida to explain my political views, or to say I'm a bit embarrassed by this paragraph. What irony.
And the whole point of all this is that on the following day I might've said: "Mierda! I have to leave Merida." I really did love Merida, but I had to go.
How I wish ... how I wish I was there ...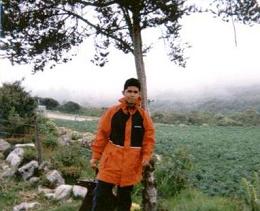 Later, Merida. Thanks, Yasin!
Peace out, Meridinosaurias - Justin!