For "Date of the Week" XXII, I and Antje, a blond German, watched our favorite movies together. Antje is the second-nicest person I've ever met. She's so nice it's annoying. She'd stab herself in the eye if she thought doing that would help you. However, that's not saying a lot because she's practically blind. Even with contacts, her vision is only 69% as good as a normal person's, which leads to her saying hello to people she doesn't know at night and very nearly running over pedestrians with her car, as she did on this night.
For the date, Antje and I were blessed with the company of our friends Nathalie, who's Swiss, and Jojo, who's also Swiss - or rather Swedish, which is basically the same thing as far as the rest of the world is concerned.
The video store didn't have Antje's favorite movie, "Deep Blue," so we had to settle for renting just mine, "Ferris Bueller's Day Off." We started watching the film, which is about a smartass high school student, Ferris Bueller, who plays sick to ditch school, convinces his best friend to take out his dad's 1968 porsche, and shows his girlfriend a perfect day in downtown Chicago. All the while, Ferris narrowly avoids getting caught by his principal, who wants to keep Ferris from graduating.
"I think this is a movie for kids," was the sentiment I got from Jojo and the others, who seemed a little bored.
I'll admit: some parts of this movie are pretty childish, such as when the principal crawls through Ferris' doggy-door in an effort to nab him or simply the fact that the school-skippers fit twenty hours of fun into one day. But, I'm not ashamed that my favorite movie belongs in the juvenile section - I'll mature at my own rate, thank you.
The important thing is this movie (in addition to casting Ben Stein in a supporting role) has had a profound impact on how I lead my life; Jojo couldn't say the same for his favorite movie, which causes me to highly question his criteria for selecting it. "Last of the Mohicans," Jojo? Pffff. I would expect to see him holding a tamarack and living with the land if that was his real, certified favorite movie.
As for "Ferris Bueller's Day Off," the point is MODERN ODDYSEUS' DATING ADVICE # 22 - Do whatever you want whenever you want. (Taken from a quote by Ferris' jealous sister: "Why should he be able to do whatever he wants, whenever he wants?") Words to live by, although they don't pertain all-too-well to dating I'm afraid. Antje's very nice, but there are onlys o xmany things she'll let you do to her before she slaps you.
At any rate, we gave Jojo a ride home, and Antje and I slept together. And, while we were at it, Nathalie joined on the other side. (This wasn't an unusual occurence, for Antje and Nathalie recently moved into my apartment, and we all sleep together - platonically - on the floor.)
The following week, Cara and I got together on a Sunday afternoon for a "Get-A-Job" date. The objective of such a date was to photograph ourselves performing the duties of as many occupations as we could, in-uniform when possible. MODERN ODDYSEUS' DATING ADVICE # 23 - Chicks dig a guy in uniform.
Cara's a cute girl, with round, white cheeks that flare out when she smiles, forcing her thick eyelashes shut beneath her light brown hair. She looks Swedish, and her parents even own a Swedish home, but, ironically, Cara isn't actually from Switzerland. She's American. And a vegetarian.
At the last moment, we decided to take her car over my bike. On the road to St. Pete Beach, toll operators in heavy orange vests were hard at work watching motorists throw two quarters in a bucket. This seemed like a job we could handle. As always, I had the girl voice our odd requests so atleast I wouldn't come off as a weirdo to people. She asked an employee if we could pose for a photo in a vest, because "we're doing a photo essay project for Occupational Studies." She told a brilliant fib, but the boss wouldn't allow it. He didn't say why, but I imagine it was because we couldn't have handled the disaster if someone with a dollar bill had entered the "Exact Change" line.
So, we tried our luck at the grocery store. A nice, old lady made sure her supervisor wasn't looking and snuck her black, Publix apron on Cara, who smiled big while stocking the shelves with canned corn. At last, we were earning a paycheck!
Next, we checked out a pharmacy. Cara and I found it odd that a display case here, seemingly for the general public, had ten copies of "The Pill Book." This paperback contained about 500 pages of information. "Why would anyone want this much information on pills?" I said.
"Some people collect model cars," said Cara. She pointed to the book with a shrug. "Other people ..."
I got into the pill craze long enough to don a white pharmacist's coat and pose as if enjoying a quiet afternoon with "The Pill Book."
From here, Cara's and my next employment came aboard a tourism dolphin-spotting cruise. Cara convinced the owner of the boat to let us take a picture by saying, "I've never been on a boat before." Her job was steering the boat, while I manned the sails.
The Chinese restaurant wasn't hiring. However, I found work selling womens' bathing suits, Cara scooped ice cream for a living (man, was I jealous!), I got people jolly as a bartender, Cara sported a Gators sweatshirt to sell sports memorabilia, and I posed near a red semi, dreaming of driving the big rigs.
Our next stop was the fire department. We searched the building for someone to speak with, but no one could be found. Perhaps they were out battling a mighty cauldron of hell-fire to save lives? And I, meanwhile, had nothing better to do than galavant around town taking goofy pictures on a date with a girl who already had a boyfriend. Kind of puts things in perspective.
I considered the heroic spirit of the fireman. I decided the respectful thing for me to do in this situation was to trespass into the open garage and help myself to an unused uniform - thus playing the hero and quenching the blazing inferno, if you will, by getting my goofy photo! (Also, I was readily available to offer my assistance if needed in an emergency.) Against Cara´s better judgment, I put on the bulky coat and visored helmet of Officer K. Anderson and leaned against the fire engine for a nice shot.
At this moment, it occurred to me that if a fireman in a sour mood entered and wanted to press charges, I could end "Date of the Week" XXIII having been arrested more times during my mischievous program than kissed. So, I contained my urge to slide down the pole, undressed, and got out of there.
The next place we visited was The Waffle House, which was understaffed and ready to put Cara to work, for real, immediately. They graciously outfitted her in a purple-checked shirt, a dark apron, and a bow-tie which nobody knew how to tie. Cara posed by the grill, looking like a longterm waitress, and I was about ready to have her fry up a couple of omelettes for me.
Finally, I pretended to be a St. Pete Beach cabana boy.
We headed home, exhausted. Neither of us had ever put in a day of work quite like this before. I´m ready to retire.
Speaking of retirement, the following day marked the sad end of the beloved "Date of the Week" program.
"Date of the Week" XXIV was with long, dark-haired Erica. Erica was a bit apprehensive about being the last date due to the negative image people would have of her. I believe she was especially worried about the cult-following I receive from the "Date of the Week" Fan Club, made up of mostly of models who bikini-wrestle to determine who my next date will be.
So, before my date with Erica even begins, let me just say this: I´m not ending my stupendiferous program due to a negative experience I had with Erica. On the contrary, it was Erica´s unequalled good looks and euphoric intellectual stimulus that made my desire to go out with other girls, who could only pale in comparison, cease to be.
There. It was about time for Erica to arrive.
For the last night of the magnunderfantasti-saurific "Date of the Week" program, Erica and I went to test-drive a new car. She turned down my original idea to have a Smorgasboard Date (which would´ve included all the ideas I hadn´t gotten to yet, such as skinny-dipping, getting into a church choir, and the mysterious "Where´s the Beef" date) - which is one of the main reasons I terminated my program after my experience with her.
(Just kidding, Erica! I´m only kidding, she was great.)
Here´s an interesting fact about Erica: she majors in Marine Science. Ooo! ... but, that´s not surprising, seeing how she comes from the land of green seas, gold beaches, and blue dolphins - West Virginia.
Seriously, though, I´d say the college major I´d be most likely to marry is marine science. Take the octopus, for example. Imagine the fascinating dinner table discussions you´d have about just that one aspect of the marine science field!
Also, Erica was cheery, which is why, as we rode in a light green 2001 VW Bug, we told the salesperson we were engaged to be married.
"Oh, yeah?" the big guy asked, interested. "How long have you been together?"
We hesitated, stumped by the question.
"Eight ..." I said.
"THREE ..." she said.
"... months."
"... YEARS - years." Erica tried to play it smooth. "Three years. We got together when we started school."
"Yep," I said. "Ol´ Pops - that´s what I call Erica´s dad. Right, honey?"
"Right, dear."
"Ol´ Pops is buying Erica a car for graduation, so we thought we´d take this one out."
By the time the test-ride was over, Erica and I had barely managed to keep our stories straight without being identified as frauds by the salesman. In order to maintain the appearance of an engaged couple, we had to put our arms around eachother lots. I was secretly hoping the salesman would ask to see us, the young loving couple, kiss, but it didn´t happen.
Erica dropped me off at my apartment. We said good-bye. As I held back the tears, memories of "Date of the Week" raced through my mind - I remembered getting yelled at by The Dance Nazi ... wrestling with Pikachu ... telling the car salesman I didn´t like his Bug because it didn´t allow me to sit close enough to my fiancee - but no memories of a kiss.
Slowly, I went in to hug Erica good-bye. MODERN ODDYSEUS´ DATING ADVICE # 24 - Lay one on her! I tried to align my mouth to Erica´s, but she countered with a wise maneuver by burying her face in my shoulder.
Darn. Twenty-four dates: no kisses. How futile.
But, the good news is the "Date of the Week" program ends for a good reason:
Because, next week, I´m going to leave the prudes behind ... to go to a place where my blue eyes and light hair will be appreciated ... to the land of samba, jungle, and romance ...
Brazil awaits!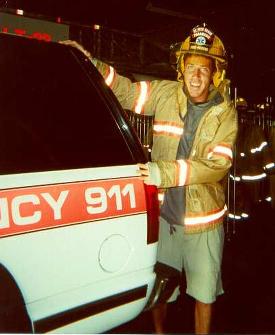 Later, Florida. - Modern Oddyseus