Of course, the remote town of Kibish, Ethiopia would turn out to be nothing like utopia. The Suri had no interest in befriending outsiders, they only wanted their money. Highlander Ethiopians worked here to fulfill civil service obligations, to earn salaries higher than they could earn elsewhere, or to make business, and most of them hated the Suri because they weren't "developed". MIGRATION FOR MONEY had been one item I'd considered adding to my "Top 10 Worst Things about The World!" list, because it caused the migrants a lot of unhappiness.
If I were to make a list of the worst places I'd ever visited, Kibish would appear on that list. Here it was:
WORST PLACES
1. Eilat, Israel
2. Kibish, Ethiopia
3. Tofino, Canada
4. Pozzallo, Italy
5. Anderson, Indiana, USA
HM: Fez, Morocco
In Kibish, the Suri women, whom I used to be attracted to, began to disgust me.
But, I was happy I'd come this far. I wanted to go farther.
I wanted to go to Omo National Park, seventy kilometers away from Kibish on a neglected road through tall-grass lowlands. I asked tourists who came in 4WD vehicles if they'd be going to the park. But, none were. I wanted to rent one of the donkeys that kept defying Kibish's policemen, sneaking into the police station to eat grass. I wanted a donkey that respected the police as much as I did. I wanted to walk to Omo National Park.
But, I would've had to walk through the land of the nomadic Surma tribe. And Surma guys were dangerous.
I feared them.
These shoeless, naked, heavily-armed wanderers. I respected them, like I'd respect an African-American leader who'd grown up in the ghetto, a revolutionary who'd spent time in jail, like I respected rough men from Russia and Serbia. A Serbian girl named Juju had recently told me: "All the tall and strong and handsome guys in Malta are Serbian. Every one of them."
Surma guys were the way men should be. Not like those of us who: loved our iPhones, spent more than seven hours a week on our laptops, accepted monogamy, wore pressed white shirts and ties every day, bowed down to God because it was our only hope of heaven.
Who would ever be afraid of an office worker? That would be like fearing a house cat.
Sure, the Surma guys begged. But, they didn't do it with the inferiority complex of highlander Ethiopians, who wanted nothing other than to live like Westerners. "I want to go to America," nearly all of them told me.
"I even believe, for example, that running from one's homeland to America is a lowly thing to do - worse than lowly. Stupid. Why run to America, when one can do much good for humanity right here?" - a Dostoyevsky character
The Suri guys begged, but with a superiority complex. Their culture was better than the West's. Suri elders told their youths: "America isn't good. It's bad." The Suri were so much better than everyone, that we visitors should give them money just to look at them. It sometimes seemed that the Suri begged instead of selling things because they didn't want to give us outsiders the pleasure of receiving something from them.
Only some of the Suri believed they were inferior to Westerners. These were the ones who'd been tamed, domesticated, taught to be ashamed of their culture, by Christian missionaries.
The world was pressuring the Suri to change. According to a Spanish tour guide I spoke with:
Girls weren't allowed to attend school if their lips or ear-lobes had been extended. This quickly recognizable symbol of their culture was becoming less frequent.
The Ethiopian government was selling the Suri's land to investors. This included the "gold rush" town of Dima, and the Bebeka Coffee Plantation which extended for thirty miles alongside the road between Mizan and Dima.
The Suri's land shrunk. There was less space for them to graze their cattle, which were their pride and wealth. They sometimes attacked the investors, and so the Ethiopian government sent in soldiers to pacify them. Meanwhile, always present ethnic conflicts grew as neighboring tribes competed for less land.
There had always been many wars in this part of the world. Maybe that was why the Suri were so reserved? So tough? So dangerous?
Actually, I liked that there were still dangerous places in the world. Even if it meant I couldn't travel to see elephants, elands, the Omo River, and lions. I abandoned my hope of visiting the remote national park.
And since I would only be traveling as the Modern Oddyseus for a few more weeks ...
Maybe Kibish was as far as I'd ever go?
I considered trying to walk to the park. But, there was a good chance I'd die before I got there. And I had so much to live for!
I'd taken six rolls of film in recent months, and I was excited to see the pictures! I was excited to fly back to Malta and visit my amazing girlfriend, the Hungarian free-diver. I was excited to write the stories that would mark the completion of Modern Oddyseus' around-the-world tour!
And there were many more reasons to live than those. MODERN ODDYSEUS' TOP 10!!! would provide us with at least nine of them. I hoped that many highlander Ethiopians, who often thought "money" was the world's only good thing, would read this list.
The Top Ten Best Things about Life!:
1. TAOISM -
Sometimes, I surprised myself when I wrote these lists. I wouldn't have expected a religion to be the world's # 1 best thing. And indeed, I wasn't referring to Taoist religion as I wrote this list, but to Taoist philosophy.
If one were to read Lin Yutang's translations of Laotse's poems and Chuangtse's fables in his book, "The Wisdom of Laotse", one would find Taoism to be an enjoyable and wondrous philosophy. Neither Laotse or Chuangtse ever mentioned rules or gods. Students of this philosophy were free to agree or disagree with whatever they chose.
I also liked Buddhism. I respected the wisdom of Confucius. I was curious about Hinduism's ancient books, traditional African religions, and religions from the Americas. I liked Gandhi's philosophy and Jack Kerouac's.
But - while maintaining my own philosophical freedom - I tended to agree with nearly all of Laotse's and Chuangtse's words. They taught: oneness and harmony with the universe, simplicity, gentleness, inaction, humility, the danger of having or wanting too much.
"There is no greater curse than the lack of contentment.
"No greater sin than the desire for possession.
"Therefore he who is contented with contentment shall be always content." - Laotse
"A man who can forget his own self may be said to have entered the realm of heaven." - Laotse, according to Chuangtse
2. HAVING A PASSION/DREAM
3. FRIENDSHIP
4. ROMANCE WITHOUT SEX
5. CREATIVE MUSIC
6. NATURE'S BEAUTY
7. SPORTS AND GAMES
8. CLASSIC LITERATURE
9. THE HIMALAYAS, SOUTHEAST ASIA, AND OCEANIA -
I was lucky enough to visit six countries in this great Eastern "arc" of the world. I considered Samoa, Australia, Tibet, and Laos to have the four most beautiful cultures of any countries I'd visited. Thailand and Fiji weren't bad, either.
10. RECEIVING/SENDING LETTERS IN THE MAIL
Some items in the HONORABLE MENTION portion of this list could've been thought of as smaller pieces of the items already mentioned. They deserved to be mentioned again:
DANCING. SWIMMING AND SNORKELING. GOOD SLEEP. DEATH. ADVENTURE. THE STARS AT NIGHT. RUSSIAN WOMEN. GANDHI. YOUTHFUL OLD PEOPLE. WILD ANIMALS. BIRDS. INSPIRING PEOPLE. And ICE CREAM.
There was a lot to live for.
Indeed.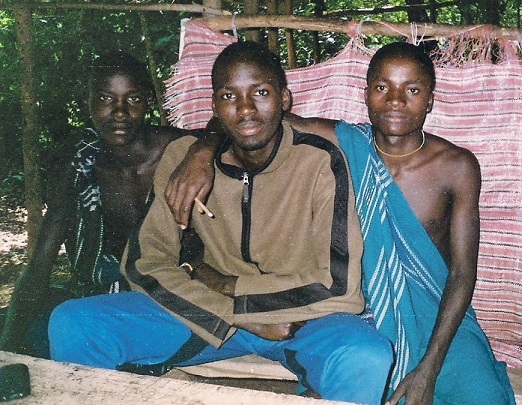 Modern O.