Hello, all, from the Baltimore home of school-chum Luke Seipp-Williams. I'm nine days into my roadtrip to school in St. Petersburg, Florida. Life on the road can sometimes be detrimental to a person's diet, but don't worry about me. The reputation of my all-ice cream diet has preceded me to many of my destinations this week, and I'm happy to say the freezer of the very hospitable Seipp family is more than adequately-stocked for my visit.
Returning from my summer in Iceland on a clear-skied day, I could see the humbling, hundreds-of-miles long Greenlandic icecap from the plane window. The glacier sprawled out like the devil at rest. It's hefty and gluttonous, overwhelming the land below as the cocaine-white fields relaxed themselves at all horizons. It's unconquerable and murderous, challenging would-be explorers with a rugged, unnecessarily cruel existence that's echoed in its knife-sharp mountains. And, as my repeated "wow-ing" served proof, it's oh-so tempting, posessing a rarely matched beauty in the crescent-shaped lakes whose blue shone like diamonds.
I wasn't thrilled to be returning to the United States. Firstly, it isn't a totally new country for me to explore; I've spent 19 of my 20 years there. And secondly, I don't find the average American to be very friendly. The people are overly capitalistic, I think, and they want so much for themselves that many actually wish harm on their fellow man. Everything here is: "Money, money, money...me, me, me." The devil certainly isn't at rest here.
"St. Pete or Bust!" I exclaimed when I spotted Cory Anderson, who'd come to pick me up from the airport.
Making my transition back to the States easier was the roadtrip my friend and I had planned that would take us to parts of the country we'd never visited before. Also, I'd flown into Minnesota, where I'd always believed the friendliest Americans to live.
Cory's a Minnesotan - with a shaved head, blue eyes, and tiny fists he likes to throw at me with a playful smile every time he calls my middle name, "Gabe!", or yells out our roadtrip cry, "St. Pete or Bust!"
I met Cory's friends that night. They did nothing to contradict my theory that Minnesota is the nicest U.S. state. Their well-meaning accents became pleasantly high-pitched whenever they said, "It's nice to meet you" or "Your summer sounds great" or "Have a great year at school, Justin!"
We hit the road the next day, covering 400 miles. We passed through the green grass and trees (more trees than I'd seen all summer long in Iceland) of Wisconsin, but the prettiest thing we saw was a car that had erupted into ten-foot high, bright orange flames. (Nobody was hurt)
Cory, a big fan of reggae music, had picked up two tickets for the night's Buju Banton concert. Although Cory and I were big fans of his music, neither of us had actually ever seen what Buju Banton looks like. To further complicate things, the House of Blues announcer was impossible to understand: "And now, put'cher hands together for a good personal friend of mine - (mumble, mumble)!" So, every time a big Jamaican in dreadlocks came on-stage, Cory and I would cheer excitedly. But the excitement faded after a few songs as we'd say to each other, "This doesn't sound like Buju's CD's," then, "He's not very good," and, finally, "I don't think it's him." After two non-Banton performers, Cory and I were about as baffled as anybody should be at a concert. Eventually, the real Buju Banton did play. He was very good, and he indeed sounded like his CD's, which I would best describe as the voice of a mortally-wounded, gargling grizzly bear. The rendition of his hit song, "Murderor," offered a very-heartfelt request for people to stop killing others.
After Chicago, for the first time in 7 1/2 months, I returned to my hometown of Grand Rapids, Michigan. My little cousin was nearly as tall as me now. I got the newborn baby of my best friend since 2nd grade to smile for me. My parents showed me pictures of their hiking trip to Costa Rica. Everybody had changed since I'd last seen them, and it was weird asking them what they'd been up to in the eight months since I'd seem them last. EIGHT months!...and these are my closest friends.
But, I'm a traveller now, and, as Cory would say, "Life on the road...it ain't easy."
But some things never change, like "Tonto y Psycho." "Tonto y Psycho" was an infamous mischief-causing duo that wreaked havoc on Grand Rapids during my high school years. I was called "Psycho," and "Tonto" is my flannel-wearing, crazy-haired blond friend. We were back to our old antics this week. At AJ's Family Fun Park, we sucked in our stomachs so we could fit together in a two-person go-cart intended for ten-year olds. Then, we added a new element to go-carting when Tonto raced the cart while Psycho unleashed a barrage of punches on the opposing drivers. I especially threw some bone-bruising hits to the shoulder of Josh Austin. "Tonto y Psycho!!!"
After three months in Iceland, it was also refreshing to see people having such a good time without needing alcohol. On a Saturday night in Minnesota, one of Cory's friends challenged Mr. Anderson to several games of cribbage, while another kid had a long chat with the Andersons' young German exchange student. And in Grand Rapids, my friends and I made up games on our own to enjoy: such as the old favorite, "Tootsie Jumble", and the brand-new "En-'Psycho'-Draw" - both are very fun, and I'll send you the rules of you're interested.
Unfortunately, though, the selfish money-hungry American ways are very evident in one good friend of mine. He negotiates as a lawyer whenever it comes to deciding whose car will be used to drive anywhere. And, on Wednesday, he hollared at me six times in a minute to remind me of the seventy-five cents I owed him. The behavior was not at all like that of my best friend this summer, Haukur, who, in the friendly Icelandic manner, practically insisted on paying for me every time we went out for a drink or bite to eat.
Speaking of getting a bite to eat, let me just say that Grand Rapids, Michigan is home to the two most outstanding restaurants I've ever been to. "Cheshire's" offers an old-fashioned diner-style setting with the best burgers I've ever ate, and huge ice cream sodas the size of your head!
And, as for "Bono's Pizza", oh my god... I've often said I'd give $50 for a Bono's pizza - the non-stingy portions of cheese and salty toppings...the sugary pizza sauce, sweeter than ice cream...the doughy, tasty bread and crust...mmm, MMM!!! The only thing about Bono's I can't figure out is why nobody likes the place but me. The so-called "taste" of some people is just absurd! I don't see how these people can even go on in such a meaningless life that doesn't include Bono's pizza?
I think Cory would've liked Bono's more, but my friend "Pancho" definitely freaked him out over dinner with horror stories of my poor driving record. "I would never, ever, under any circumstances, let him drive my car," Pancho said. This definitely wasn't good news to Cory, considering he and I would be sharing most of the driving (of HIS car) over the next two weeks.
From Grand Rapids, we travelled to Detroit, Michigan, the former "Murder Capital" of the United States. So far, this was the worst stop of the roadtrip.
My inept driving record was on full display here, as I very nearly got into four accidents during our two-mile drive through the city to the baseball stadium. As an encore to my haphazard driving, I proceded to lock our keys in the car. ...But in my defense, I was still rattled from the white Volkswagon that had nearly hit me earlier. The gerry-curled driver of that car sped after me and yelled: "We ain't in Minnesota no more, homeboy, learn to drive! I oughtta stop this car, beat yo' ass, and take your wallet!"
People in this city didn't strike Cory and me as being very nice. After getting the keys from our car and watching the last half of the baseball game, we politely asked a slow-moving, chubby gentleman to take a quick photo for us. He gave us a big "I'd love to, man, but..." smiles and said, "Naw, guys, I...I...I gotta...aw, I'm in a hurry, man." He sped up his pace and walked away, becoming the first person I've ever seen to lie in order to avoid the five-second process of taking someone's pictures. Man, this darned city!
We visited Cleveland's pretty Lake Erie downtown the next day. We toured the rockin' Elvis Presley and Muddy Waters exhibits at the Rock N' Roll Hall of Fame, then set off on the 500-mile road to our next stop, Baltimore. At one point, all the driving began to wear us out. But, with one sharp call of our roadtrip cry, "St. Pete or Bust!" Cory quickly regained the energy he needed to reach our destination.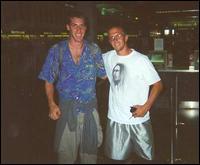 From Baltimore,
Later - Modern Oddyseus
"Life on the road...it ain't for everybody!" - Cory Anderson