"May the best man get the first donkey!" Walker, my roommate, was the last person to say good-bye to me in Erzurum. He had been my best friend here, but our good-bye wasn't too emotional because we figured we'd see each other again. Walker's current plans were to continue working for The Goke until spring, at which point he would resume his efforts to travel around the world - maybe with a donkey.
As for me, I hoped to travel from Turkey to Ethiopia - the site of my next three-month stay. I would travel west from Erzurum to Italy, where I could purchase a cheap flight to Addis Ababa.
But, first I had to get to Italy. And say good-bye to Turkey. Could a donkey help me do this!?
No. No really.
It was -10 degrees Celsius (15 Fahrenheit), and I was covered in warm clothes, when I began my hitchhiking trip in a village west of Erzurum. It was December 14th. The air sparkled with silver: tiny snowflakes falling in the dim sunlight.
My third driver on this day was (the already mentioned) Dr. Tolga. He drove me through a snowy plateau on which white mountains ran across the land like a herd of antelope. At times, really enormous colossal unclimbable mountains stood over everything like evil powerful unhappy fathers. Dr. Tolga and I would travel five hundred miles together.
Among the interesting things my driver talked about were the psychological effects on people who used the internet too much. They developed a Schizoid disorder. They lived superficial lives, unable to have deep feelings.
This reminded me of my belief that "images" (computer images, television images, pictures in magazines, marketing images, photographs, and made-up people in real life) were attractive because they gave us temporary pleasure, but their long-term effect on us was usually one of creating desire. And "desire" was a negative emotion. Images distracted and confused people, causing them to want what others wanted them to want. People didn't even know what they really wanted, anymore.
I was happy I didn't have Fa**bo##. And, when I finished my world travels, I didn't want to have the internet in my house. Nor a worthless TV.
But, this story wasn't about the internet. It was about saying good-bye to Turkey. And there wasn't a better way to say good-bye to a country, than with a MODERN ODDYSEUS' TOP 5!!! And even though I was going to post it on the internet, it wouldn't give you a Schizoid disorder. So, don't sue me.
Turkey ...
When The Goke had first interviewed me, he asked, "Do you like Turkey?" I said unsurely, "Y-- ... yea ... ea ... uh." Anyone could've seen I was lying.
But, after six weeks in Erzurum, I liked The Land of the Gokes. Here were The Top 5 Best Things about Turkey!:
1. THE GEOLOGY -
Made of steep land and mountains, Turkey was home to so many natural wonders you could spend a lifetime exploring them.
Some of my favorite places included: Mt. Ilgaz Nat'l Park, Nemrut Lake, the region between Ardahan and Artvin, and the Manavgat River's tall, narrow canyon which was cool during summer.
2. HOSPITALITY -
Quick hitchhiking. People giving you food. Being invited into their homes.
I would finally get a ride from an all-female car while in Turkey - this December, in the modern west of the country. Woohoo! After that, I would be picked up by Irhan and his twelve-year-old daughter, Deniz.
I showed Deniz a picture of my dog, Tucker the Corgi. She happily called him cute, but said her dog was even "daha tatli" (sweeter). Sweeter than Tucker!? We had an argument.
But, I got to meet her dog, because Irhan invited me to sleep in his home/hotel overlooking the Aegean Sea. Even in big cities and touristy places, Turks were hospitable.
3. THE FOOD -
In restaurants, I ate: chicken kebabs, with the chicken roasting on a spit; mushroom soup or sheep's face soup; "pide" - a Turkish variation of pizza; Erzurum's famous "cag kebab", lamb meat roasted on little sticks; and I drank a salty yogurt called "ayran".
But, the best meals I had came in natural places, where Turks shared their barbecues. Spicy red chicken, or plates of tiny fish, were accompanied by grilled onions, peppers, eggplant, tomatoes, and flat bread to wrap everything in. The singer, Baris Mancho, even had a hit song called, "Biber Domates Patlican" (Pepper Tomatoes Eggplant).
Yum!
4. EAGER TO BE LIKED -
Turks happily befriended new people, rarely spoke badly of others or of other nations, and were accepting of everyone.
5. HAPPY CHILDREN -
Children were accepted and supported.
HONORABLE MENTION told us not to forget: PEOPLE'S NAMES; AFFECTION BETWEEN GUYS; and THE MUSIC. My favorite rock bands were Duman, Seksendort, and Zakkum; "Black Sea music" incorporated bagpipes, and the singing was as beautiful as the rainforested mountains bordering the Black Sea.
But, Turkey also had problems.
I would say it had six very large problems. Check them out, in The Top 5 Worst Things about Turkey!:
1. SEX-OBSESSED -
Dr. Tolga said, Turkish men were insecure and had the "Oedipus complex". Their fathers had been strong figures, and they feared them.
Their mothers had protected them. After adolescence, the boys wanted to protect their mothers. Yet, they started behaving like their fathers.
Turkish men thought that if they didn't commit adultery, they weren't men. Peasants in northeastern Turkey sold their livestock, so they could go to Georgia every weekend to gamble and have sex with prostitutes.
Yet, if they caught their wives committing adultery, they could kill them.
2. MONEY-OBSESSED -
Turks overvalued money, and worked so hard it was unhealthy.
3. GUYS ALLOWED TO DO MANY THINGS GIRLS CAN'T DO
4. OBSESSED WITH MODERNIZATION -
Development. A bustling economy. Ugly buildings made of synthetic materials. Coastlines full of apartment buildings so close to one another that their only views were of other buildings and new construction. Traditional, seaside villages turning into crowded Resorts.
Yuk! If Turkey didn't act quickly to preserve its architectural identity, it was going to have some of the world's ugliest cities.
5. TURKISH-KURDISH CONFLICT
HM included: WOMEN CONCEALED FROM HEAD TO TOE; THE EFFECTS OF TURKISH FOOD ON YOUR STOMACH; PUSHY HOSPITABLE PEOPLE; and THE GOVERNMENT. The latter was Turkey's sixth big problem ...
The government would be discussed during my last stop in Turkey, in the western city of Eskisehir. This liberal, student town was a city of culture. And it had been the site of protests, while Istanbul was also protesting in the summer.
A girl I met complained that a new law prohibited alcohol sales after ten p.m., except in bars. She said police had begun entering people's homes, if men and women were living together out of wedlock.
Erdogan, Turkey's president for the past ten years, now offered people money if they married - and if two students married, he erased their debt. Conservative Erdogan encouraged couples to have at least three kids. My friend said, if every family had three kids, they'd be more dependent on money and therefore easier to control.
Ninety years earlier, Ataturk had freed women. Until Erdogan's time, it was actually illegal for women to cover their hair in government buildings. But, Erdogan changed that. Some people feared Islamic law could be re-instated. Even the girls I knew who wore head-scarves didn't want it to be mandatory for everyone to do so.
Democracy was so stupid, I thought. I'd recently been told by a conservative man that, "Conservative people have always overshadowed their insecurities by becoming aggressive towards society." It was wrong for a religious majority to impose laws on a liberal minority.
Actually, the girl in Eskisehir believed that Erdogan's friends cheated during elections, and that was why he won.
She told me about her city's protests.
A friend of hers was imprisoned, and hit all day by the police. A lawyer, volunteering his services for the protesters, came and freed him.
Some shops on Eskisehir's Baglar Street had refused to give refuge to protesters from the police. These businesses were then boycotted. Protesters gave free coffee outside unsympathizing coffee shops.
University professors let their students miss class to protest. The government interfered and said, "Why are you doing that?"
Some student protesters slept in the street. One girl slept beside a sign that read: "Please wake me up - I have an exam tomorrow."
I agreed with the protesters. Turkish people deserved more freedom, specifically more freedom of speech. More freedom!
"The ideal relationship between two people is one in which they always accept each other lovingly, and they make no rules nor set any conditions for each other, and they always allow each other to be themselves. The ideal relationship between a government and its people is the same." - J.Breen philosophy
In fact, I hadn't come to Eskisehir to talk about the government; I'd come to build a friendship with a person named Melike. I'd been wanting to visit her since we'd met at a Peace March in September. Now that the wait was over, I brought her a rose.
She was delicate and beautiful, with grayish square cheeks that came from her Tartar people's ancestry. She wore maroon nail polish, a mix between her dark lip color and brown eyes. She liked speaking to me, with happy, excited energy.
She put on her black fuzzy coat and bright blue-striped scarf, and we went out to enjoy her town. We ... played Turkish Scrabble; ate local "ciborek" (thin, flaky bread enclosing ground beef); walked on the cobblestone hills of the "old town", with its bright red, white, or blue houses encased in thick brown borders; and saw a play. Melike cutely kept thinking about the play, a psychological thriller, trying to figure it all out.
It was a pleasure to visit her. People like Melike made me hope I'd return to this country soon.
But, for now, I traveled downhill from Eskisehir - past a Chistmassy plateau of white snow, green pines, and red oaks - to the Aegean Sea. And I boarded a ferry, bound for the snow-less Greek islands.
The only thing left to say was the favorite word of my former student, Gulistan. It meant, "Enough said" ... "I understand" ... "Did you get that?" ... "The end."
"Tamam."
"Tamam?"
"Tamam."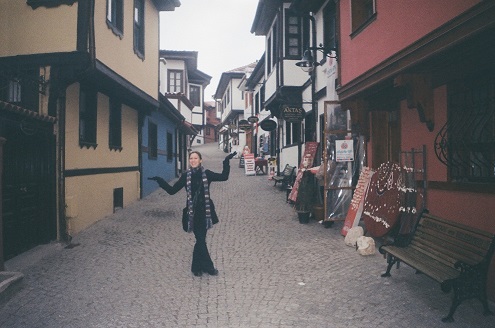 The Modern Oddyseus.
Thanks to Cureyet; Oktay, Ersu, & Taner; Gokhan Tolga; Mustafa; Muharem; Mehmet; Jan; Ahmet; Zohan & Sebat; Irhan & Deniz; and Murat for rides!
Much thanks to Melike; Ahmet; and Irhan for places to stay!