A final criticism I had of the Armenians' genocide museum was that its exhibits were decorated with Christian crosses. It seemed to me that by displaying symbols of a God they believed in and their enemies didn't, they were appealing to people's religious prejudices to win their sympathies, rather than by the facts alone.
Of course, the site was foremost a memorial to the victims, and less importantly a historical museum. So, Armenians could decorate it however they wanted.
I began on my way to Turkey. In order to get from the world's first Christian country, Armenia, to Turkey, the country I was supposed to be staying three months in, I had to go through the world's second Christian country. Georgia. Hadn't I spent enough time there already?
Yes. But, at least I wasn't stuck there indefinitely.
This time, my first Georgian driver - David Kapanadze - told me how his country came to adopt Christianity.
In 337 A.D., Queen Nona was a Christian. But, the Georgian king, Mirian, was still pagan. Nona was trying to convince her husband to convert.
One day, a solar eclipse occurred. Mirian was terrified. Where had the sun gone! He prayed to his gods. The sun didn't appear. He took his wife's advice and prayed to the Christian god. At this time, the moon moved. The sun was back again! Hooray! King Mirian began believing in Christianity, and he ordered that this be Georgia's new religion.
One thousand six-hundred and seventy-six years later, as I spent more and more time in this country, I unfortunately found more things about Christian Georgia that belonged on my list: The Top 5 Worst Things about Georgia! For example, local DRIVERS loved their cars too much, drag-raced on urban streets, and weren't apologetic about nearly killing pedestrians. Men and some women were GRUMPY, possibly because they were earning so little money. And I became convinced Georgia was THE DRUNKENEST COUNTRY I'd ever visited.
But, it was still great.
I was walking through the village of Vale, when I came across a beautiful building in ruins. It stood mightily - its giant cylindrical columns supporting three stories - atop a terraced lawn that featured a big old tree. Inside the building, a two-story ballroom - its walls pastelle green, its banisters shaped like elegant pots, its northern side collapsed - opened up. Beyond that was a theatre, painted periwinkle blue and full of fallen debris from the ceiling. I wanted to sleep in this building; but, I didn't have time.
Exiting the building, I found a girl in a short brown dress standing beneath the columns, smiling at me. She had dark brown eyes and curly hair, and nice legs. Her name was "Kate", a.k.a. Ketevani Gozalishvili. She invited me to her house for tea. I had time for that!
Walking a countryside lane, I was given fresh grapes by Kate's neighbors. I ate them, along with fluffy pastries baked by Kate's sister-in-law, beneath pictures of Orthodox saints in Kate's living room. Her white-haired father, Tariel, appeared. He shared his name with the hero of Georgia's most famous piece of literature, "A Knight in Panther Skin", by the 12th century poet, Rustaveli.
Kate told me proudly, her father had been an actor. He used to act in the theatre I'd seen this morning, and in bigger towns. Now, he mostly took care of his vineyards. He was a bit sick. But, he broke his doctor's orders and drank some vodka with me and Kate. He enjoyed having an American guest for lunch. And I enjoyed the time I could spend with him and Kate.
Georgia was less made-up than Armenia, less rich than Turkey, less ambitious than both. It was laidback, lazy, and unpretentious - my kind of country.
A Georgian friend of mine, Mariko Bughadze, discussed ambition with me recently. She said some of her countrymen looked elsewhere for meaning, for identity. But, what they were looking for was right here. She told a story of a guy who moved to France and began drawing pictures of Don Quixote; one day, he read a Rustaveli story, and soon after that he returned home.
"Mari", herself, had moved from her village to the Georgian capital and was pursuing a pHd. in philology. She was studying early Greek Christianity to see how it had influenced Georgian literature. Sometimes, she wondered if all this studying was meaningful. She recited to me a poem by the Latin writer, Ovid, in which a foolish girl studies all the time only to ultimately have her grave stepped on by a man who doesn't know nor care that an educated girl lies below him.
She took me to the house of her friend, Niklas. This likeable, bearded young man enjoyed having intelligent conversations and helping travelers. I stayed at his home in the dirty, dark streets near the wooden "Old Town" of Tbilisi. While there, I went to see a man about a donkey.
This man didn't have a donkey, nor did he know much about them. Like me, he was an American who'd gotten the great idea to travel in Central Asia with an ass. I figured, if I traveled around Eastern Turkey with a donkey, it would force me to slow down and experience the land more intimately. Walker Stephens from Seattle figured that, if he traveled across Kazakhstan with a donkey, it would provide him with a new adventure. He was attempting to travel around the world without flying.
I'd met him a week earlier, when I checked into the hostel he was working in and paid for housing for the first time this year.
He - with his size, mannerisms, and appearance - reminded me of a squirrel. In addition to a brown beard and short hair, he had one long braid of hair that began near his ear. He held his lip in a way that made him look like he was chewing tobacco. He'd been raised by his parents on a hippy commune. I hung out with him a lot in Tbilisi. If he could've carried my bags for me as a donkey could, he would've been the ideal companion.
He told me lots of stories.
He'd recently lived one whole year on $500. He built himself a house, mostly out of junk, in the forest of Washington State's Olympia Peninsula. He obtained two goats. He started a garden, which was his passion. But after one year, his friends - who'd asked him to start a garden on their land - said he couldn't stay unless he began paying rent.
Around this same time, Walker was trying to break up with his girlfriend. She was ready to have kids, but he didn't want to bring new people into a crowded world. She wouldn't let him break up with her. So, he figured it would be a good time to leave Washington.
He began his trip. He'd always liked sneaking onto cargo trains illegally. So, he traveled across the U.S. doing this. He told me, most Americans who chose this dangerous form of travel came from horrible or abusive families. He was an exception. "No, guys, actually my family's pretty great!" he'd say.
One man who rode the trains always carried a five-gallon bucket with him. Walker thought this was a ridiculous thing to carry, but he decided he'd do the same. It was never quite comfortable for him to carry it. One day, he was looking in a dumpster for food, and he found twenty-four bottles of wine. He put them in his bucket. As he walked around the U.S.A., he left bottles of wine on the ground any time his bucket felt heavy. He only ever drank the first and last bottles of the wine.
He made it quickly to the state of Georgia. He wanted to go from here to New York so he could sell Christmas trees. But, because it was impossible in the Savannah, Georgia railyard to tell where the trains were going, he kept getting on trains headed for Atlanta. He ended up getting "stuck in Georgia" six weeks.
Walker was not discouraged.
He got paid several thousand dollars to be part of a medical experiment in Baltimore, Maryland. He was locked up for weeks with other members of the experiment: African-Americans with criminal histories. They spent their free time betting on NFL games or playing a card game, Spades. Walker's "Spades" partner had "MMMM" (More Money-Makin' Machine) tattooed on his face. The guys thought Walker talked funny, so they asked if he was from France. "Seattle," he said. They said, "Yea, I knew you's was from somewhere over there."
Walker paid $1200 to be the only passenger on a cargo boat going to Europe. It took twelve days. He said, "That seems like the right amount of time to get used to the idea of crossing an ocean."
All this time, as he traveled east, Walker had nightly dreams about Washington. He was haunted by what he'd lost. It wasn't his girlfriend he missed. It was the house he'd built, and the garden he'd started.
He traveled on.
In Italy, he obtained a bike. He built a cart out of junk, which he could pull behind him. It looked like a shopping cart. Everyone who saw Walker's invention, and heard he wanted to go to Turkey with it, laughed at him. But, he made it across the Balkan Mountains. He made it to Turkey.
He and the bike even made it to Asia. As he was biking on a bridge over the Bosphorus Strait in Istanbul, he was ordered by police to stop. He kept going. With his cart behind him, he pedaled like crazy. A policeman grabbed him. He was told, he had to get off the bridge! The busy Istanbul traffic was stopped. Since Walker was halfway across the Bosphorus, it was decided that he should leave the bridge by going foreward. And in this way, he and his funny bike reached Asia with a police escort.
He abandoned the bike in Istanbul. He hitchhiked to Georgia - the country.
He met a couple who were bicycling from England to Australia. He wanted to join them. He calculated he would have enough money to make it to East Asia, only if no unexpected problems occurred. He needed more money. He went to the casino in Batumi, Georgia - a place he described as a "cartoon town".
He went to the roulette table. He bet $1000 on "red".
The spinning ball landed on ...
"black".
Oh, no!
With most of his money gone, Walker could no longer afford the visas and ferry rides he needed to move on. He was "stuck in Georgia", again.
And that was how he came to be working twelve-hour shifts in a dark hostel in Tbilisi, earning $2.50 a day.
He spent much of his time daydreaming about donkeys, and researching them on the internet.
We found out that:
Donkeys could walk four kilometers an hour, for eight hours a day. They needed to drink twelve liters of water per day. It was best to buy a trained donkey.
And we already knew that donkeys were the cheapest livestock around. You'd need several donkeys just to have a fair trade for a sheep.
But, we needed to know more.
Luckily for us, there was a guy in Tbilisi at this very moment who had years of experience walking around with trained animals. We needed to go and see ...
... "the camel guy".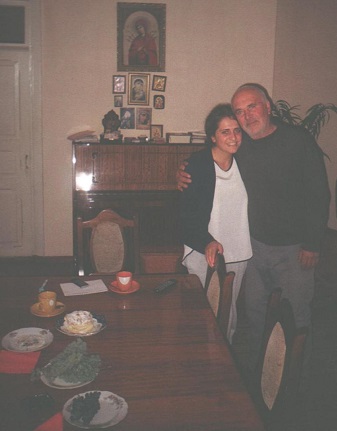 To be continued.
Thanks to Vonik & Alen; Arman; Pahital; Arsan; David; Roman; Vardan & Abugan; Ondranik; Vachagan & Mahitar; Arkadi & Vahan; David & Madonna Kapanadze; and Goga for rides!