Tepan'e and I sat in his house, on my last day in the Archipelago of the Bijagos.
It was a rather large house. A large open space within the house led to the separate rooms. A large, wooden table stood, surrounded by wooden sculptures of women carrying buckets of water on their heads, near the front door. It was here where Tepan'e sipped his palm wine, and met his guests.
Easy-going but successful, Tepan'e had reached 68 years of age. He entertained his guests while wearing a lightweight, blue tie-dyed shirt of West African fashion, and a white skull-cap. Short, white hair grew on his round and happy head.
Outside of his front door was another table, where the many people who came to visit him - including students who wrote to preserve the Bijago language - sat and waited. Surrounding the house was a garden of papaya trees, avocado trees, and Brazilian herbs that were said to prevent malaria when drunk in a tea. (I'd heard the same thing about the sweet roots of mango trees.)
Tepane's house sat on a hill in Bubaque, and from here it was possible to see the islands of Rubane and Canhabaque and the open sea between. I scanned the sea for signs of the ferry which should've been arriving, and then departing with passengers for the mainland. It was three p.m., but there were still no signs of the ferry. I needed that ferry to catch my flight which would be leaving for Morocco in twelve hours. Although the ferry had left Bubaque each of the last twelve Sundays, I believed it might not leave this one.
"This is the worst country in the world," Tepan'e said, referring to the government. "But, it has the best people in the world."
Tepan'e should've known these things. He'd been living in Guinea-Bissau for thirty-six years. In the late 70s, he'd even undergone the Bijagos' initiation cerimonies. That was where he'd been given his name, Tepan'e. Before that, he'd been known, simply, ...
... as Father Luigi Scantamburlo.
He continued to talk about the government. "The military here, they're savage. If you're their enemy, they'll kill you. And it's not the Balanta people (Guinea-Bissau's second most numerous ethnicity). It's the Balanta military."
He added, "Education is the key to stopping brutality."
Though I knew Tepan'e was wiser than me, I had to defend my anti-education viewpoint: Wasn't the American C.I.A. educated? And it orchestrated missions of brutality? Hadn't Africa's most brutal dictators been educated?
In my story, "Thoughts on Africa", I'd failed to mention Africa's political problems. Where there were politics, there were problems, I didn't expect anything else.
Africa's political problems concerned me whenever they led to the local people being harrassed. In Guinea-Bissau, I'd been told that, when there was a coup d'etat and political fighting, pedestrians were left alone.
Why, there'd been a coup d'etat attempt this very week.
Supposedly, the man who'd killed President Nino Vieira in 2009, and who'd gone to live in Portugal, had returned. He spoke to the Guinean president who'd been removed by the military in a coup this year, and he said he could get him back into power.
Undertaking his mission, the assassin had been discovered. Gun-fire was exchanged in Bissau. Six people died. The killer fled to the island of Bolama. The military pursued and caught him. Bubaque's ferry was sent to the non-Bijago island of Bolama, to transport the military and their captive back to the capital. As a result of this coup attempt, I was possibly going to miss my flight.
In other Guinean news, public schoolteachers were striking. The government owed them a few months' salary.
However, the schools operated by Tepane's NGO, "Faspebi", were about to begin classes.
And Tepane's NGO had recently succeeded in having a website made for it. I'd made it.
This work relationship had raised important questions in the minds of those who knew me best. Important questions like:
What was I, a renounced Catholic, doing working for a priest? What was I, a person who opposed the spread of Christianity and Islam, doing working for a missionary? Didn't this represent a conflict of interests?
To answer these important questions, I needed to start from the beginning ...
We'd met on my third day in the archipelago, when someone referred me to him in my search for Bijago language learning materials. He gave me grammatical notes and a dictionary. He'd compiled both of these himself.
I was impressed. He'd also published his own Creole dictionary. He'd made this after analyzing thousands of hours of Creole conversation, radio broadcasts, etc. to ensure he wouldn't miss a word.
After that, I would visit Tepan'e from time to time. I asked him: Was Bijago society actually a matriarchy? He replied, no. He believed it had been a matriarchy, long ago before the time of the colonizers. The women had been able to meet their kids' needs alone, and the men stayed in the jungle. At some point, the cultivation of dryland rice was introduced to the archipelago. Women needed strong men to do one part of this work, and that was the end of the matriarchy.
One day, Tepan'e needed me to make a website for him.
I began staying at the Catholic Mission, until I learned to my surprise that Father Tepan'e wasn't in charge of the Catholic Mission, and I was asked to leave.
My boss had originally come to the archipelago with the Catholic Mission. But, in 1994, the Church asked him to go to Cambodia for a year. He accepted, and went to help the poor people terrorized by Pol Pot's regime.
Upon returning to Bubaque, he found that the priest who'd replaced him wasn't respecting the Bijagos' culture. He stopped working for the Catholic Mission in Bubaque, and concentrated on running his NGO.
I would only ever hear Tepan'e say one thing about religion. He said:
"It's no wonder the Bijagos don't understand Catholic mass. In their culture, a religious ceremony means inviting everyone together, killing an animal, and having a feast. In ours, it's boring, silent prayer."
There was no reference to religion in the website I made for Tepan'e, except for pages describing the Bijagos' traditional beliefs. Tepan'e had great respect for them.
I did, too.
Two anthropogists, Tepan'e and I would travel to Bissau this day on the ferry that we saw reaching Bubaque at four p.m. I would catch my $750 flight to Morocco, purchased with money borrowed from my mom.
But, first, in the dark street near the port in Bissau, Tepan'e exchanged $800 of money and handed it to me in exchange for future web design work. If the author of the U.S. State Dept.'s warning for travelers on Guinea-Bissau had seen this, he would've taken away my passport for doing the most dangerous thing humanly possible.
Safe in the plane, I thought about how, upon my arrival in the U.S., I would present this money, along with a big hug, to my mom. Unless I spent it first in Morocco. Then, she'd just get a hug.
From Morocco, I wrote an email to Tepan'e, thanking him and asking him what I'd been dying to know:
Did he think the Bijagos should become Catholics?
Emulating the secretive ways of the Bijagos, he wouldn't tell me. He said, to understand the answer to that question, I had to learn other things ...
- "about the Catholic church who'd come to Africa some years ago (1948, before the Independence and the Vatican II)
- "about the Bijagos' Religion (which had been discovered recently and despised during colonial times)"
- and about "who is Jesus Christ and his mission on Earth"
One thing was certain. If Tepan'e thought the Bijagos ought to become Catholics, he believed this in no way conflicted with them keeping their traditional beliefs. I found that view to be pretty revolutionary. And it seemed consistent with the open and accepting ways of the Guineans.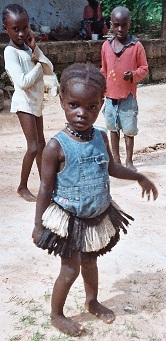 "Good-bye, Guinea-Bissau!"
Oh, wait ... I still had one more story to write about it.
Until then,
Modern Oddyseus
Much thanks to Father Roberto, Father David, & the Catholic Mission; and Father Tepan'e Scantamburlo for places to sleep in Bubaque!
WEBSITE RECOMMENDATION: www.faspebi.com included photos of the Bijagos, and other pages with interesting information. It was currently only in Portuguese, but by early next year Italian and English should've been added.