On the final day of my Byron Bay weekend, I took didgeridoo lessons with a friend, Ryan the surfer. For those of you who'd like to know, I've included ...
INSTRUCTIONS FOR MANUFACTURING YOUR OWN DIDGERIDOO
You will need the following:
(1) hollow log
Directions:
Step 1 - You're done.
If this seemed a little too easy, you may want to return to the "You will need" section and make sure you've gathered all necessary materials.
So, now you have your didgeridoo. For fun, aborigines used to play these musical instruments all day long. Of course, you would never do this. It's much too boring. (Keep in mind that there wasn't much to do in the Australian outback back then. Aboriginal society was very uncivilized. They didn't even have "Jerry Springer.") Nowadays, not even aborigines play didgeridoos all day long. They can thank the British introduction of convicts to the island, who taught aborigines the joys and wonders of alcoholism.
Our teacher gave examples of songs that can be played on the didgeridoo. The songs all had beautiful names, like: Call of the Emu, Platypus Mating Dance in the Shadows, Koalas Wrestling a Python in a Tall Euchalyptus Tree as I Sit Below and Play My Didgeridoo and I'm Very Thirsty and Ow! Is This Sand Hot, The Dingo Sleeps Tonight, and Stairway to Heaven. When I listened to these songs being played, they all sounded unique and representative of their titles. But when I watched these songs being played, they all looked very similar - like some small aboriginal guy trying to transfer his brains into a hollow log using only the process of cheek-straining blowing.
Now that you have your own hollow log, I mean didgeridoo, I've provided you with some sheet music:
CALL OF THE EMU
Notes: - Blooooooooooooooooooooooooooooow -
Lyrics: "Blooooooooooooooooooooooooooooow"
PLATYPUS MATING DANCE IN THE SHADOWS
Notes: - Blooooooooooooooooooooooooooooow -
Lyrics: Instrumental. (Very beautiful)
KOALAS WRESTLING A PYTHON IN A TALL EUCHALYPTUS TREE AS I SIT BELOW PLAYING MY DIDGERIDOO AND I'M VERY THIRSTY AND OW! IS THIS SAND HOT
Notes: - Blooooooooooooooooooooooooooooow -
Lyrics: "I gots no shoes, and I just walked a mile. I gots no job, and my old lady left me ... for a crocodiiiiiiile! I gots the blues - the outback, desert blues."
THE DINGO SLEEPS TONIGHT
Notes: - Blooooooooooooooooooooooooooooow -
Lyrics: "A weem-a-wep, a weem-a-wep, ooh-oo-ooh-oo ... "
STAIRWAY TO HEAVEN
Notes: - Blooooooooooooooooooooooooooooow -
Lyrics: "There's a lady who's sure, all that glitters is gold ... "
Believe me, these songs won't be easy to play. An incredibly difficult-looking technique called circular-breathing is required, in which a person (an aborigine - did I forget to mention that only aborigines have ever been able to play this? I should've said that in the directions part earlier. Step 2 - Be an aborigine.) breathes in with his nose at the same time he's blowing out with his mouth. Ryan and I were not able to do this. Once, I thought I had it, but I really just sneezed. The closest we came to performing any songs was a harsh melody I'd call Fat Guy Eating Beans.
Later on, Matt and I checked out the markets and headed for In The Pink. Unbeknownst to us, as we walked the streets of Byron Bay, our "15 seconds of fame" were nearly upon us. Some Australian director was looking for extras for his movie, and I guess I just had the look. And Matt was with me, so he got to come too. (Ha, ha. I'm only kidding, Matt, they took both of us - but especially me!)
For our movie debuts, Matt and I laughed and applauded at the back of a comedy club. I must admit, Matt delivered a powerful, emotion-laden performance that'll probably move viewers to tears for his character: Laugher # 6. I tried to make myself stand out as much as possible, in case the movie got big, so I stuck my hair up and unbuttoned my shirt. (In light of this, Matt and I figured we'd probably be airbrushed out)
With each scene we had to shoot, my demanding performance wore on me more and more. I was underpaid and hungry, so I started taking trips to the food table whenever we cut filming. In all, I took about eight granola bars (half their supply) and lots of juice. I could tell it wasn't intended for the extras, because there were names all over the food, and I didn't see "Justin" written anywhere. One lady kept yelling at me, "Buddy ... Buddy! ... BUDDY!" but I just ignored her and chewed on my banana bar. It reminded me of the casting episode of Seinfeld, where the Kramer actor stole George's raisins. I wanted to make myself a sandwich with their bread, but I didn't have time.
Matt and I had earned the rest of the day off. We snorkelled, played in the waves, caught a tan, and ate kebabs and ice cream.
When we got home, and for the next day, Matt and I repeated our laughs and applause over and over to people, citing our "artistic specialties." We called ourselves movie stars and tried to get our friends, the "normal" people, to do everything for us. But they wouldn't do anything for us - Ryan just kept playing his didgeridoo (which, for some reason, he'd bought instead of making). I guess our friends just didn't recognize talent when they saw it.
You can catch me in my debut on the Australian big-screen in "Dancing On Glass." Look out for Laugher # 7 - my thunderous applause should make me stand out.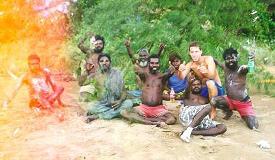 - Justin "the next Tom Hanks" Breen
(more sheet music)
FAT GUY EATING BEANS
Notes: - Blooooooooooooooooooooooooooooooow -
Lyrics: (a duet) Ryan: "Oh, man (giggle), that one sounded gross. You're supposed to be playing Ancient Wombat Burial Grounds!" Justin: "No, I almost got the breathing down. I almost ... a-choo!" R: "Gesundheit." J: "There, I had it!" R: "No. That was a sneeze."