Waiting for my ferry ticket at the port in Dakar, I'd heard a peaceful song with chiming, sweet instruments and the cooing voice of a strong African male. This song made me want to close my eyes and lean back-and-forth to it. It was so soothing. I was told the song came from Guinea-Bissau.
In order to reach Guinea-Bissau, I rode the ferry towards southern Senegal. The ferry traveled through the cool Atlantic Ocean and entered the muddy Casamance River. Green jungle obstructed my view inland, in this rainy area known as Casamance. Buildings stuck out from the trees at the port town of Ziguinchor. These buildings were made of wood painted pink or gray or mustard, and stained with mud.
In a small building beside a dirt road, I paid $40 to a Guinean embassy worker and obtained a three-month visa to Guinea-Bissau. I was going to be able to stay in the country as long as I wanted. I hadn't expected it to be this easy. Yay!
I also learned there were affordable flights from Guinea-Bissau to Europe (to Portugal). Thus, I wouldn't have to return to Senegal, a country which had been uncomfortable to travel in. There was good news all around! I closed my eyes and leaned back-and-forth. (I assumed this to be celebratory dancing in Guinea-Bissau.)
But, I wouldn't want to mislead you into thinking Senegal was a bad place. I found it to be a rich and culturally lovely place. Actually, it was culturally rich and lovely. But, "rich and culturally lovely" sounded better. To give you a better idea what I meant by this - because obviously I didn't mean what I meant - here was a MODERN ODDYSEUS' TOP 5!!!, ready to interpret.
Culturally lovely? Our writer could have only been alluding to ... The Top 5 Best Things about Senegal!:
1. TERANGA -
"Hospitality."
People I met invited me to stay with them, and told me I could stay with their family members I'd never met. In Senegal, I was typically invited to between two and four delicious meals a day.
Delicious meals? Healthy fish and rice was the most common. My other favorites included: "farsi" (fish ground into meatballs which you didn't have to pick bones out of); "cheri" (a small, moist grain like quenoa); couscous with a red, meaty sauce; sauces made with unsweetened peanut butter; and a honey-glazed chicken on lettuce. The many tastes of teranga ...
2. BEAUTIFUL PEOPLE WHO LIKE TO LAUGH
3. TAM-TAMS AND "TAHAGON" DANCING
4. MENS' LIGHTWEIGHT CLOTHES AND WOMENS' DRESSES -
I wished I had a wardrobe full of "yere wolofs".
5. SAINT-LOUIS' BEACH
There were many good things about Senegal, indeed. An impressive HONORABLE MENTION List included: SENEGALESE FOOD; NO WARS, NO PROBLEMS (rare for a West African country); MANGOES; BAOBABS; and musicians FATOU GUEWELE and OUMAR PEN. I enjoyed dancing at a "Senegalese Night" in a nightclub.
But, our writer also mentioned: "uncomfortable to travel in". He must've had ... The Top 5 Worst Things about Senegal! ... in mind:
1. ISLAMIC NOISE POLLUTION -
Loud-speakers on mosques called their communities to prayer, five times a day. One of these times was at 4:30 in the morning. This was done in all Muslim countries, but the Senegalese mosques seemed especially disrespectful and intrusive.
I would be deep asleep in the village of Bango, and then BOOM! Like a blast of wind preceding the rainfall in Casamance, a thundering voice entered my room and shook the walls. "A-llah Akhbar!!! ..... Allah Akh-bar!" (God is the Greatest!)
Other times, mosques played recordings. Voices chanted; their anti-musical hum drilled through my eardrums. It sometimes sounded as if cows were being tortured and unconsciously groaned, "Uraaa-aaah!" It once sounded as if a man moaned the same three notes again and again, on a staticky broken record. These recordings could play for sixty minutes straight. It was my nature to sleep at this time!
"God is nature. If any person's perception of God is one that causes him to deviate from his own nature, then his is a false perception of God." - J.Breen philosophy
It was similarly false to believe that a perfect God would want us to chant, "God is the Greatest". A perfect being would not be so insecure. God was not a businessman who granted favors in exchange for praise.
We people also needed to realize our sins were forgiven (by The Heavens, if not by others) as soon as they happened. We didn't go through life with the weight of our sins upon us.
2. GETTING FROM POINT A TO POINT B -
I enjoyed the camaraderie that hitchhikers shared with their drivers in most countries, and therefore I often felt alone when I had to pay for rides. In Senegal, I had to pay. Using public transportation in Senegal was never fully pleasant.
3. HOT AND HUMID -
I sweated through my t-shirts quickly. The heavy air on top of me made it difficult to want to do things, other than take a cool shower.
4. WANT, WANT, WANT -
The reason the Senegalese lacked education - a local woman complained - was because they had to keep searching for money. "They should stop searching for money," I said. "There's no money in Senegal, anyway. They should stop wasting their time."
One man told me, "In Senegal, you need a car, a refridgerator, a big house, a telephone ..." Clearly, he was mistaken, since very few people had these things. Why did the Senegalese spend so much time "wanting"?
Maybe it was because they'd been influenced by American media and its spoiled rappers? ... by the greedy colonizers and deep-pocketed tourists? ... by their own family members living in Europe, who sent their love via Western Union?
While in Senegal, I was just happy the rice and fish were plentiful.
5. TOO MANY KIDS -
People had so many kids that, often, poor families dropped off their boys with religious men. These religious men could maintain communities of up to a thousand boys. The boys were sent out to beg and forced to learn the Koran.
I would admit, though, the big Senegalese familes could be awfully cute.
HONORABLE MENTION included: THE PORT OF DAKAR; BEGGING FROM TOUBABS; and FGM.
I'd always thought "female genital mutilation" took place in Central Africa and was the result of traditional beliefs. But, no. It was a West African phenomenon and was practiced by some tribes who'd adopted Islam.
So, there you had it. Senegal in a nutshell ... or a coconut shell ... or a mango peel ... or whatever.
There were a few aspects (See items # 1-3 of the Top 5 Worst Things about Senegal!) that made it uncomfortable, uninhabitable.
Otherwise, I found it to be a great country: well-educated, well-behaved, full of beautiful people.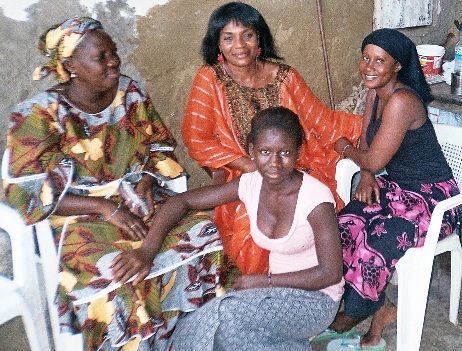 more from Senegal to come ...
the Modern Oddyseus