Hello, and Gošan Dagin. I spent the last week in Reykjavik, but I may have met my first-ever hitchhiking companion. His name"s Will, from Wilmot, New Hampshire. We"ve been throwing around some ideas, and the most interesting one so far has been to chase and tackle someone"s sheep and decorate them with christmas lights or something.
As long as the hitchhiking takes place, it should be interesting with Will. He once threw a glass of beer in the face of Björk"s dance partner. I"m surprised he didn"t get beat up for that, because he"s got big glasses, a nun"s voice, and the smile of a child. To give you an idea just how unintimidating he is, he once said to me: "Yeah, you should stop by some time. That"d be great if we could just, you know, have some tea." He actually said 'tea'. I couldn"t believe it. Also, he was complaining the other day because he got punched at work...He works at an old folks" home! He said, "I kept telling the guy to turn down the tv, because all the old people were sitting around with their hands over their ears. Then, he got up and punched me. And, it hurt! I mean, he"s 94 years old, but he"s got muscle tone."
Will"s Irish roommate, Johnny, is an interesting guy too. He mocks us for our country"s gun-control laws. He says sarcastically, "The solution to the problem is simply to arm everyone seven years and older. If the U.S. has 7-year olds getting shot, then these kids obviously should be given guns of their own." Johnny once spent a summer with his friends in Holland, where their Romanian employers got deported. After two months of never leaving their tent, they had run out of money and were reduced to stealing bottles off people"s porches to pay their way home. "It was either that or call our parents for money," he said with absurdity.
As I heard the story of Johnny"s summer, it made me wish I didn"t have my parents" credit card here in Iceland to fall back on when money is tight. You learn a lot about survival when you have to fend for yourself.
...Well, I guess I should"ve been careful what I wished for. Two nights ago, I lost my I.D. and credit card.
This leaves me with only the cash from the jobs which I don"t work at much.
The good news is that I"m always prepared, and I have already devised a Plan B. It"s brilliant, I must say. The plan is to sell e-mail subscriptions to my travels, door-to-door. When I devised "Plan B", I did so with visions of earning $20 or $30 an hour. Get rich quick, ha, ha!!!
Working against this plan is the fact that nobody sells things door-to-door in Iceland that I know of. Also, Icelanders work very hard for their money and they chiefly like to part with it only for beer. Wednesday was my first day as a door-to-door salesman, and after one hour my hourly rate was $0/hour.
Here"s where my days as a solicitor would come in handy! At age 17, as a door-to-door toy-and-watch salesman, I learned all the tricks of the trade with some quick-talking hustlers. Sure, I only earned about $40 a day at that job. But, this time I"m working for myself and all the bountiful profits are ALL mine. Get rich quick, ha, ha, ha, ha!!!
RULE # 1: YOU NEED A SALES PITCH.
I thought back to how I used to move the "Mother Goose" CD-Songbooks better than anyone else in the office at age 17. I reflected on that beautiful poetry of a sales pitch, so harp-like in verse even the poorest bum couldn"t have resisted buying a book from me. "Can we get a Mother Goose sing-along in here?" I used to say. "Six little ducks that I once knew...fat ones, skinny ones, small ones too..."
So, I tweaked my latest sales pitch Wednesday night. "I"m Modern Oddyseus," I say, "I"ve climbed trees after koalas, hitchhiked in stolen cars, ate 6 liters of ice cream in one sitting..."
RULE # 2: GET SOMETHING IN THEIR HANDS.
With a picture of me with aborigines for style, and a picture I took of my goofy masked face while snorkelling for humor, I was on my way for Thursday"s selling. Get rich quick, ha ha!!!
...Actually, things didn"t go much better on this day. My hourly rate rose to $3.33, but I would describe the feeling most Icelanders have towards me as a bitter resentment for my existence. I must be forgetting some rules.
RULE # 3: WHILE PEOPLE WORK, THEY"RE ALREADY NOT ENJOYING THEMSELVES SO THEY DON"T MIND YOU TALKING TO THEM AS MUCH.
RULE # 4: TUCK IN YOUR SHIRT.
So, on Friday I went out again. Rules 3 & 4 made a big difference. When I went into shops to sell to clerks, they atleast feigned interest in my travel e-mails. Other people were sincerely interested in my travels and me and everything except for the part where they give me money.
The number of subscribers to "Modern Oddyseus" Travel Annals" rose on this day, but unfortunately they were all nonpaying moochers. In fact, I lost money on the day. As I left the house of a guy who laughed at me and said, "I have better things to spend my money on," the sole of my shoe got caught on his step and began hanging half-unattached to the rest of my shoe. After factoring in the cost of the super-glue to repair my shoe, my hourly rate after three days was a very unwealthy $0.80/hour.
But I will persevere! I have to. I have no money otherwise. I just need to remember some more rules. Let"s see...
RULE # 5: MAYBE PUT SOME GEL IN YOUR HAIR.
RULE # 6: SELLING IN BARS IS FUN AND PROFITABLE.
That last one"s good. You don"t know how many times I used to say, in the old solicitor-lingo: "I dropped 7 pieces in the Beer Bar, SmokeDog! Who"s got the juice!? Justin"s got juice, Justin"s got juice, Justin"s got juice, let"s get fired up!!! Juicy."
RULE # 7: "PRESS ON!" (wait, that"s no rule)
RULE # 8: DAMN, I WISH I HAD SOME OF THOSE CD-SONGBOOKS WITH ME RIGHT ABOUT NOW.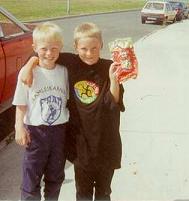 later, Modern Oddyseus