ODE TO BUD
While still in South Africa, I received an email from good ol' Grandpa Breen in Michigan. He had sad news.
Bud was dead.
He'd suffered a heart attack while cooking in his restaurant, Bud's Hamburg. He'd always said he wanted to pass away while at his restaurant. He'd been serving people hamburgers there for fifty-eight years!
My brother, a scientist who loved going out for breakfast and pondering his scientific endeavors, first wandered into Bud's Hamburg a few years ago. It was a mile from our home in Grand Rapids, Michigan. When my brother went to pay for his meal, a short bald man with wrinkles all over - especially on his nose - came to the cash register. He wore a white smock and kind, blue eyes. My brother loved how, when he asked Bud how much he owed him, Bud just waved his hand and said, "Oh ... about five bucks."
My grandpa and I heard about it and started going there. We loved the oily hamburgers topped with cross-sections of massive onions; the firm and salty french fries; the greasy, fried onion rings; the fried walleye specials; and the thick, creamy strawberry milkshakes. Even when Bud did punch the metal keys of his heavy antique cash register, the black numbers that popped up inside it showed astonishingly low prices. Bud's Hamburg represented American culture at its finest.
Bud loved hunting, and his interior decorating showed that.
The mounted buck head that hung out from the wall was - my Uncle Dennis, a hunter, once noticed - covered in a layer of grease. A Japanese flag hung next to it; Bud happily told us, "Yeah ... my buddy got that off a dead Jap back in World War Two."
A sign in the bathroom read, "Prices are subject to change ... as a result of the Customer's Mood!" And - my funny grandpa once pointed out - two pictures, one hanging above the other, were both crooked. One picture slanted to the left, the other slanted to the right.
My best friend's young daughter, Coral, said of Bud's Hamburg: "This is the smallest restaurant I've ever seen!"
I was so happy a place like Bud's still existed.
-- It was my theory that the recent economic crisis was caused by the emergence of chain stores and huge companies and global corporations. These big companies operated so efficiently that they needed only to employ a few workers in order to possess huge shares of their markets and to buy up land and resources. The declining need for workers led to higher unemployment. The inability of small business owners to compete led to the disempowerment of independent-minded entrepeneurs. The successful corporations were less likely to spend money in their consumers' communities. And, with the world now in crisis, people were probably even more likely to shop in chain stores, which offered low prices, thus strengthening the big corporations more ...
-- Probably the thing I disliked the least about myself was that I often shopped in big supermarket chain stores. I hoped that, once I would eventually settle down, I could keep a list: one column would include "Things I Bought from Big Corporations", and the other would be "Alternatives". --
I was sad to hear Bud would never grill me another hamburger again. And I was going to miss the gentle chuckle he used to give when greeting me and Grandpa Breen.
Bye, Bud.
A bit saddened, I continued my adventure in Africa. Still in Cape Town, I moved out of my hostel and moved into the flat of Chantal Louw. I'd met this hospitable young woman in her girly white interior design shop, when I'd been selling stories. While I would stay with her, I'd get to experience my final new tastes of South African cuisine. This made Bud's passing a bit more bearable.
When I returned to her shop in order to go home with her, this wild-black-haired pale girl smiled and gave me a cookie. This brittle and powdery pie was known as a Hertsorg's cookie, after an infamous apartheid leader who'd loved them. This particular style was topped with apricot jam on one half, coconut shavings on the other. Chantal had bought a box of twenty home-baked cookies from someone selling them door-to-door.
On our way to the flat, we stopped at a bakery. Chantal bought us a big bag of "koeksusters" (meaning: cooks' sisters). Each koeksuster was a piece of twisty bread that had been deep-fried in sugar. A thick layer coated it, so syrupy it was like getting diabetes at once. We ate them, while a tiny moon rose beside the sunset-pinkened Table Mountain, outside Chantal's window.
Chantal ran The Fringe on Kloof St. The shop sold crafts which had been made by eighty artists from Cape Town's slums. Chantal felt that it was important for her to provide these people with an income. But, she also wondered if she wasn't just leading them into the materialistic, Western lifestyle; she doubted the African Problem needed a Western solution.
On the following day, Chantal's flatmate Estee cooked us babotie. I'd heard that this meal, like the koeksusters, had been developed generations ago by Cape Town's indentured laborers from Malaysia. White Estee baked minced meat and ground-up bread with Eastern spices including tumeric and curry masala, this was topped with a custard made of eggs with bayleaves, and we ate it over yellow rice. It was rich and delicious! Estee also fried us pumpkin fritters (little pancakes).
On my last night in Cape Town, Estee prepared "chicken a la king". This recipe called for her to grill onions, orange peppers, red peppers, mushrooms, and chicken together. She made this creamy, with ... cream. And we ate it over rice. Estee - who told stories about her Afrikaner ancestors being kept in British concentration camps, and about her impoverished German grandma emigrating to Namibia to be wed to a stranger - cooked excellently.
Yum.
Seeing as how I was about to be leaving South Africa, I could think of no better topic than Estee's cooking to use as a transition into ... The Top 5 Best Things about South Africa! The latest version of MODERN ODDYSEUS' TOP 5!!!, beginning with the Rainbow Nation's best attributes, was ready to fry and fly.
The Top 5 Best Things about South Africa!:
1. BIRDS -
Birds were everywhere, squawking madly. One of the coolest birds I saw was a long and tall, brown-speckled owl. He blinked his eyes and smacked his lips, sleepily. His wings and horns believed themselves to be superior, like a royal robe and crown.
"Yeah, the birds are happy," said a conservation biologist Klaus, with a smile.
2. THE WILD SODWANA BAY / ST. LUCIA AREA
3. "CLICK" LANGUAGES (ZULU AND XHOSA)
4. HOSPITALITY
5. IT'S COMPLEX AND ROUGH AND INTERESTING -
I would've liked to have visited one of the slums, known as "townships". I nearly went once to one's youth center, to give a motivational talk, but it was a rainy day and the roof leaked.
Lacking the owl's superiority, a few things were good enough only to gain HONORABLE MENTION. These were: HOUSE MUSIC; RUSKS (the dried-out cakes for tea-dunking); BRAAI (the traditional barbecue); TOUGH AFRIKANERS; ACCENTS; and TABLE MOUNTAIN.
There. And now, we could move on to The Top 5 Worst Things about South Africa!
1. CRIME
2. RACIAL DISHARMONY
3. BLACKS' LACK OF EDUCATION
4. CORRUPT GOVERNMENT
5. CLOSED AND CONSERVATIVE PEOPLE
The HM, meanwhile, included: UNEMPLOYMENT; AIDS; MOTIVATED BY MONEY; unfair AFFIRMATIVE ACTION; and MOLEMA. Molema was a popular black politician who'd resurrected the chant, "Kill the Boer!", and who - like Zimbabwe's leader, Mugabe - wanted to strip whites of all their rights.
In general, I'd say that South Africa - from the wealthy whites to the thieving politicians to the township drug dealers to the superficial Capetonians to the rapists and murderors - was more selfish than compassionate. There were many compassionate people, too. But, I'd say the country needed more compassion.
Traveling north from Cape Town, I passed through Namaqualand.
This grassy land swarmed around mountains bursting upwards like crab claws. It was famous for its springtime explosions of flowers. In mid-winter, my driver Klaus and I saw:
fields salted heavily with the orange of gazanea daisies;
fiery maroon pipe-cleaner fluffs;
apricot red-orange proteas, with their long bodies like tulips eating tulips eating tulips;
purple astarasci grass which made whole fields seem pink;
purple, lacy flowers that made fields glow sunny blue.
I was glad I had biologist Klaus with me to tell me the names of the flowers. And I was also happy he drove me across the Orange River and into Namibia.
I'd survived South Africa!
And I'd had a great time.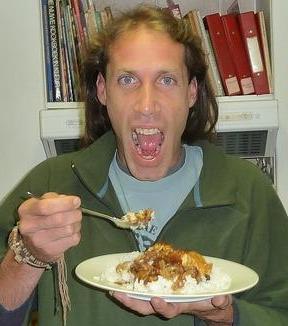 Thanks,
Modern Oddyseus
Thanks to Adrian; Yajid, Keith, Wohi, & Siaol; Roger; Richard; Naas; and Klaus for rides!
Much thanks to Megan, Jock, & Ron; Chantal & Estee; Pheli; and Johann Van Der Merwe for places to stay!