(Alternately titled: "Stay out of Laos, you louse!")
Sadly, my teaching job in Laos never lived up to expectations.
My would-be private school students skipped the first week of class, as was Lao tradition. I admired their laziness, but I needed to work! Then, my little goblin boss said I'd teach less hours than he'd promised me. At $3 an hour, I needed all the hours I could get! And my boss, Oupasith, never told me we could get the Department of Education to pay for my costly visa renewals.
With my first one-month visa nearing its end, I had to consider leaving Laos. Partly, this was my fault. I should've made my demands more clear to Oupasith. I wished I would've applied at Luang Prabang's law college. I could've searched for a room of my own, as it would've been tough to teach while living in a hostel. I admired my laziness, but I shouldn't have been so lazy!
But, generally speaking, it was a tough country to stay in, and apparently it was common for bosses to make promises they couldn't keep. "Oops, I'd trusted Oupasith! I needed Oupasith's opposite!"
Laos might've been the least developed country I'd ever tried to work in. In many ways, that was a good thing. The culture, as pure as dew, made several more arguments for why I should stay:
... One afternoon, I finished my daily task of writing in my journal in Lao. This elephant-land alphabet with its curves, wavy zigzags, and little loops - in blue ink - shimmered like a lake. Its written language ran together with no spaces, yet it was a piece of a cake of a breeze of a walk in the park compared to Chinese. I got up from my sawdusty desk and went to this classroom's sawdusty porch and looked out upon a university courtyard. Though the classrooms were empty, the courtyard was bustling.
Young men played an intense soccer game, kicking stinging shots at goalees or up into the dorm rooms, hoping they'd win to play again. Girls wearing only towels walked outside to the showers to brush their teeth or rinse themselves off. And guys played rattanball.
Two teams of three surrounded a six-foot-high net. The frog-legged guys used their feet and heads to volley a ball back-and-forth. In order to spike the ball, they did flips and kicked the ball while their feet were above the net and their heads were near the ground. Amazing. I would've loved to be a part of this community.
Soon afterwards, on the day before I was set to leave Luang Prabang, I revisited the community at Huaitong Village in the jungle. And I became enamored with the village children, who played outside and never stopped giggling.
The girls played a game in which four of them sat and held onto one another, forming a train behind the front girl who held onto a post. Other girls shook and pushed and tickled them, trying to pull them free of whatever they held onto. The wild-haired, brown girls laughed and laughed and laughed.
Afterwards, they joined hands in a circle. They turned around to face outwards; each bent her right leg up behind herself, so that the group became connected by their right feet in the middle; they released hands and tried to see how long they could all keep hopping for. The smallest girl kept falling, and they squealed with laughter.
Observing this, an American traveler went to a bamboo stand and bought all of its drinkboxes. He walked to the middle of the crowd of kids, who became silent and watchful. He set the drinks down and slowly backed away. The kids watched the drinks for a moment, then suddenly they all raced and wrestled over them in a frenzy. Once each of the drinkboxes had been won, the winners shared them with everyone else anyways.
We "falangs" (foreigners) left this happy community to go hiking. Shampoo the hostel owner led us past fields of swampy steamed-rice grass, past dry fields of six-foot-tall sticky-rice grass, and past teenaged girls carrying firewood in baskets on their backs.
Near a murky, thundrous waterfall, we reached a puddle. Tiny butterflies ate or drank by the hundreds. A kaleidoscope of white, yellow, and sometimes bright orange, they collided like confetti. The air overflowed, leaking colors that appeared then vanished.
But, neither this village nor Luang Prabang could keep me from vanishing - not while I didn't have a decent job.
The following day, I said "sok di" (good-bye; good luck) to Backpackers Hostel. The staff had treated me like family. They'd invited me to eat with them: omelets with herbs over rice; strips of beef and fish grilled on a hot wok; and grass in a spicy curry.
Good-bye, Shampoo! - who said you'd work out a way for me to stay for free next time. Good-bye, Een! the boy from Huaitong Village whom Shampoo supported to study - who liked to smile with me speaking nasally Lao. Good-bye, Put! the dark-skinned cleaning girl and law college student - who only spoke English with me when she was drunk.
I said good-bye to the innocent charmer, Deuan. With vivid brown eyes, he said, "I'm very sad right now. When will you come back?" I didn't know when. Turning away from Backpackers Hostel, I felt teary-eyed and beaten.
...
That afternoon, a long-distance truck would pick me up. Relieved from the road, I felt quite happy.
I rode on the sides of mountains. Other mountains covered in rainforest knifed up towards heaven beside us. We seemed high, because the steep mountainsides of sticky-rice grass plummeted to deep ravines below.
The stars came out. My driver played a CD of my favorite Lao band. A creative guitar, and either a man's or a woman's voice, howled so calmly. Breaking drumbeats, flutes, another strumming guitar, a harmonica, and haunting keyboards sweetened up the background.
The full moon came out. It illuminated a flat, steamed-rice terrain that ran straight into the cliff face of a pointy mountain tower. I got out of the truck, meditated amidst the rice paddies, and slept in a farmer's hut without walls.
I left in the morning, before the farmer came. I hitchhiked to Vientiane, where I needed to make my two-month visa for Thailand.
Yep. There were many reasons why a guy like me would go for a girl like Laos. I mean, a place like Laos.
But, only five of those reasons could gain the glory and prestige that an appearance in MODERN ODDYSEUS' TOP 5!!! could offer them. The rest would live out their lives in mediocrity and dashed hopes.
To preserve the suspense, we'll begin our awards ceremony with the villains of this 2010 travel season. Ang Song the policeman will present ...
The Top 5 Worst Things About Laos!
1. ANTI-FOREIGNER LAWS
2. VIENTIANE -
In this capital city, my steamy breath choked on tastes of poisonous gas, and yet I had to walk everywhere because there were no local buses.
3. "TUK-TUK" -
"Hello, sir. How are you? Where are you going? Tuk-tuk?"
Being a pedestrian falang, I heard this sales-pitch twelve times a day. Colorful, uncomfortable trucks (tuk-tuks) served as local transport or taxis. They usually overcharged falangs.
4. NOBODY WALKS -
In towns or cities, the lazy locals went everywhere on their motor-scooters, adding to the pollution and the number of motorcycle deaths.
5. TELEVISIONS -
The lazy people liked to watch Thai tv, even in villages.
Okay, so Laos wasn't absolutely perfect. It just seemed like it at times.
Here's Ni the young bracelet saleswoman, to tell you who made it into The Top 5 Best Things About Laos!
And the Oddyseoscar goes to ...
1. THE PEACEFULNESS OF THE PEOPLE
2. NO CORPORATIONS -
Almost no Western corporations had made it into Laos. Maybe that was why it was so beautiful.
3. LAO MUSIC
4. LAO SKIRTS
5. PEACEFULNESS OF THE NATURE
Roll back the red carpet. Those gaining HONORABLE MENTION points were: KIDS AT PLAY; GIRLS DON'T WEAR MAKE-UP; and MONKS IN ORANGE AND YELLOW.
The robed, shaven-headed monks wore friendly smiles, as they followed Buddhist discipline and took care of their temples. Many men, such as Shampoo, remembered their monk days with warmest fondness.
On the day I would leave Laos, in late September, I awoke in my Vientiane hostel. A soft voice in the hallway cried: "I know you!"
Behind me stood the previously-mentioned "French girl" - the one who'd tried adopting a baby named Mimi! She looked greener and smaller. I'd heard that she'd given up on the impossibility of adopting Mimi, and that she'd fought with the guesthouse owners who'd been taking advantage of her. And now she was about to go to Thailand.
But, her clear black eyes said she missed Mimi. "I wake up at night, and I'm searching for her."
We spoke for a minute about how tough it was to find work in Laos. I said that, two days earlier when I'd been hitchhiking through a small town, a guy had suggested I work in his language school. The French girl laughed, saying people had offered her jobs in other towns, and she was like, "Yeah, right. I've heard that one before."
In this government-run guesthouse, scary warning signs were posted all around us: "Dear Mixay Guest, Non-Residents Are NOT Allowed in the Rooms. They and the Guests will be Fined and Kicked Out. No Refunds will be Given!"
We hadn't been able to survive in Laos. "I miss Luang Prabang," I said.
Nostalgically, the small French girl lowered her head.
"Me too."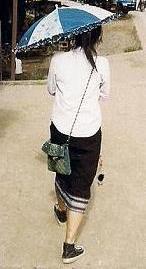 - Modern Oddyseus
Thanks to Pinghou; Jong Li & Ai Yun; Teupang; Mr. Kamlaa; work truck; Haaman & Sanpet; four guys; and another tuk-tuk for rides!