I never did visit the non-Tibetan part of Szechuan, renowned for its liberalism. But, I did dance intimately with a sexy "Miss Wang" from the capital, after she served me pork and green peppers from a smoky wok in her restaurant. Maybe I could've even (gasp) been happy living in Chinese Szechuan.
Who knows?
I traveled away from there, on mountain roads that seemed to be tracing the chalk outline of a murder victim, then the chalk outline of a centipede, then the chalk outline of an octopus. Ow, my tumbly stomach!
I was excited to be arriving in exciting Yunnan Province. Its name means, "Southern Cloud". Ooh! Exciting! But, would my last memory of China be a positive one?
Angry clouds strangled the necks of planet-sized mountains that rose steeply and blackly and waterfallsy up from the opposite edge of Tiger Leaping Gorge.
Hiking this area, I was on a mission to get a picture of myself to match ones of my brother here in 2005. But, the drowning clouds; the new dam that had made the river higher, brown instead of topaz, and too wide for a tiger to leap across; and the absence of our buddy Pat, to photograph me making my limbs into a victory "X"; all doomed me. Also, my brother Brandon is a looker. Round-headed, bald-headed, green-eyed, spiky-smiled, blond-bearded. There was no way Mom was gonna keep my picture on the fridge as long as she'd kept his.
"Cuo le." (You're lost.) A man on the rainy mountain told me this, while I was daydreaming of my brother's beautiful picture. A victory "X"? How ingenius!
Wandering around at dusk, I got invited into a local home belonging to China's "Naxi" minority.
A jolly man welcomed me in from the wilderness of bamboo, corn crops, and sweet-like-frosting white "bell" flowers, to his courtyard surrounded by three two-story buildings made of wood from that wilderness. A typical home; this man's family had lived in this spot for seven generations.
He and his friends - with small chins and foreheads on shrunken faces - sat around the home, discussing money. They wore light-material sleeves that didn't reach their wrists or ankles, allowing their agile bodies to move; the wife used hers to cook me dinner. I ate unopened, mountain ferns. Brown and plasticky, they contained explosions of cola taste bubbles.
Talking with my friends the Naxi, I asked how many Naxi there were. "Bu duo," said my host. (Not a lot.) "Xiao le." (They've become fewer.) I asked the son about his school, and he said all the lessons were given in Chinese. At first, this made me mad. But, then, I realized it probably wasn't very practical for a person to speak only Naxi.
I slept that night in an open-walled second floor, surrounded by baskets made of tree bark, and the herbs and nuts and ferns that dried in them.
From the gorge, I went to Lijiang. Few ancient cities outside of Beijing are talked about as much as Lijiang. Its name means, "River Beauty."
In the ancient city ... screens of wooden windows, resembling the screens Asian emperors used to change clothes behind, formed the walls and urged you along; ... your feet plopped about on smooth streets of stone; ... the stone was interrupted by channels of a slowly swimming, green river; ... on side streets, away from the tourists and shops, the river reflected simple, white walls and dark roofs; ... the ceramic roofs waved down to dragon-tail spikes; ... and strings of red, Chinese New Year balls hung from the roofs and brightened things up.
Lijiang was great.
You could stay in a hotel or live in its ancient city - unlike in Forbidden Cities, which were museums. But, I waited until I got to the ancient city of Dali to stay in a hostel. I think Dali's name means, "Big Logic." There seemed to be a lot of pot-smoking going on here.
The air was hot and wet and overrun with plants. A girl in my hostel room said she loved to go to the rainforest mountain on the edge of town, and from there she could see all the ancient town of Dali.
Gray blended with white on the square houses of Dali, and in the spots where they blended, there was usually a Taoist painting of a withered tree or a pink flower. On the first floors, fine wood opened to reveal shops, but on the second floors the wooden screens and banisters were rickety and creaky. In between the houses, plants sprayed their leaves in the sun, algae grew on pools, waterfalls poured from stone walls, and Dali's own "Great Wall" stood as a barrier.
The girl in my hostel room, at age twenty-one, had actually moved from afar to Dali, and bought herself a home and a garden to repair. She - in a black dress and blue-and-red, white-starred blouse, with her panda-black hair and round face - was an adorable magician, and a member of China's "Miao" minority. She liked reading, philosophy, and Laotse. What a girl! Unfortunately, she had a boyfriend who was returning this day, so she would no longer be afraid to sleep in her home with the mice, and she left me after lunch.
I walked around. The less-touristy part of town belonged to the "Bai" minority of people. (Yunnan is home to a lot of minorities.) A row of crooked and rickety homes led toward long Erhai Lake. Restaurants displayed food from the lake, including fat, gray worms and spiky fish. And the Bai people carried everything in wicker baskets strapped to their backs: farm crops, groceries, babies. Once, I thought I saw someone carrying tractor parts.
Indeed, even much of the touristy part of this town belonged to the Bai people. The girl who sold me tea was wearing a bright-purple blouse and a tall, white baker's cap with colored stones above her forehead - traditional dress.
Seated next to a tea board, she brewed green tea and red tea and jasmine tea and poured them into bowls for me to try. Her voice and brown face were cute, yet her manner was serious. "Wo shr bu erzi, suoyi wo mai cha gei wo fuqin," I said. (I've been a bad son, so I'm buying tea for my dad.) She laughed. And I was happy to get the chance to enjoy this Chinese tea-drinking tradition.
I returned to the Birdbar Hostel, with Yunnan's famous tea in hand. And I met another great girl who stayed in my room: Song Xin. I translate her name to: "Relaxed Heart". I love Birdbar Hostel.
This relaxed Han Chinese girl had worked for a foreign company in Beijing and was about my age. She was currently writing about her travels, and she said she'd meet up with me in Southeast Asia.
We went out to dinner, danced salsa in the restaurant, talked our way around dark Dali, and listened to mellow music in the bar of our cool, Bai-owned hostel. Finally, we moved to the courtyard. Song Xin played jazz music on her computer, and I put my arm around her tall shoulders. And then, I went to kiss her.
She wouldn't allow it!!!
Oh, no ...
In the Dali morning, I ate some mangoes and a pomegranate. And I caught a night bus towards Laos. When I looked out the bus window, at the muddy rivers and hills, the plants' shadows looked like bugs with antennae and wavy appendages. These were the Tropics.
Hopefully, I'll see Song Xin here.
Yunnan was great.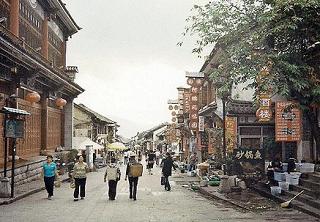 peace and thanks, Chinese friends,
Modern Oddyseus
Thanks to Lobodinju & Fu Guitian; and Kang Yangceng, Shan Yuti, & Shuxue for rides!
Much thanks to Xiang Guihua, Xingliao, Yundong, & the Naxi daughter for the place to stay!