As a subplot for my trip to Inner Mongolia - no, we'll call it the plot, so that this story might have one - was the fact that I'd told many people of my ambitions to ride a horse while in the grasslands and while I was buck-naked. That would be real freedom! - thought it might be unpleasantly bumpy.
And so, after taking a train to the Inner Mongolian capital of Hohhot, I rode a bus to a town which, according to my map, had a big lake and the Great Wall near it.
Before I could get to the lake, I got some noodles in town. Eating my cheap lunch of flimsy rectangles in hot water, I wondered what the tiny bits of formless meat in my bowl were. A restaurant near this one had advertised "gaorou" (dog meat). My meat tasted mangy and smoky, as if it used to walk around dirty alleys with its hair in its eyes. Oh, no!! I quickly asked what it was, and some women explained that it was shaven pig's leg. Whew! (My mom's corgy, Tucker the Tennis Ball Chaser, might never forgive me if I ate dog.) It was just another stupid pig, ha ha!
I also walk around dirty cities with my hair in my eyes. When I finally reached the blue Dai Sea Lake, I hadn't bathed in a week - except for when I'd drenched myself using a city gardener's hose.
Donkeys and cows grazed on the grassy shore. Four dark Mongolian men - friends or brothers - came to the shore with the flocks of sheep they led around every day. I wished that, when I'd grow older, I could lead around sheep with my brother and friends.
I swam and washed clothes. Young Chinese people came and swam. A twenty-year-old boy came up and invited me to "wanr" (play). We chased my tennis ball in the water; girls posed for pictures with me. And it occured to me that I was much more stiff than they were.
Partly, I felt stiff because I had all my bags on shore and worried about them.
But, as Chinese quickly became the only language I used ... "Mingtian ni qu youyong ma?" ... and even though I still couldn't understand a deep conversation, my relationships with the locals were improving, as those were the only ones I was having.
A funny-dragon-voiced man kept me company one night as I dined on a lake fish in a sweet, dark-brown glaze, and drank Inner Mongolia's famous "naicha" (tea made with milk, not water).
A married twenty-six-year-old drove me on his moto-scooter to go swimming; it was cool to watch his friends - one fat and happy, the other thin and almost nose-less with a rough-guy attitude - on their motos beside us, as the grassy plain and cows and lake fell behind us, and the mountain before us got bigger.
I walked to the mountain one evening. On the plain near the mountain, I passed: adobe villages; corn fields; shepherds yelling war cries at their herds; violet flower fields; women pulling blue donkeys; African zombie-claw trees with chest-hair leaves reaching for giraffe necks; troughs dug into the earth, directing rainwater to crops; bouldery riverbeds for dinosaurs; and farmers in loose, cherry-lipstick shirts and straw hats.
Humps in the earth had stone arched mouth openings. I figured these were Mongolian graves, and the openings maybe allowed the spirits to leave freely. I was camping nearby, and I worried the graveyard might give me bad dreams. But - unlike a big millipede in Yantai that had caused me to have a nightmare about a tarantula - it didn't.
Some hungry sheep and I climbed the mountain the next day, and then, in the fertile plain, I spotted a coffee-black stallion. I imagined riding him around - naked - beside the pyramidal mountain and into the dry mountain gorge. What a team we'd make! Like the Lone Ranger and Tonto, if Tonto had been the horse. And the Lone Ranger had been naked. But, I couldn't find the stallion's owner ...
Instead, I somehow ended up on a light-brown horse wearing pink, at a stable connected to a Disney-style family resort, and I was being led around by a sixty-four-year-old man on foot. Not much like the Lone Ranger at all. Not even much like Tonto.
And my horse was a mother, and we kept getting followed around by a baby mule or donkey or ass. It was humiliating. To stay entertained, I asked "wenti" (questions) of my cute sixty-four-year-old. He would say at one point, rather unnecessarily, "Ruguo ni shuo waiyu, wo ting bu dong." (If you would speak a foreign language, I wouldn't understand.)
"Weishenme zhege shi ma, he tade wawa shi biede dongwu?" (Why is this thing a horse, but its baby is a different animal?) He patiently explained what happens when a "ma" (horse) and a "lu" (donkey) mate and have a "malu".
After a while, we came to another old man leading a cow across the field. Pointing to the cow, I said, "Nage shi tade fuqin ma?" (Is that thing the baby's father?) The man explained some more things to me.
But, if he was surprised when I asked that, he was even more surprised when, about halfway through the ride, he turned around to see that I'd taken off all my clothes. He yanked the reins so hard I almost fell off into a pile of horse poop.
No, no, no! I'm only kidding. I didn't ride the horse naked. I was worried a jealous donkey might attack me.
And so, in regard to my "Mongolian horse" dream, I guess I would come up "empty-chopsticked" - as they say in China. Actually, they never say that. They should, I think.
And all the horses of Inner Mongolia breathed a sigh of relief ...
To keep the Mongols out, the Chinese built a big wall. A long time ago.
I went to the border of Inner Mongolia and China's "Shanxi" (Western Mountain) Province to see it. The hills here were made of porous limestone that easily eroded, creating butter-walled chasms and narrow tables of land and peaceful coves to go down into and explore.
The restored part of the Great Wall that I saw was only about a quarter of a mile long. Twenty feet tall and twenty feet wide, it was made up of ash-gray brick that was comfortable to walk on and would've been like playing on the clouds to run around on.
The ancient, unrestored Great Wall still swam around the hillside like a sea-dragon's spine. Most of it was overrun with grass and plants, eroded down in parts to be little more than a sharp bump in the land. I followed it uphill.
In some parts, the outline of the ancient limestone bricks was still visible, and it rose fifteen feet above the grass to form a still impenetrable barrier.
And every hundred meters or so, there were square towers. To my surprise, some of these towers had cave-like mouths. In one tower, it extended for thirty feet, straight upward, and if someone could climb the smooth limestone he'd be able to stand atop the ancient guardpost and survey all the surrounding cropland. I couldn't make it all the way up.
Luckily, one tower must've had a stairway leading to the top. It was very smooth and slippery these days - more of a slide than a stairway - but it was pretty easy to get to the top. So, I slept on the sandy floor of this tower, surrounded by crumbling walls that kept me safe from Mongol arrows, with a window in one wall that I could look through if I needed to signal to the guard on the neighboring post.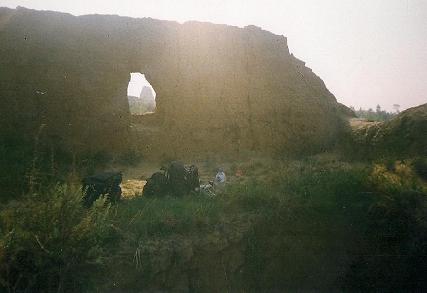 sweet (tarantula-free) dreams,
Modern Oddyseus
Thanks to Li Wenfong for a great ride!