Once we'd finished practicing tai chi, "Atomy" the physics major and I sat down in the grass to discuss sociology and philosophy.
Some adult men walked by, carrying bundles of meter-long branches they'd collected.
Tiny-headed Atomy smiled. He said those men were then going to hang the branches on their houses, believing this would keep bad fortune away.
He went on to say that, as a child, he'd often been told to go out and gather a thousand kinds of grass. Then, he would take a bath among all this grass, to rid his body of bad spirits. Similarly, people claimed that cooking eggs with garlic would keep bad spirits away. Atomy recalled that, as a child, he'd often taken a bath amongst grass while eating eggs and garlic.
And, as kids, he and friends used to tie colored strings around their wrists as bracelets. Then, when it rained, they were told to throw these strings in puddles, where they'd become snakes.
Gentle Atomy - a.k.a. Cai Yang (the "Yang" in his name means: Ocean) - was lucky he had an English name these days, even one as nonsensical as Atomy. I'm twenty times as likely to remember a student who has an English name. I've remembered Atomy since the first time I taught him, when he said his dream trip would be to ... well, I don't remember where ... to America, to attend a physics convention?
Luckily, all my students remember me. And when they ask me where my dream trip would be to, I tell them I'd go to Iran - to experience its mysterious, ancient culture.
But, of course, I'm not in Iran now. I'm in China. But, I'm teaching English, in a city made of charm-less concrete, where the people wear Western clothing, and they think about little other than making money. Thus, I haven't experienced tons of moments as culturally interesting as hearing about Cai Yang's childhood. But, perhaps that's my fault ...
In addition, when teaching, I'm more likely to call on or develop personal relationships with those students whose English is the strongest. And since it's natural to feel some antagonistic feelings towards people we don't understand, I've often considered my most charismatic students to be those whose eyes show they understand Western culture.
But, of course, it's those students (and people) who've maintained their "Chinese-ness" that inspire and touch me the deepest.
Take, for example, Ya Hui - a real Eastern beauty. This girl's cheekbones and eyelids bulge roundly, on a slightly-taller-than-average body that is little more than small bones and glowing gray skin. Her curling, upper lip and eyes smile sideways, suggesting she knows tricks and secrets I couldn't possibly know. It often seems she wouldn't feel comfortable speaking a Western language. And yet, she speaks to me with the excitement and familiarity of a close family member.
The second time I taught her, she was wearing an orange, linen scarf tied around her neck. The third time I taught her, she had on a checkered, purple shirt with a collar. Her transparent skin mirrored the colors she wore. And her gently brown hair was tied behind her face.
It had been the first time I taught her when she'd asked me, "Are you sometimes lonely?" in an understanding way. And though we exchanged telephone numbers at this time, we hadn't done anything together since then, except dance once.
The second time I taught her, she said, "Though I study law, my dream is to be a teacher - like you. I want to help my students achieve their dreams." Also, she asked if I could give her an English name.
Now, all of us English teachers in China ... become great authors of English names. "By the power vested in me as Foreign Teacher, I hereby dub thee ... 'Johnny Wang'!"
I told Ya Hui I'd have to think about her name for a while.
Next, Ya Hui's friend requested an English name. This short, berry-shaped girl has short, black hair that encapsulates her head like a strawberry. Her personality is that of an agreeable and floating little sibling. Innocently, she'd once asked me to sing a song in class. Because of her optimistic personality, and her puffy puffball dress, I called her: "Bubbles". This name was an instant hit, the masterpiece of my English-name authoring career, and it soon gained modest fame at Ludong University.
For Ya Hui, I considered the name, "Ariel", because she's delicate like a mermaid. Because she often wore pink, I considered that she should have the name of a flower that's one-third pink, one-third pale, and one-third dark. Or she could have the name of a similarly-colored bird; I could ask my brother, the ornithologist. But, she said she didn't want to have a flower nor a bird's name.
Finally, I settled on the perfect name for a pale-gray beauty: "Persia".
The name calls to mind exotic Iran. The name calls to mind high-quality things, like rugs and cats. The name even calls to mind a song from my favorite band, Soda Stereo.
The darkly romantic Argentinian song is called "Persiana Americana" (Spanish for: Venetian mini-blinds). And it's about a man who peeks through his mini-blinds in order to spy on the neighbor girl.
But, this English name fell into obscurity, as it was difficult for even Ya Hui to pronounce it.
The weeks went by. After not hearing from Ya Hui for a while, I figured she might feel more comfortable if I wrote her an SMS in Chinese. She quickly responded, saying it was a "xingjing" (pleasant surprise) that my Chinese was so good. As we wrote to each other, I had to consult my dictionary many times. She taught me the word "dizhen" (earthquake), when I asked if she'd ever slept in a tent, and she wrote that she'd nearly had to, following the 2008 earthquake of her southern Szechuan province.
I also mentioned China's favorite topic of conversation, food. She wrote, "Wo zuo fan hen hao chide!" (I cook food that's very good to eat!) We agreed she'd come to my home to cook a Szechuan meal.
But ... at the hour when she was able to come, I had to work. Darn, our plans were canceled! I wouldn't hear from her for a while.
The last time I taught her class, neither she nor Bubbles came.
Three days later, she walked by the field where I was playing soccer. She wore a short, starched white dress and held a white umbrella. She said she hadn't known I'd been scheduled to give them that last class.
The next evening, she and Bubbles came over to cook "chuancai" (a Szechuan dish).
Bubbles (a.k.a. Qiu Xia - a name meaning Autumn Glow) also comes from Szechuan. But, she comes from the lemon capital of China. Her favorite color is yellow, and she wore a bright-yellow shirt.
Ya Hui (her name actually means Asia Games, because she was born on the opening day of the Seoul Olympics) wore a stunning Chinese dress.
These dresses are usually tight, cylindrical. Hers was a white-with-ancient-blue-flowers pattern. The neck was cut low, revealing her pale and bony upper chest. Around the cut of the neck, two inches of turquoise fabric flapped freely like a king cobra's cape.
In the kitchen, the girls poured oil in a pot over a giant flame. Then, they threw in pork meat, green cajun peppers, a red-pepper/barbecue sauce, and soy sauce.
As we ate this spicy, delicious meal, I asked the girls what they thought of their first year at Ludong University. Ya Hui said she'd thought they'd have more freedom at college. Like other dissatisfied students of mine, she and Bubbles blamed things on their university's location: in Shandong Province, the province of Confucius, a man who'd advocated a strict obedience to rules and ritual and authority.
Bubbles said: "We think the north and south of China are as different as you think China and the U.S. are."
We also talked about Ya Hui's boyfriend. She lamented that he, a Shandong man, is too conservative and jealous. (She would tell me later that he sometimes gets so mad she fears he will hit her.)
...
The last time I saw her, she came to my house on a hot, late-June day. She wore a short, rainbow skirt and white t-shirt, and I shorts and an unbuttoned shirt. We were very excited to talk this day.
She told me about a film she'd seen and really liked. In the film, a married woman has a four-day romance with a traveler. Later, the traveler leaves, and the woman returns to her family. After her husband dies, she tells her children about the traveler, the only man she loved. At first, her children are angry at her. But, then, they understand.
That, actually, was a Western movie. If only I knew that female character's name, maybe that'd be a good one for Ya Hui.
Ya Hui wants to be free.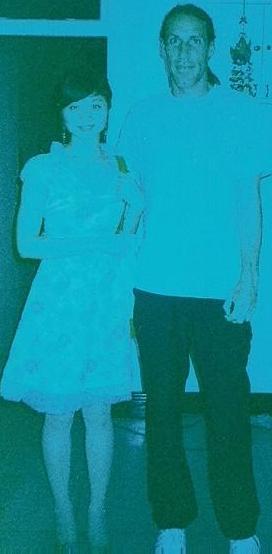 ...
"I prefer you out of focus.
Unreachable."
- Soda Stereo