Like watching kites, teaching can sometimes be very fun. Other than that, however, teaching isn't really like watching kites at all.
I and my department at Ludong University began having classes this past week. The most beautiful moment was the morning of Wednesday the 17th, when a foot of warm snow had fallen and was falling on-campus, and a river of young Chinese people carrying turqoise, green, yellow, or pink umbrellas walked on a pedestrian bridge overlooking a snowy park.
But, the story of our department's first week of classes is best told by Sophie, a twenty-one-year-old New Zealander teaching for the first time. Her voice has a laidback, lazy musicalness to it and a giggle from her chest, which comes from the thought of her being in charge of sixty Chinese people her own age.
Last Sunday, she wanted to go over lesson plans with me. I was suprised she asked me, since there were other American teachers who all had Chinese teaching experience - about as surprised as when I woke up Wednesday to see students outside sweeping and shoveling snow off the roads.
Sophie, who'd just graduated from "uni" with an international business degree, was originally supposed to be a student herself - a student of Chinese, preferably one who didn't have to shovel snow. But, our school asked her to teach, too. On Sunday, as she and I brainstormed in a park, she wondered aloud, how was she going to fill eighty minutes of class-time?
Her little navy eyes, moist facial skin that was river-like like her voice, and black tangled-back hair said, "Well, eef I run out of things to doo, I'ull just bee like, 'Okay. Class dismissed!" She laughed. I said, not laughing, that our classes were 100 minutes long, not eighty. And she'd thought eighty minutes would be bad!
That evening, we were dining in the international students' cafeteria, when a Korean guy named Jong Lee befriended us. Even though Jong Lee had lived in Canada for many years, he understood Sophie's accent so poorly that I sometimes had to interpret for him. "Pay-uple," I told him, "means 'people'." "Oh," he said. This was a bad sign. How well were Sophie's freshman, non-English-studying students going to understand her?
Monday morning, as usual, Sophie the student had four hours of lessons, in which Chinese ladies spoke Chinese at her. In the afternoon, this pettite girl who'd competed internationally on her country's under-19s volleyball team, but who also loved shopping and wore brown high-heel boots, jeans, and a black winter jacket, became Sophie the teacher.
If her first students resembled many of mine, then there were little females (with bright-colored jackets, fashionable eyeglasses, butterscotch round faces, and shiny black ponytails) and boys in dark jackets (with square faces, round glasses, fluffy hair, and short bodies that love basketball). Not too intimidating. But, there were sixty of them! Sophie immediately found out the classroom's computer didn't work properly, and so she couldn't show the Power Point presentation she'd prepared. Oh, no! --- Of course, I wouldn't hear about Sophie's first day until I saw her that evening. I was slightly worried about her and very curious.
"It was grea-ut!" she said with a delighted smile. "It was soo fun!"
She said she hadn't really been nervous. She'd introduced herself and shown pictures of her four brothers and sisters and her hometown of Tuaranga, New Zealand. She used an idea of mine and had students get into groups to discuss their "dream travel destinations".
We were going to be teaching in our university's Public English Department, meaning our students didn't major in English, and we would see each of them only once a month and be their only experience with foreign Westerners.
Thus, Sophie was a celebrity. Throughout the lesson, students photographed her on their phones. They offered to tutor her in Chinese. One boy raised his hand and asked, "Are you married?"
She said of him, "Laiter, he roysed his hand and said, 'I'um sorry I asked you eef you were married. Thayt was an eenappropriate question. I shouldin't huv asked you thayt."
She said, "And they kaipt asking me, 'Whoy are you wroiting with your left hand?"
Apparently, the students wouldn't really respond if she directed a question to the class. But, if she called on an individual, it was tough to get him to stop talking.
Presenting on their "dream trips", the students said things to her like: "I'm gonna go to your hometown." ... "I'm gonna take my girlfriend, and we're going to visit your hometown."
"I'd like to go to my grandpa's village." ... "I'll go home, and cook for my family." ... "I'll go to America and watch an NBA game." ... "I'd go to South Africa and watch the World Cup."
This class's field of study was air conditioning and heating, which seemed to Sophie to be a weird college major.
Because the computer's clock was fast, she actually accidentally did let them go twenty-five minutes early. "Class dismissed." The obedient, studious students just sat there. She would say about it later:
"At uni in New Zealand, eet's just partying. If they told us to go, we'd be out of there. ... yea, it's rea-ul laidback."
And in her second class of the afternoon, she had the students play a game of charades. They could act out, or explain in English, words like "Michael Jackson" and "lollipops". From this point and onward throughout the week, I began to admire and emulate Sophie's teaching ideas. She said one boy was full-out dancing to get his class-mates to guess: "break dancing".
In spite of an enjoyable first day of teaching, the New Zealander said the task of filling 100 minutes now seemed even more difficult to her.
Meanwhile, my classes weren't quite as hillarious as Sophie's, but were still good.
I especially liked how some of my students spoke so fearlessly and intimately in front of their classmates. Perhaps a non-native language made them feel freer? Perhaps they were inspired to meet a young world traveler? Perhaps they were nervous speaking to their first Westerner? But, many students appeared very vulnerable as they: told me they love traveling and poetry ... invited me to hang out with them and become their good friend ... wanted me to teach them how to dance ... said they dreamt of going to America ... asked if Chinese women weren't the prettiest ... and, nervously asked me question after question about how my impoverished travels could be possible. One boy wrote a poem during class and read it aloud, "I want to travel everywhere in the world. I want to go everywhere in the universe. Save our planet. Save our only Earth."
Maybe they seemed vulnerable because I and Sophie and the other teachers in our department will teach 2000 students this semester, giving us an average class time of six minutes per student. This means Sophie or I could throw ourselves a heck of a gigantic going-away party this July! But, as I walked to my fourth class this week, I began to feel disappointed that I'd be introducing myself yet again to another class I probably wouldn't be able to spend much time with. Sad.
But, when I saw Sophie that evening, and we were walking to meet Jong Lee for dinner again, and she greeted me with, "Teaching was soo much fun todaiy!" my excitement for teaching was restored.
And the next day, students Gong Wei Peng and Liu Xiao Yu and I played basketball together, after they'd invited me to play, during our morning class.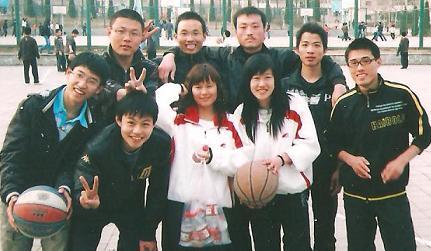 from China,
Justin the Modern Oddyseus