Albania was my last big stop before going home.
I'd decided long ago that I'd try to make it to Istanbul, and then fly home. The challenge of hitchhiking to Istanbul, via Albania, would reinstate my traveling confidence. I could go home, see family, see friends, eat my mom's baked chicken and green peas and mashed potatoes, make money, and fly back to Istanbul, if I chose, and continue on towards Iran. It was a decision Allah could be proud of.
My last little stop before going home, though, was going to be Bulgaria.
To get there, I had to pass through Macedonia. 70% of this country's inhabitants, apparently, were Albanians. They didn't live in the capital nor have power; they lived in modest, pinkish mortar with red, wavy roofs.
Incidentally, in Albania, I was told Kosovo had historically been Albanian people's land, that Serbia had gotten hold of it thanks to a European treaty following World War I or something. But, my Bulgarian driver in Macedonia disagreed; he upheld Slavic Serbia's claim to the land. So, everywhere I went, I got a different story.
The Bulgarian and I stopped for coffee in view of one of Macedonia's Olympus-sized mountains we had to go around. A Serbian had told me a famous poet/traveler had declared the Balkans to be the most magnificent land on Earth.
On the other side of that visible mountain was Kosovo, and army vehicles with German plates pulled into the cafe. I spoke briefly with a German, who was very willing to answer my questions, but unfortunately I couldn't think of many. He and his peers were, of course, peace-keepers in Kosovo. He said each of them spoke many languages, and that they were "neutral". It seemed like a meaningful job --- however, there was an occurence when Albanshees burned/destroyed a few dozen Serbian churches, and U.N. peace-keepers couldn't stop them.
On the road, "Lyublyu instrumental," said my Bulgarian truck-driver. (I love instrumental.) We listened to a band play what sounded like an accordian, bagpipes, a horn, and a synthesizer, in a free-style celebration of life. This cocky, talented music made me excited to be going to Bulgaria.
I was sad, though, upon saying good-bye to my driver without getting his address so I could write him. Gray-haired Ivan had a round and unthreatening body, a round and unthreatening smile, and eyes that closed when he was happy. And he was nostalgic while speaking Russian with me. He recalled when he'd driven children from Moscow on buses to Bulgaria's Black Sea. Happy, he said, "Oni byli xoroshie deti. Ya sprashival, 'U tebya yest mama i papa?' Mne govorili, 'Da.' Ya sprashival, 'I tvoya mama xoroshaya?' 'Da!" (They were good children. I asked them, 'Do you have a mom and a dad?' They said, 'Yes.' I asked, 'And do you have a good mom?' 'Yes!')
Ivan also said communism had been better than capitalism because everyone had work, and everyone was guaranteed a two-week vacation every year. He dropped me off in Konstandil, his town, where he lived with his wife and enjoyed riding his horses.
I loved the center of small town, Konstandil. White statues of giant, naked warrior women guarded a bridge. This led to a sidewalk in the shade of young trees, surrounded by fashionable cafes and restaurants, on which blubbery, hair-less guys with off-yellow skin walked with pettite girlfriends in sexy skirts. That led to an open square bordered on two sides by parks, and on the final side by a pine-forest hill sticking up behind a yellow saloon. Locals of all ages were out enjoying themselves, and I felt very comfortable.
But, I moved on to Sofia. Sofia was an uncomfortably big city with a 12th-century, stone church and a voluminous Orthodox church we could walk around in.
I was visiting Hristiana, a Bulgarian model whose picture had recently been up in Times Square, New York. My top three highlights from visiting her were: 1. the orange-and-red dress she wore, beneath her round blond mane of hair, on a Saturday night; 2. the way she slapped my knee, with the familiarity of college buddies who'd sculpted together with clay, during "Date of the Week" V; 3. reading her one of my stories by candle-light.
Since graduating from a Florida college in 2003, she'd been working and continuing her studies in Manhattan's financial district. She debated aloud, during my visit, on whether or not she should return to New York. She compared her job in Sofia to other jobs in finance in New York, and she was preoccupied by the possibilities of promotions. I advised her to stop thinking about "moving up", and to try to find a place she was happy NOW.
As I was on the way to buying MY ticket HOME, a guy on the street tried to sell me a Hari Krishna book. He wasn't trying too hard, and when I told him I couldn't read Bulgarian, he just started to speak to me like a happy friend. He told me he was a teacher. But, in order to try to educate the masses, he was selling these books on the street. He was kind of a missionary then, actually, but it seemed like he was spreading a good word. I didn't envy him, though; the busy Sofiites didn't look like spiritual harmony would interest them.
He reminded me (a little) of Bulgaria's national hero, Vasil Levsky, who in the 1800s organized peoples' revolts against their Turkish occupiers. Selflessly, he said, "If I succeed, the victory will belong to all of us. If I fail, the loss will be only mine." But, in the end, a fellow countryman betrayed Levsky, and he was put to death.
Happy to be alive - and happy to be returning home - after a few days in Sofia, I rode buses to the end of the city. I had purchased a roundtrip ticket from Istanbul to Chicago, and I had to travel 360 miles to catch my flight, which would be leaving from Istanbul in twenty-four hours. Normally, I disliked hitchhiking with a deadline. But, I figured I had plenty of time.
All day, nice Bulgarian drivers picked me up.
I got closer, and closer, and closer to the border. But, I couldn't get to it. Why weren't the Turkish drivers picking me up!!? I got mad, started screaming obscenities, essentially decided I would never travel again. Borders were always tough to hitchhike through. Maybe it was the deadline that was causing me to lose my temper?
In the end, nice Turkish drivers took me all the way to Istanbul's airport, which was easily accessible from the West. We arrived at 2:30 a.m., on May 27th. My flight was at 11:30. I slept in my sleeping bag in a hidden spot on the airport's lawn. I flew to Chicago.
I was going to see grandparents and parents and friends!!!
Would I use the flight to Istanbul on July 27th!!!? Would I continue towards Iran?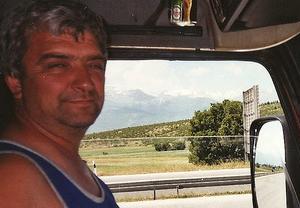 "Khoda hafz!" (Good-bye! (in Persian))
Modern Oddyseus
Thanks to Ivan; Mitko; Bozdar; Lyudmil; Yeorgi; Pencho & Elena; Ilian; Valeri; Iviolo; Angel; Mehemmet; Nazim, Mustek, Ergin, & Pasha; and Dili Fati & Eyeshor for rides!
Much thanks to Hristiana & her mom for the place to stay!