Thus far, Israel has proven to be a difficult place to make a thrump. ("thrump" - as defined by Modern Oddyseus' Dictionary - n. a three-month stay in a land to see how the locals live. origin American English, ca. 2004. ... ALSO: "thrumpkin" - n. one who thrumps. ... NEXT ENTRY: "trobble-cock" - v. to walk like an armadillo ... Whoops, that isn't related. Let's put the Modern Oddyseus' Dictionary away now.)
Or maybe my way of traveling is just kamikaze? Either way, I'm using my energy to adapt. I've learned and relearned a few lessons.
LESSON # 1 - AVOID A CULTURE-LESS EXPERIENCE.
My boat from Cyprus had touched port in Haifa. Here, privileged Israelis drove everywhere, like closed-off Americans. And the city's center, due to a national Act helping all Jews relocate back to the Holy Land, was full of Russians. This wasn't the setting for a unique, Israeli experience. I considered other options, but not touristy towns, youth hostels, nor big cities unless they had free squats where I could stay. I went to Tzfat.
LESSON # 2a - YOU GOTTA SPEND MONEY IN ORDER TO SUCCEED.
In a cooler town full of maze-like, mountainside, pedestrian alleys, I worked for a week. Afterwards, I bought a cell-phone, though it was expensive. I should've bought a good map, too, and maybe an interesting Hebrew kids' book.
LESSON # 2b - PAY FOR HOUSING SOMETIMES.
I continued to live outside, with my cell-phone and a boring kids' book I'd been given.
It felt liberating to never have to pay for housing. Liberating and uncomfortable. I recalled Jack Kerouac writing, "Chargin rent is actually a sin. Big houses are a sin." It was a good thing I was so cheap, so I could keep people from sinning.
But, as I considered the possibility that I might never see Jerusalem unless I camped in front of the Wailing Wall, it occured to me that I might have to some day give my idealistic beliefs a break and sleep like normal people do - on beds, or four-legged pillows, or whatever those things are called.
LESSON # 3 - PLAY WITH THE LOCALS.
Of course, I could also sleep inside if I endeared myself to the locals enough.
I stumbled upon a group of mostly older guys to play basketball with on Fridays. Last week, we smiled, celebrated, and complimented one another while galloping the full court.
No one offered a place to stay or even shower, but at least I was gaining youth and confidence. I impressed myself by making 11 out of 13 free throws during one stretch.
But, I still had more to learn ...
LESSON # 4 - LOOK FOR PEOPLE WHO CARE ABOUT YOU.
Unfortunately, most Fridays, the stressed-out, hard-faced guys preferred playing "argue-ball" on the full court, and not a game of comradery.
Off the court, one player may've purposely misled me regarding the possibility of a job, so I'd volunteer a bit in the school where he worked.
Elsewhere in Israel, kibbutzes, youth hostels, and another school offered me work deals that would've squeezed me dry. I was going to have to avoid people who didn't care about me. The locals seemed capable of money-hoarding and exploitation.
LESSON # 5 - BE LESS PICKY IN THE BEGINNING.
Five weeks into my stay in Israel, I found myself in the same situation I'd come in. Homeless and broke. I realized I should've, in the beginning, taken almost any opportunity I could get. Had I volunteered in a youth hostel, I may've been able to study Hebrew more regularly, to watch Israeli movies, and to listen to Israeli rock music.
LESSON # 6 - STAY POSITIVE, SOMEHOW.
And maybe I would've had fun with travelers, had I found a youth hostel to volunteer in.
Instead, grumpy locals honked their car horns all around me.
One night, thankfully, a chubby fellow named Udi offered me a slice of his pizza in the park I wrote in. Udi smiled a lot and became my best friend in Tzfat. I wanted to keep smiling around him no matter what, so that he'd keep smiling.
LESSON # 7 - DON'T BE SHY, WHEN PEOPLE OFFER YOU HEALTHY FOOD.
Udi had a cousin who worked in her father's falafel shop.
Ohhh, falafel ... ohhh, brown golfballs of soft, fried vegetable strength ... in a kangaroo-pouch pita ... with cucumbers, tomatoes, and shriveled zuchini ... moistened with tart hommous, the invisible taste of trina, and a sprinkle of hot lava ... with crisp french fries tucked on top. Mmm, Falafel Tritto.
Udi's cousin and uncle often gave me this sandwich for free. I didn't even have to play their favorite pasttime, falafel-golf, with them!
# 8 - GET THINGS DONE.
Udi and I regularly ate our falafel-pita's in Tzfat College, where he worked as a security guard. Beige-skinned Jewish and Arabic girls pranced around in high-heel sandals and loose but tight shirts that made them look eye-poking-out sexy. This was a very nice Israeli setting.
But, I couldn't just sit there. I had to un-paralyze myself.
I got up and used the college's cheap xerox machine to make copies of my stories. And I asked Udi's cousin to translate a story of mine into Hebrew.
# 9 - BEGIN WORKING!
I hitchhiked to Tel Aviv. I walked the dirty, tight streets, from shawarma shops to silver shops carrying menoras, carrying stories and trying to sell them using stumbly sales-pitches.
"Ani ohev et psikologiya, roked tov, v yesh lee rayonot myucharim al ahava ..."
Could the Israelis, infamous even amongst themselves for hating to part with money, be convinced to spend five shekels!?
Yeah. On this day, they could. They bought all my Hebrew stories and three English ones, quickly. I had independence and a livelihood! I just needed to get two more stories translated, and to celebrate.
LESSON # 10 - TAKE CARE OF YOURSELF.
I knew best what I needed. And I needed to dance with girls. Tel Aviv was the place to do it. Religious Tzfat certainly hadn't been.
In Tzfat, some men and women made vows to NEVER TOUCH a member of the opposite sex unless married to him/her. No hugs, no high-fives, certainly no dancing.
These people's vows were - if you'd ask me - monstrous. They couldn't care about someone they refused to touch.
The vowers said they did this to avoid sex. But, I reasoned that, if a person's spirituality was strong, he'd be able to give physical compassion and abstain from sex, if that was what he really wanted.
In Tel Aviv, I entered Starsky Bar at three a.m. Israelis sat in the dark, around a square-edged bar, chanting rock songs.
Sigal sat next to me. She had Indian skin, a round face, and curly hair poofy and cute. She said her Jewish parents had emigrated from India, and her name meant "violet".
And she almost invited me home with her. "But ..." she said, "I'm just going to be straight. I don't want to have sex." I said, "That's great, 'cause I don't want to, either." So, we did go to her place, we did touch a lot, and we didn't have sex. She wasn't religious.
Yes!!!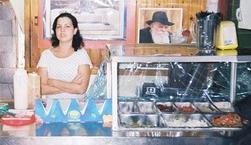 - Modern Oddyseus.
Thanks to Udi; Roni; Siganit; and Ruben, Devorah, & Viktor for rides!
Much thanks to Ran Dor for letting me stay with him in Tel Aviv!