But, before I'd seen Vika in the Czech Republic and then subsequently been in love with her, I had to hitchhike to her town from the airport.
From the Krakow airport, I traveled first to the Polish High Tatra Mountains for some hiking. But, even more impressive than the trails I hiked was the unique architecture of the homes and hotels of Zakopane, the town on the foot of the mountains. They sat behind spiky gates, reigning over their lawns like vampirical mansions. Their mountainous frames, pointy rooftop edges, and attic windows shaped like gothic helmets, made of aging wood and dark spookiness, would've probably made me giddy to sleep in them. But, I only had $230, so I slept in a field.
And after I saw Vika and failed to win her over, I began hitchhiking to Turkey. There was one place I wanted to see on the way: Plitvice Lakes, in Croatia. But, I would see more nice places than that.
I got invited into a home in Graz, Austria. The streets of this town of a couple hundred thousand people were quiet and fairly narrow. Four-story buildings with simple but aesthetically pleasing fronts closed in the streets. When my hosts and I walked around, I felt the bulging squares on the heavy stone buildings, as I dodged the many chained-up bikes. My hosts lived in a building with an orange face, in a long room with black-magic doorframes and ten-foot ceilings and an old piano in the corner. And they ate breakfast on a balcony looking around a deep, communal courtyard touched by the sun. Considering the fact that my hosts were a humble, twenty-something couple who loved laughing, Graz seemed like a perfect town from TV-sitcom lore.
The Plitvice Lakes' allure, thankfully, pulled me off the fast but ugly road that connects Western Europe to Turkey. The lakes were full of tourists, and rules which I considered it my duty to break. I snuck into the National Park, avoiding the $27 entrance fee, camped two nights in the steep surrounding forest, and swam occasionally - which was also prohibited. Swimming in the turquoise lakes was great, as they were very clear, and black fish liked to linger near the branches and roots of big trees that had fallen in the water and then turned white. I swam, because I figured you should: "Get what you need where you're at." - J.Breen philosophy ... and I needed to swim. The Plitvice Lakes attractively connected via flushing waterfalls tunneling down steps, via ponds full of lily pads, and via yellow, green, seaweedy land that was porous and leaked showers above caves. Hiking, I saw one lake way above the others, in dense wilderness, and that one looked the most beautiful.
Continuing onwards, I traveled southeast through turquoise-tinted Croatia. The small road kept going slowly up mountain passes, then coming down, giving broad vistas of flat land stretching past snow-blocking barricades to far-off brown mountains. Occasionally, we passed non-touristy towns like Knin, whose colorful center was bustling in the early evening with leisurely social walkers.
The next day, I had a good feeling as I entered Bosnia & Herzegovina. All the main arteries of traffic in Eastern Europe bypass it.
I didn't know what to expect. I ended up walking through the town of Mostar, pop. 50,000. On shady thin streets, past rows of chalky white buildings housing copy centers and banks and cafes for old men, people walked and knew one another. Many Muslims live in Bosnia, and built into these central streets were globe-shaped mosques with hopping arches for gates, and a Muslim graveyard whose white tombstones were crooked, diamond-shaped posts. Mostar's "Stary Most" (Old Bridge), for pedestrians only, was chalk white and shaped like a wide-open hairpin. On hot days, divers in red speedo's jump below into the heavy aqua river swirling narrowly between rocks and small canyon walls.
In Mostar, it's also very possible to see buildings in destroyed states of ruin and rubble. In the Yugoslavian War of the early 1990's, the Serbs (Orthodox Christians), Croats (Catholics), and Muslims all blew up each other's houses. And Bosnia & Herzegovina is made up of an almost even portion of each.
They have a beautiful country, especially the southern and eastern parts where I was, known as Herzegovina: in tiny Blagaj, a clean green river gushes from an opening at the base of a cliff; the Nevesinja Valley, on a vast plateau, is said to have some of the cleanest air in Europe; and two hundred kilometers of forest-infested canyons make the eastern roads feel insignificant, especially when huge faces of rock hang over them or block the rivers.
I went through the last country on my way to Turkey on the last day in which I was traveling to Turkey. Duh. It was Bulgaria, and I saw very little of its crumbly, orange, stone villages with red roofs, because I was on a big highway.
The most interesting thing I saw was a guy who had a gas pump near the highway.
This forty-year-old had a wimpy torso in a checkered shirt that flapped in the wind, his hands on his hips, a brown moustache with its points flapping in the wind, a wavy wave that parted his receding hairline and flapped in the wind, jeans, and socks in black, leather sandals that fit around his feet like a cage. Perhaps only in Bulgaria could a man with such fashion sense feel so confident talking above the low-quality gas which he'd advertised as high-quality EuroDiesel ...
But, the story of what I saw while hitchhiking to Turkey is only half of the story. When is a story only a half of a story? When it's written by the story-doubling super-writer ...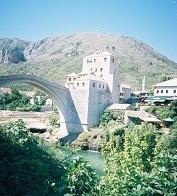 ... Modern O.
Much thanks to Martin & Sylvia; Albina, Igor, & Niki; and Wolfgang & Cynthia for places to visit!