It's possible to hitchhike 5200 kilometers from Siberia to the Black Sea in January.
Elina is not a "durachka" (idiot).
I agreed to drink with her because I'm weak.
But, not every guy is a "durak" (idiot), either.
I, though, am worn out. And maybe I should go home?
After all, the Russian-Georgian border is an impenetrable one - at least, in winter.
(There. Now you know the conclusive themes of this story. Let's learn how they got resolved.)
As I was traveling to the Black Sea this January, I slept one night in a train station, one night in a roadside cafe, the first three nights in Roma Mesigin's semi-truck, and one later night in my tent, when it was only -5 degrees Celsius and I could keep my toes warm if I woke up every two hours to wiggle them. I'd brought fruit and sausages and chocolate spread with me, truckers treated me to hot borscht and gulash, I bought myself mashed potatoes and hardy oatmeal and milk, and two villagers gave me their bag containing hard-boiled eggs, "sala" (raw, salted fat), and a jar of chicken. Thrice, I became very cold while waiting for a ride, but cafes were nearby each time. Once, Roma Mesigin's truck broke in -31 degree Siberia, and he lay outside fixing it until his nose was running and his face was hard and red. But, he fixed it. And he could talk again, after an hour.
During a four-day stopover in the European Russian town of Staryy Oskol, I began to admire an old friend named Elina for her conversational abilities. You could tell she was skillful, because, amidst her story-telling, she regularly used the phrase, "Sam ponimaesh." (You yourself understand.) And whenever we argued, she won.
I realized too late that what I wanted to do with her, rather than drink, or argue, was tell her how fondly I remembered our Summer of '06 together. I'd forgotten that, "People drink because they want to do the things they don't feel free to do sober." - J.Breen philosophy
I was stronger the second time I saw her. In response to the story of her recent broken heart, I told her "Love" is just a negative feeling that comes from loss. I detailed my nomadic love life, saying that dancing with someone can be an expression of romance. She agreed with me. And she told me to keep in touch with her in the future.
But, she wouldn't dance with me. I got angry and dressed myself to leave, but she convinced me to stay and just talk. Oh, girls ... why do you kill me with your coldness? I would have to leave this place with no romantic energy from females. I would continue my very difficult travels.
Two days later, Vasilyy's truck was carrying me on the steep, red Caucasus Mountains. We were nearing a passport-control post, when my driver announced the southern Black Sea Coast is a highly- policed area. He let me get out of his truck. Exhausted and confused, I camped for two nights by the sea. A maritime gale struck the shore with dirty waves and beat my tent. I, a man with a "secret", albeit a daring man, was not going to be able to continue to the south. I had little choice but to return to Ukraine.
(All right, then. All our themes resolved themselves quite nicely, didn't they? But, there must've been times of suspense, when the outcomes looked uncertain. Let's see how, exactly, our plots thickened.)
Thirty kilometers outside of Tomsk, Roma Mesigin's truck and I had crossed the River Ob, where the curvature of our white planet seemed visible, and a town shivered like an Arctic fishermens' village. Near the Ural Mountains, the "white forest" of beech trees was covered in frost. Roma Mesigin recited a Pushkin poem, in which the winter trees wore "serebryanie angely" (silver angels). I didn't want to get stuck somewhere, gathering silver angels. An unsocial-looking driver, Valodya, put it best when he nodded at Russia's white fields and said, "Bolshaya, unilaya zemlya." (A big, depressing land.)
In contrast, to look at gorgeous Elina raised one's spirits. She'd always had long, brilliant black hair and a white face like an adorable puppy's. Now, fluffy bangs dropped on her forehead. She wore a black skirt, a blue sweater, and a leopard coat. She had a wonderfully-popping voice. She was, it seemed, too much fun to also be smart.
I sat with her, a female friend of hers, and that female friend's boyfriend. And then, the guy opened a bottle of beer and asked if I wanted a drink.
Elina also drank, but little. She'd recently had an emotional experience that involved changing boyfriends. She was on a date with her new boyfriend, Manuk, when her old boyfriend, a rough Georgian named Mancho, grabbed her from behind by her hair and punched her in the face. Manuk and Mancho, one with a gun and one with a knife, wanted to fight, but Elina got in the middle of them. Everyone survived, somehow, and Elina went on to date tall, dark Manuk, until she suspected him of cheating on her. She left; he never called again; now, Elina says she loves him. He, for his part, is now in prison; and Mancho is Elina's boyfriend again. She said, hurt: How could Manuk have cheated on her!? She said all men should be castrated.
She lives alone with her single mom. Their apartment is in Staryy Oskol's "Old Town", near a brightly-lit street corner with pastelle, mortar buildings. I have a happy feeling of "home" here. It even reminds me of Graceland Street in Michigan, where I'd sat on the porch with my dad and mom, and looked out of the wooden, second-story window with my innocent brother, and lived to age six.
I was far from home, though, when I slept that one night in the roadside cafe. But, I've learned to make myself comfortable on the road. Before sleeping, I wrote for several hours in my journal in Arabic, to prepare my language skills for where I was going.
(Ooh! Suspense is exciting. Let's see, now, how all of our story's conflicts first presented themselves.)
In Tomsk, even the most-talented young travelers advised me not to try to hitchhike out of Siberia in the winter. I, of course, didn't listen to them.
My stubbornness had once been an inspiration for Nadezda, a Russian girl now following her dreams in Belgium. She and Elina and I, during the Summer of '06, had romanced and played in the forest, on the bank of the Oskol River, in Elina's apartment. The secretive blue eyes of cinnamon-haired Nadezda indicated she was very clever. She often considered loudmouth Elina's intelligence inferior to hers.
When I saw talkative Elina for the first time since '06, I was brainlessly happy to be near her, and unsure what I should do. This was a dangerous combination.
Another girl was always in the room with Elina or on the phone with her, and if not she seemed uncomfortable. I asked her, "Ty dumaesh, chto vse muziki - duraki?" (Do you think all men are idiots?) She said, no, but most of them. I asked if she knew any that weren't. She said, "maybe two." I asked who, and she said she still didn't know yet.
One man, fifty-year-old Sergei, who'd picked me up in the Altai Mountains this last summer, had recently written me a beautiful letter. In response to my letter to him from Tomsk, he wrote: "TBoe nuCbMo u *u3HepaDoCTHoe u HeMHoro rpyCTHoe. OHo TaKoe-*e KaK TbI CaM." (Your letter was both festive and a little sad. It's like you yourself.)
I, a traveler, decided then that I'd go next to Lebanon. I was going to have to go through several countries to get there. It was going to be tough.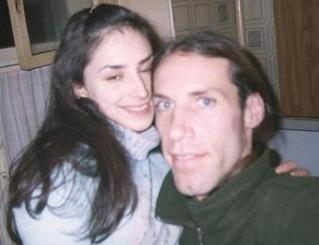 - Modern Oddyseus
Thanks to Roma Mesigin; Munavir; Oleg; Salya; Valodya; Sergei & Nikolai; Loxa; Sergei; Misha & Maksim; and Vasilyy for rides!
Much thanks to a roadside cafe; and to Yana, Oleg, & Nadya for places to stay!