Although singing isn't one of my favorite things to do (at this time), I was looking forward to the "Enjoy English Songs" competition on December 18th. Tomskunkian high schoolers would be singing; not I, thank god. I would be the "zure" (a judge). And, since we've already established that I'm a statistics-loving dork, and I love competitions, I was perfect for this job.
This was another of my great, new experiences in December.
I met two teachers and two students from my school, in the dark morning, to await a marshrutka bus among the pink buildings of Lenina Street. Excluding the statistics-loving dork, our school was represented by:
Yulya. This pleasant teacher could be said to be bowling-ball-shaped, only if she was a bit taller. She's blond. She's young; her cheeks are rosy when she laughs at wise humor; her English is clean and musical; she's self-confident, and she has a cute and innocent Russian husband with whom she gets along well.
Ludmila. This bespectacled teacher wears short, brown hair. She seems full of worry, and she tires easily. She has a daughter my age, who is paralytic and who writes poetry. The daughter and I had wanted to meet, but it never happened.
A student of Ludmila's, Anastasia. This seventh-grader has a very sympathetic face. Her compassionate cheekbones watched her steamy breath. Above blue eyes, her young, blond hair was in an albino hat, above her thick, pink coat. She has pretty ears. In the previous year, she'd won "First Place" in the "Enjoy English Songs" competition for the youngest students. On her way to sing against the oldest students, she was quiet.
And a silly girl named Regina Panina. I'd taught Regina's class, like Anastasia's class, once. She's a tannish, dark-haired girl. She's cute and has a goofy laugh. She'd been a big participator in her class's English discussion with me, absurdly laughing at us then saying something light-spirited in Russian. She's a ninth-grader. She'd spoken almost no English when I'd seen her last, and it amazed me to think she could sing a song in English. In the marshrutka, she gabbed about her dress, shopping, an upcoming trip to Hungary to sing, etc. Her first breath upon hearing almost any sentence is a crazy giggle.
We were among the first to arrive at Tomsk's poetically-named School No. 56.
In the still empty auditorium, Regina was quickly on-stage to practice her song: Whitney Houston's "The Greatest Love of All." (In the marshrutka, plump Yulya had explained to Regina the meaning of the words she would sing. Regina, of course, laughed, finding no connection between Houston's words on personal strength and her words on children.)
Regina was suddenly dominating. She instructed the computer technicians on how her cordless microphone should sound. "I believe the children are our future ..."she began. Her stage presence was so fearless it was calm, and it thus commanded attention. She tilted her head after words, in the way Russian songstresses used to do in old films, in the way a mother does when gently telling her child something wise. Her female voice was also strong, with a low, cave-like echo. In general, I don't respect singing enough. I was blown away.
Regina, who'd taken "First Place" in this contest last year, sat down. She advised Anastasia to also practice, while there was time, to "probovat mikrofon" (try out the microphone).
...
Not long after this, the auditorium was full, and I sat near Ludmila and four other English-teaching Tomskarfaces. We, the "zure", had front-row seats.
I assumed I'd be judging on singing talent and pronunciation of English lyrics. Then, I was handed a sheet of paper, on which were written the names of five criteria. These square-lettered Russian names were long and impossible to decipher. With Ludmila's help, I simplified them to: "Musical Talent", "Appropriateness for one's Age", "Dress and Appearance", "Ability to Hold the Audience's Attention", and "Pronunciation."
We, the zure, were introduced to the audience. The woman to my left asked if I, as an American guest, wouldn't say some words after the contest. Hmmmmm, I thought, I don't know, mayb... Suddenly, the student doing English commentary said I'd say some words THEN.
Hmm. I stood, held the microphone, and said something completely meaningless, about being happy to be invited here, and sat down. The contest began.
It began well. A girl in a gothic dress, and a guy in a white mask and cape, sang, "The Phantom of the Opera is here ... inside my mind!" Girls in white frocks cycloned around the two main singers. The boy in the mask briefly battled with another boy, using sticks. The girl's voice was like a field of flowers and honey. The boy's voice wasn't.
After applause, the commentators turned to the "zure".
I wanted to be a fair judge. It was especially going to be difficult to judge the first few competitors, of the 41 scheduled, fairly. I and the other five judges held up papers. We all agreed: "9".
Then, a girl in a white, Marilyn Monroe dress and blond wig sang, "I wanna be loved by you. You, and nobody else but you ... Boo boop bee doo." Her costume was a bit awkward.
I also gave her only 1.2 points for singing talent. I, as a judge, had decided to grade each criterion by awarding tenths of points. This complicated my grading paper. Following the second song, the commentators called on me too quickly, and I hurriedly awarded the girl a "6". When I finally counted correctly, I saw she'd actually earned 6.6 points. Therefore, my American judging, perhaps closely watched, had become stricter; I was going to have to round down every .6 during the contest.
Our school's Anastasia was the fourth competitor. She wore light jeans and a thin, long-sleeved, pink-and-black-striped shirt. She looked older than her age, and kind.
Her voice is high like a cry, and full of feelings. She sang, "Unfaithful", a difficult song by (I'd guess) a new, young American. "I know that he knows I'm unfaithful, and it kills him inside, to know that I'm happy with some other guy."
Influenced by Ludmila's earlier comments, I severely marked down Anastasia for "Appropriateness for one's Age". Her classy, but unglamorous, appearance scored only a 1.3. But, she scored very highly in the other categories. I gave her an "8".
Ludmila gave her a "9". Among the other scores were three scandalous "5's". Anastasia was probably the victim of being an early competitor. After this, Ludmila was sad and upset. I simplified the category, "Appropriateness for one's Age", to "Choice of Song".
The contest continued. Regina Panina was the sixth competitor. She wore a black-and-brown, silk dress over black jeans. She let one of the girls in white frocks dance around behind her as she sang. This dancer distracted me, destroying the power of Regina's performance. I gave her an "8". Ludmila gave her a "10". The other marks were good.
The contest's first half continued. Two little boys won over the crowd, also singing "The Phantom of the Opera" (without theatrics). Young voices carried us through the eerie song. The boys handled the difficult notes with ease, sounding squeaky, joyful, wondrous.
Two full but pretty girls wore dresses with wavy frills. They stepped in place to the music. The voice of the lead singer, Kristina Gorbunova, was sweet angelic, and I'd like to hear it in my dreams. The song was simple. The last half of the song was Kristina repeating, "Christmas is a time for love." And I gave my first "10".
During the half-time break, teacher Yulya came to the "zure". She inquired, whether Kristina Gorbunova had really been that much better than our school's singers. I began to think my school might fire me, for not giving our students "10's". (Ha ha; just kidding!) Yulya said Anastasia was crushed. Anastasia was saying she didn't want to enter another contest again.
Four girls also came to the "zure", wanting my autograph. I tried to think of what I could possibly write. "You're a great, young talent!" "I hope you achieve all your dreams!" "Dasha, I love your dress!" "I love your beautiful city." And then, in the concert's second half, I gave one of them a "6".
Competitor Liza Shaktarina - orangish-brown tango dress, w/ tan skin, full (not fat) girl, her small little spins irresistably delightful, as if she'd discovered a way to tickle audiences with the least effort possible, good singing. She returned to the stage after her performance, to look at the scores. When she saw my "10" among them, she screamed with glee.
A boy, singing "I Breathe" - pink tucked-in shirt with tie & white-pink jeans, lanky, I couldn't really understand him. He scored well.
A girl with the surname, Zenkina - "Just One Last Dance", a romantic song. At first, I thought she must be an older student, because she pronounced the lyrics well, and she, a blonde, wasn't that cute. In the beginning, her singing wasn't exceptional.
The boy who'd sung, "I Breathe", appeared on stage. He moved towards her. Her voice grew in strength. The boy tried to dance with her. Her shrieking voice wavered like a sharp tsunami. She moved distrustingly backwards from him. And she pushed the poor boy away. My lips and the water in my eyes wavered, outside of my control. Bravo! A "10" from me.
Later, two confident sisters combined to sing a Celine Dion song, and sounded like oxen. "Hey, girls, don't quit your day studies!"
A domino-shaped girl in a tight & glossy w/ red-and-flowers dress, singing Abba's "Mamma Mia ... here we go again. My, my. Just how much I missed you," really got the crowd involved, a lot of quickness and energy. A high "9" from me.
Two boys, performing a "Hallelujah" song I'd never heard before, one in black cowboy-like shirt tucked into granite-colored jeans, like a true guitarist, the other in a Puritan-like suit, maybe w/ a Hitler moustache, the guitarist's guitar & the other's singing and flute. They received mostly good marks. Ludmila, tired by now, got booed by the crowd, for giving them a "6".
And the last song - a duet, an upbeat song, called, "Happy New Year", guy & girl wearing blue & pink Santa robes, w/ white-fur Santa hats, the crowd liked it, only one sang well.
A lot of "First Prize's" and "Second Prize's" and "Third Prize's" were handed out, to singers from different categories. Our school's Regina Panina took one of the two "Second Prize's" awarded to female soloists.
I agreed to speak again. I said Zenkina's song had touched me the most; I wished the young singers good luck; and I asked them to wish me luck on my upcoming travels. Afterwards, Zenkina - who hadn't won a high prize - came up to me, accompanied by her mom, and we posed for pictures together.
In the upcoming days, I saw Regina Panina in the halls of my school. Since I'd last seen her, she'd won another contest (according to Yulya). Then, I saw Anastasia.
We said, "Hello", and I walked past. But, then, I rethought things, and I returned to her. I gave her my condolences, after her poor marks in the contest.
I asked if she planned to continue singing. She smiled and said: of course she will. I asked if she wanted to be a famous singer. She responded: no. But, then, she shook her head around, rethinking her answer, and said: well ... yeah. I told her: and I want to be a famous writer.
Anastasia's class happened to be the last group of students I would teach at my Tomskimmian high school. The previous time I'd taught them, the boys had invited me to join them in a snowball fight, and I'd happily accepted.
One small, Italian-looking, bright-smiling boy was very active in our discussion, and he often wanted to draw tanks and weapons on the board for us to talk about.
Anastasia kept leaving her seat, in order to stand near the front of the room, in order to play a big role in the conversation. She drew pretty pictures on the board, and talked about how her father works a lot but likes to play billiards with her in the evenings.
She has a great voice. Even though she doesn't need to, she'll win a contest soon.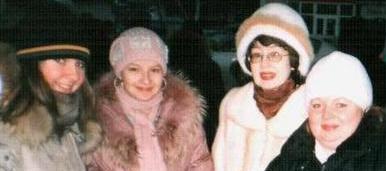 - Modern Oddyseus.