Kirova Street (I call all roads "streets," even if they're parallel, perpendicular, intersecting, curving, or upside-down) is very pleasant to walk along, especially on late winter evenings.
The two lanes of car traffic are separated by pedestrians, who are protected by a wide esplanade. The esplanade, in winter, is a seemingly endless white carpet. And, because white is the bright collaboration of all colors, the esplanade's surroundings - the university buildings and brown lodges of Kirova Street - are dull and unnoticeable.
The esplanade's center is a walkway. Lantern-shaped lamps glow with a cleaner whiteness than the snow's. I, on a Friday night, walk between these lamps, on snow patted down by many feet. I walk beside empty benches. I walk between giant spruce trees and baby spruces wearing snow, on the esplanade's surrounding lawn.
The Kirova night's most beautiful building calls me. I sit on a bench to ponder it.
It has a periwinkle first floor. Its second-to-fourth floors are perfect white. The long building's windows are simple, proper, square, and perfect. Lights under each second floor window light up the building like a pearl. It stands towards me, with its six columns and slogan on top (it's the region's head judicial building), sure of its perfection. It seems as if everything inside must be perfect, too; and yet, it can't be.
I walk to the end of Kirova Street, leave the esplanade,
and turn left on Lenina.
Immediately on the left-hand side is a Tomsk Polytechnical University building. This is the university where, for two days, I once was a teacher.
It's a big, sleeping building; colorless; few lights; tall trees before it as if in a sleeping forest; like a Luxembourg winery. Seen from up close or during the daytime, the gluttonous bricks on its face bulge out three-dimensionally. The bricks are a dull, pale color; but the veins are aquamarine green - a strange choice.
Between this building and the next, a wall, ancient like in Troy or Greece, heavy and solid, leans back, not wanting to let people in.
I enter, via the wall's gate, an empty university campus with kind trees.
I turn to the right. And I'm gulped up, surrounded on three sides by dirty walls like ruins - big, high-above-me walls. This surrounding TPU building, a squashing building, turned off at the moment, looks at me from all directions through arching, round-topped windows.
I, a free spirit, rarely feel the desire to belong to something. But, Tomsk Polytechnical University has mesmerizing buildings; it's well-organized; and the students have unique personalities and energy to learn. I lament I couldn't have kept working here.
It's a windy, empty evening. Above the ruins, thin clouds blow slowly in front of the full moon. I lay down on my back, in the comely courtyard bare except for snow, to take in the beauty.
The next night, I play basketball. Afterwards, I have tea at a friend's house. Afterwards, I walk home.
On the smaller streets near to Kirova and Lenina, the wooden homes wear gothic tops, decorations shaped like a Trojan warrior's helmet, and it seems gargoyles should sit atop the dark and spooky homes.
I reach and walk down Kirova. The last building, not a wooden one, a TPU building, is a light-purple, peaceful fortress. Above its door are two red-and-navy shields, which may remain from Soviet times. I love these shields. One commemorates Lenin's October Revolution, showing a big Peterburgian ship, a red star, and a hammer-and-sickle. The other reads, "CCCP," also shows a hammer-and-sickle, and declares the Soviet Union, "The Country of the Unified Proletariat."
Kirova soon ends. Again, I turn left on Lenina.
Immediately on the right-hand side is TPU's main building. Its face is also a bulging, 3-D brick design - very cool. The building is mostly purplish-grayish blue, though its base is white and blood-red. It has the colors of a boasting army.
On this Saturday night, I don't expect to see anything noteworthy. But, a passage leads to an alley that runs along the side of this boasting army building. No people are out walking this night. I walk down the alley. The side of the boasting army building is actually rusty-orange, as if eaten by mold or plants or mice. All of its three stories are still a 3-D brick display.
A tunnel, low and wide, hammers itself efficiently through the rusty-orange wall.
The courtyard on the other side is a dream-come-true. It's a BIG empty space, a walking through the snow, like a young summer in the European countryside. The surrounding building and its pleasant windows are like a Parisian museum. I love it here.
The next night, I bring two sisters and one of their boyfriends here. We lay in the snow. We laugh a lot.
One sister is very silly. As we're walking, she starts hopping on one foot. "Pochemu?" I ask her. (Why?)
She explains, "Eto prikolnoe. Vse idiot, no ty prignush na odnu noge!" (It's cool. Everyone else is walking, but you're hopping on one foot!)
I didn't understand her logic.
But, I started to do it, too.
It was pretty cool.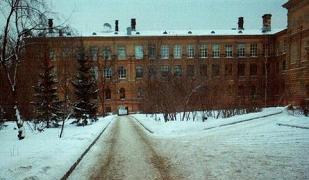 peace, Modern Oddyseus