For much of the time that I was in Samoa, eating breadfruit (and there was other food in Samoa), I dreamed longingly of Luisa's roti's and vegetable curry in Fiji.
I'd eaten this lunch during my first stop-over in Fiji - a two-day one - and I hoped to have it on my post-Samoa return. The curry was a mild chick-pea mush with potato and carrot chunks and perhaps a bit of coconut milk. We ate this in floppy, doughy, tortilla-like wraps called "roti's", which were made by baking dough and water. I felt somewhat guilty that food this good should exist and that I be allowed to eat it.
I'd been picked up by Luisa's mother, Caroline Walu, months earlier while hitchhiking in Australia. This understand, shadowy-cave-colored, middle-aged woman said, "Oh, well, you'll have a place to stay when you get there," about me in her country. The queer thing was, she didn't mean her house; she meant her daughter's. The other queer thing was, she didn't tell me nor Luisa about that first queer fact.
So, one day, Luisa came to her home and found me there. I'd been talking to Metta, a large, dark lady with a pudgy nose, who seemed to work for the family as a maid, and who'd given me directions (over the phone) to their house from the airport. She was nice and wondered how I knew Luisa. When Luisa appeared, it turned out I didn't know her. But, seeing me there, she said I could stay.
All right! So, I'd been adopted. Luisa was a mid-thirties mother of five, not unattractive, with dark-mahogany skin, a big butt, a cheery-ringing islander accent, and a round sunny-demeanored face. She worked as a well-traveled stuardess for Pacific Airlines. Her house was a Western one, with private bedrooms and bathrooms and the like, but its incomplete living room walls let in the weather.
I slept the nights on the living room floor on two mats, but I often woke to find myself pushed to one corner of a mat, by Chris and Dillon. These three- and four-year-old, tan-skinned brothers had cute, block heads but were wild and opportunistic sleepers. We looked at animal books together, and they showed me family photo albums, though Dillon only pointed out the pictures of himself. One night, the two performed a fight that was hillarious to watch, imagining the two as adults; the poked each other's faces and snuck in for kicks when the other wasn't looking.
Their older sister, Madeline, laughed that the boys ran around and up to the altar at church, and she had to chase them. She was one of three sisters, aged nine, eleven, and thirteen, who wore dark, little faces and were playful. One sister, Renee, giggled that I'd be perfect to marry a family friend - because we were both tall. The family friend came over and her mom, who said, "These girls have managed to embarrass four people. John's gone into his room!"
John Stolz, the father of the family, was a lot of fun. His skin was so light for an islander that it seemed pale. He worked with an island resort company. He explained to me the Fijian cup of tea. "This is a normal cup of tea." He displayed a normal tea mug. "This is a Fijian, BIG cup of tea." He showed one twice as wide, and my eyes expanded. And this is a BIG, BIG cup of tea!" He smiled, showing a mug so vast it seemed a joke: the John Stolz cup of tea, drank from often and always with milk.
My peer in this family was seventeen-year-old Nicholas, Metta's son who came from Metta's house to hang out with me. He walked me into their town, Lautoka. On unpaved roads, the country's indigenous half of the population walked among the subcontinental-Indian half. Most of the guys wore their bright, designed Fijian tropical shirts. We went to the old, wooden, but bustling town pool hall. Nicholas was easy to laugh, and he mocked me for mistaking cabbage for lettuce when we later made lunch. It was around this time when we discovered we rarely understood the other, that we both just chuckled unsurely when in doubt.
Nicholas and John, both, were connoiseurs of what I'd call the "Fijian sense of humor". Once, for example, we were drinking kava - a communal, gack-ly, root-flavored drink from a bowl - at a family friend's house. And John began telling this bizarre story of how scientists were developing an eye-piece that you could just take out and sit on the paper to help you read it. At first, the story seemed a blatant lie. But, John just kept telling it, agonizingly slowly, with new strange details (it would be indestructible; no one would wear glasses again; it'd be laser-proof), on and on, so that finally we figured it had to be true for him to have wasted so much of our time. Finally, with a self-amused smile, he said, "No, I was just making that up!" and batted his hand through the air. That was the Fijian sense of humor: making up lies. Nicholas was more predictable at it. When he told of recent shark attacks, or how the sweeter, full-potato-like taro plants we ate were coconut insides, I knew he'd eventually deny the story with a sly smile.
So, that was the family - the major part of it, at least. They were all, I think, Fijian Christians - whose indigenous language wasn't spoken much anymore, replaced by English.
One day after my week in Samoa, Luisa and John drove me and Nicholas and some of the kids to Natandola Beach. We crossed the country's main isle, Vanua Levu, stopping for picnic supplies on the way, on rickety dirt roads beside barren sugar-cane fields for the last twenty kilometers.
The beach was great. Its ocean was aquamarine, waves grew big for body-surfing, a maze of coral clung near the beach, and the sand was like a beanbag. People played sports on the beach or did flips in the water, and an empty, arid-brown field with palm trees ran beside the beach, beneath green-dense-forest hills. This was still a locals' beach, but John said a resort was planning to go up on its shores.
Nicholas and I tossed around a basketball in the waves, and shared my mask to snorkel with. We found orange, elegant clownfish (dazzling swimmers), parrotfish, and yellow-nosed gars in the coral city.
The family's boasting of Natandola had been more than validated. It made me wonder how incomprehensibly wonderful Taveuni Island must've been!
Almost every other word the family spoke was about this vacation spot of theirs. Big waterfalls poured in untamed spots, rocks lied in rivers to be slid down, and coral surrounded the island. Nicholas had seen turtles, manta rays, sharks, squid, and tons of octopi there. (He'd eaten all of them, too - though most Fijians don't kill sharks.) Madeline and her sisters said they'd always rather not go to Australia, where they had an aunt, in favor of Taveuni.
I didn't have time to visit Taveuni Island. But, Luisa's roti's and steak curry did make me feel better; wow!
So, I couldn't see everything in Fiji. And I didn't feel that I got to know Fiji as well as I did Samoa. But, a MODERN ODDYSEUS' TOP 5!!! can still argue its usefulness to the story.
This time, however, in a new revolutionary journalistic technique, called the FIJI FIVE!!!, I have interviewed a dozen locals and compiled their results to create The Top 5 Worst Things About Fiji! list. This is how I will be doing all of my lists in the future. There will be no more blow-hearted, opinionated rantings and ravings on my part. I will let the people speak for themselves!
"Nah," (batting my hand through the air), "I was just making that last paragraph up." Here are the old-familiar-style Top 5 Worst Things About Fiji!, compiled only by me.
1. FIJIAN LANGUAGE DISAPPEARING
2. MCDONALD'S IN NADI -
Nadi, home to the country's international airport, was full of tourist shops and foreign businesses on a long, ugly strip.
3. A LOT OF TOURISM ALTERS THE COUNTRY
4. CONFLICT -
While I was there, the newspapers told of the prime minister wanting to make the country all-Christian, much to the dismay of the fifty per cent Indian Hindu population. There had been undemocratic coups in the past (the United States' interests had probably pushed one to happen), and conflict seemed to persist.
5. NOT AS BEAUTIFUL AS SAMOA -
Fiji wasn't ugly, by any means. But, it did have many more average-looking places than picture-perfect Samoa.
The Top 5 Best Things About Fiji! won't include any further instances of the humor; don't worry.
1. THE SHIRTS
2. TAVEUNI
3. LUISA'S ROTI'S AND CURRY
4. PLAYFUL PEOPLE
5. FAMILY AND FRIENDS CONSTANTLY VISIT ONE ANOTHER
The playful HONORABLE MENTION adds: NICE PEOPLE and NATANDOLA. From what I witnessed, it was a pretty cool place.
John helped get me a slightly reduced rate on a stay at Beachcomber Island, a hostel for Americans returning from semesters Down Under. So, I went there for two days.
It was an enjoyable, laidback time. The small, sand island dropped into light-blue water that became turquoise that became dark blue. I befriended some teen-age, American missionaries who were very nice and shone with the wisdom of good morals. They left after a short, day trip to the island, and we former exchange students were left to play volleyball. At night, dancers in warrior-like face paint and grass skirts entertained us.
On July 1st, I woke up on Beachcomber Island with my best friend's wedding only three days away, in Michigan.
At one point, I dove down in thirty-five or forty feet of water, on a mission to retrieve a snorkel which one kid had dropped. Paddling way, way down into the deep blue water, I heard a "pop!" in my ear. Oh, no. Had I perforated my eardrum? Would I be unable to fly home and make the wedding!?
Later on, I bumped my head hard on the underside of a big ball of coral ... but, surprisingly, my ear was fine, as was my head, and I was okay to fly. Whew!
Back at the Stolz's house, the kids gave me kisses and begged me to come back to go to Taveuni (December is the best month).
Nicholas accompanied me to the airport. He said my parents wouldn't recognize me. (I was tan and happy, even bulked up a bit with recent food.) He gave me a picture of him and a card that said he liked hanging out with me. I said I'd send letters.
Many of my fellow American exchange students wore Fijian shirts for the flights that would take reunite them with their parents.
We were all different people than we'd been.
I was excited to see my parents and my best friend ... but I also knew friends (and family) were everywhere.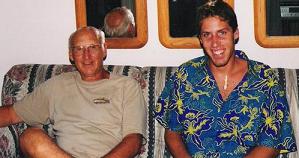 - peace, Justin