Near clear Lake Trugoyak near the earthy-green Ural Mountains, sat the sturdy village of Trugoyak. Houses made of wood bared dark-brown, flat fronts and anchored low towards the dirt like burrowing Bashkirk fortresses. On one house, pleasantly blue like the sky, slanty white flower-petal shapes simply decorated the shutters, orbiting around as three-, four-, and five-petal flowers.
The road east from the Urals was, again, flat, but for a while it was surrounded by Russia's "White Forest". White beech trees ascended to a canopy that fell and twinkled like pixie dust, over a matching lively-spring-green lawn. Camping one night, I felt surrounded by heaven's white guardian army. So, I partook in an Act of Spontaneous Ecstasy and "sprinted."
About two-thousand kilometers (twelve-hundred miles) remained to my destination. On slow roads, three drivers took me this distance. The only thing really interesting about it was that two of the three (I didn't ask the other one) said life had been better under communism. I guess there'd been less worries.
Slim, hard-to-understand Viktor dropped me off in Tomsk, a Siberian university town of 500,000. It's said to be Siberia's prettiest city.
In places, northern deciduous trees grow wildly from among plants, between the dirt roads and cement. In many places sit square, lodge-sized log houses. They're usually an almost-black brown, glossy as if made from toys, and longer than logs should be.
Strong doors, atop hunched, saloon-style staircase/porch's with hunched awnings, promise refuge from the horrible outside. In this rough climate, some of the older houses are wholly hunched. (It's summer, and rain has come to Tomsk all eight days I've been here.)
Wide, antique window-frames pop out from Victorian-huge windows which are five to a side to a story, on the two-story houses. They're so beautiful I often want to feel their dry wood.
Decorations on these window-frames include sharp, triangle tops; bottoms hanging down like handles of saddles; poles dancing up the sides Arabic-ly like Tartars' water-pipes; crudely-cut-out diamonds, or upside-down hearts; three-dimensional bells and flowers and sea-barnacles; royal shells and brushes, or a genie's whoopie cushions, crowing tops; palace-curtain designs; and cartoonishly-happy waves bubbling alongside edges. Occasionally, the frames have been painted, sky-blue or avocado, wearing elongated white diamonds. Some designs resemble samurai's swords leaning on Chinese temples; East and West are present here.
At night, under rooftop edges hanging like snowflakes cut out of paper, the windows' souls become red-firy with light. The strong houses seem intellectual, and I imagine someone writing by candlefire inside or sitting before a large, private library.
Of course, in each warm, thick-walled house certainly live quite a few families. Housing is scare, and expensive relative to the income, in Tomsk. My arrival promised only to worsen that situation.
The first person I spoke to, Yinga, bought us "Sibirskyy Bliny" (Siberian Pancakes) with fresh caramel inside and let me stay in her apartment three days. (She lives in a concrete building, like much of the town.)
So far, I've met about a dozen painters, including lesbian Yinga, and many more people who are either gay or students. They all love being social and having small parties. Most love talking. Few speak English. My brain gets so tired of Russian at times that it wants to run out my ear and hide somewhere. I haven't had much time for myself, which has slowed my search for a university teaching job for the fall.
Now, I'm staying with a thirty-two-year-old Marxist named Sergei. Just for the record, he doesn't put the "gay" in "Sergei" - if you understand what I mean. If provoked, he'll talk in Russian all day long about how most soldiers stopped fighting the Germans during World War I because a Civil War was going on; or about putting the means of production in the people's hands. It's like a dream come true!
A painter named Alyona is often around. Her father was Bashkirk - a minority of people who most often live near the Ural Mountains. Her light-Asiatic skin glows like nighttime starlight. The skin around her eyes is rubbery. Ashy-black, medium-length hair is thick and sticks together in bushwoman clumps. She wore a bronzish green, low-back, high-leg-slit dress to her birthday party two days ago.
Twenty people sang and played guitar, during an all-night party at Sergei's. They strongly sang the Soviet Union's anthem. They chanted a revolutionary "perestroika" song calling for the Soviet Union's end: "Vsyo idyot po planu!" (It's all going to plan!) They sang a good song about a girl who's now always in her home: "Prezde ty spala gde popala, ni nuzdala pedushka." (Before, you slept where you fell, you didn't even need a pillow.)
Alyona is planning to hitchhike with me to the Altai Mountains this week. She'll probably sleep in my tent. Hey, I guess I did help out the Tomsk housing problem, after all! She wants to paint, while I look for work in a "lager" (summer camp).
And when I return to Tomsk in the fall, I'll have work in a university. Unfortunately, I've been unsuccessful so far in selling the schools on my syllabus for "Philosophy in English." They want me for my tongue, not my mind.
"A-thabbady-thap, that's all, folks!" - cartoon character, Porky the Pig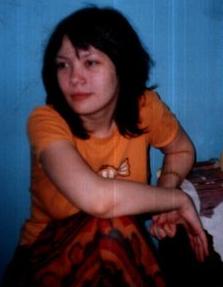 It's a good thing I don't have Porky the Pig's tongue. Mummidy-mum Modern Oddyseus.
Thanks to Igor; Aleksandr; and Viktor for rides!
Much thanks to Yinga, Roma, & Sasha for the place to stay!