After reveling in the powdery sand of Whitehaven Beach, I got ice cream and chatted with the ice cream girls, then boarded an overnight bus bound for Brisbane. My four-month stay in Australia was almost over; and what a stay it'd been!
There almost weren't any negatives to this trip. Sure, I'd spent rather a lot of my parents' money (thanks, Mom and Dad!), on this, my virgin overseas trip and the only one my parents would support. But, at age nineteen, I'd learned so much that would help me make future trips affordable. I learned to hitchhike. I learned to sleep on beaches - foregoing any hope for comfort until morning. I learned, elsewhere, to search out free places to stay. I learned that there's a possibility of work in other countries; that the locals can be funny acquaintances or great friends; and to replace the hunger for luxury with a thirst for new and exciting experiences.
And, I learned you can learn a lot from foreign cultures. MODERN ODDYSEUS' TOP 5!!! will allude to that, beginning with (a highly competative list) the Top 5 Best Things About Australia!
1. THE AIR OF LEISURE -
In the Australian climate, worries have no hold on the people. Almost every minute is laidback.
2. SNORKELING -
There are so many places to explore. But, stay away from the riptides of Deadman's Beach on North Stradbroke Island!
3. STEVE IRWIN, THE CROCODILE HUNTER
4. FRIENDLY, HUMBLE, AND NOT ELITIST -
The Aussies are always welcoming.
5. INNOCENCE -
This is a difficult one to explain. It is sometimes said that Australia and its development are twenty years behind the United States. Perhaps that's why the average college-age Australian has a personality like a hidden creek running behind a farmhouse. Aussies aren't cut-throat nor competative. The guys are caring and treat girls very well. College-age girls and guys still think and behave as peacefully as if life could still be just wonderful; and, for many Australians, it probably always is.
An unending HONORABLE MENTION includes (take a deep breath, and ... go!): EVERYTHING (old cars, the accent, the cute affinity for pop music, the way people drink a lot but it doesn't seem like too much, how they so confidently complain, colorful people); BEACHES; IT'S A GOOD PLACE TO CHASE ANIMALS; SOCIALISM; LOW CRIME; GOOD POSTURE ON GIRLS; SURFING; THE HOPE THAT STEMS FROM THE FREEDOM OF TRAVEL; EVERYWHERE; FRASER ISLAND; I.N.X.S.; and WESTERN AUSTRALIA.
Wow. The Top 5 Worst Things About Australia! doesn't stand a chance. Nevertheless, I did somehow find five things to go on this list of negatives:
1. MEAT-PIES AND VEGAMITE -
I didn't really give these foods much of a try. But, I don't think I needed to; yuk!
2. ALCOHOLISM, DEPRESSION AMONG THE ABORIGINES -
This is a big social problem. In some towns such as Cairns, drunk aborigines congregate at night to swear at and threaten people. I hope something can be done, to bring happiness back to the native people.
3. RELUCTANCE TOWARDS HITCHHIKERS -
The hitchhiking isn't that bad, but I'd expect better in such a low-crime country.
4. ELKIE, AND MY CRUSH ON HER -
Elkie was gorgeous, but she was kind of a jerk. In my foolish youth, I was shooting for this amazing girl, but I should've been enjoying the beauty of all the friendlier girls around.
5. SYDNEY (AND OTHER BIG CITIES) IS LOSING ITS LAIDBACK AUSTRALIANNESS
HONORABLE MENTION reminds us that Australia (like the United States) has WEIRD PEOPLE, people who unexplainably are socially inept and odd - and, perhaps, that's why people are reluctant towards hitchhikers. But ...
in conclusion, Australia rocks like INXS.
On my overnight bus ride, I sat next to a girl and guy backpacker who made out for much of the night, which was slightly irksome but okay.
Morning came, and the day was so nice that I abandoned the bus early, two hours north of Brisbane. (The days are almost always nice in Queensland.) I was in Noosa, the high-fashion, commercial town whose main street is actually BELOW sea-level and the adjacent beach. I walked uphill to the beach, where Raquel and Chris and I had spent so many hours bonding and night-swimming during Easter Break, and saw it for the first time by day. A modest-sized, quiet bay was encircled by sand bordered by piles of rock bordered by pretty but unspectacular forest. Its quietness must've been what brought the high-end tourists here.
I spotted a kid carrying a snorkel and flippers, and our faces lit up as we were immediate friends. We chatted. Later on, I snorkeled myself, seeing abundant silvery white fish, which made for good snorkeling. (I hope that kid enjoyed it, too.)
But, in truth, I had left my busride early because Cafe Noosa Pizza had been singing to me. Its Mexican pizza had, during Easter Break, been the second-best pizza of my whole life. ... But, alas, on this day, it was spicy but not great at all. I hitchhiked onwards, holding the pizza box up to lure would-be stoppers.
I neared then, again, avoided Brisbane. I caught a train past Brisbane to Gold Coast, for a night out. This late night spent at the casino was a blast. We five or seven blackjack players sat and laughed together for hours; the butt of our jokes was often Ron, the straight-faced overseer of the games, who looked like Mr. Spacely from "The Jetsons" and who yelled at the trashed, ridiculous guy beside me for his messes of cigarettes and alcohol, saying, "We'll need to get the firehose to clean up here;" the drunk guy said he'd like to take Nathalie, a dealer, home to meet his mum, and his mum would be so happy she'd buy everyone a drink, even "Ronnie"; and I broke even. A late-night feed at Charlie's (named for Charlie Chaplin) Restaurant awaited me.
But, the real reason I'd come this far was to go to the stripclub!
No; I didn't go in. But, I met Sophie (the French stripper who'd picked me up a week earlier) outside. I'd called her earlier, but she couldn't understand me on the phone. The frail, Saharan-skinned, dark-haired woman smiled big when she saw me.
But, I was too late to make a move on this interesting, beautiful traveler. She'd gotten back together with her boyfriend since we'd last met. She drove me to the train station, and we talked in her car in the early morning. Again, I loved her accent, "oui", and, again, she complained of her job. We hugged. She told me to write her, because she'd be coming to America.



My last four nights in Australia were hosted by Megan, a local girl from Southern Cross University, in a suburb of Brisbane. She was a humorless girl. (She didn't find it funny when, asked if I knew what people from New Guinea looked like, I told her, "Sure. I had one as a pet once, but it soon became an old guinea.") But, she was ready to burst out of her shell and have wild adventures. She felt liberated by her decision to go to New Zealand the next year to sleep on the beach and travel, rather than go to Canada, like always, to see her father.
I rode a train through arid forest to Beerwah one day. A hot girl from West Sussex, England, complemented my shell necklace. She was named Rowina and charmed with the world's best kind of accent: English-Australian. She was thirsty, so she ate a pineapple. I reached the Crocodile Hunter's Australia Zoo, where Terri Irwin said her husband wasn't around to take a photo with me, but that she and he would autograph some t-shirts then send them to me. (Those were going to make awesome presents for friends back home.)
In other winning news, I thump-heartedly made $40, $35, $50, and $50 winning bets at the Brisbane casino one evening to miraculously pull even for the semester in my casino exploits. That was something I'd been wanting to do for a long time. I won a final $5 and walked out. Even this longtime Australia "negative" was now a positive; woohoo!
The only thing left to do was watch the national cricket team win an exciting game in the World Cup semi-finals. My final night in the country was spent in the Adrenaline Bar. The sportsbar's bartender wore her black ponytail sticking out from her visor, and a we talked about sharks, her glowing beauty almost knocked me aback all the way into the outback. Whoo.
In the cricket match on tv, the opposing South Africans fell way behind, then came back in the last overs. They hit two 4's to tie it with four balls remaining. The pressure was huge. Everyone in the bar had been cheering throughout.
All were quiet when South Africa hit a grounder. It shouldn't have been an out, the final one Australia needed ... but, one batsman ran while the other stayed put and was thrown out. It was an amazing turn of events. I threw my hands in the air. (For some reason, a tie meant Australia would advance to the finals.)
The bar went crazy, and everyone sang the Australian national anthem:
"Waltzing Matilda
waltzing Matilda
here we a-go now, waltzing Matilda!"
Okay, so, maybe that's not the national anthem. I don't know how the anthem goes, exactly, but they sang it.
And it was beautiful.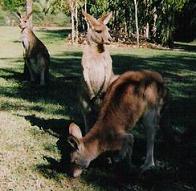 with love for Australia,
Justin

CAZZY ROUNDUP:
Gold Coast (1 trip) - Even
Brisbane (2) - +$2.50, +$240
Final Semester Tally - +$5